---
About This Item
This aerosol helps to administer medication prescribed by veterinarians to treat chronic bronchitis, allergic rhinitis and feline asthma.
Simply snap the medication into the chamber—your cat just needs to breathe normally to get the help she needs!
Unique Flow-Vu Indicator gives you the visual assurance that the medication is being inhaled, and the device is being used properly.
Antistatic design means you don't need to worry about static cling—the medication won't stick, so it's easy for your cat to inhale.
Special low-resistance valve is designed especially for companion animals, so it only releases the medication when your cat is ready.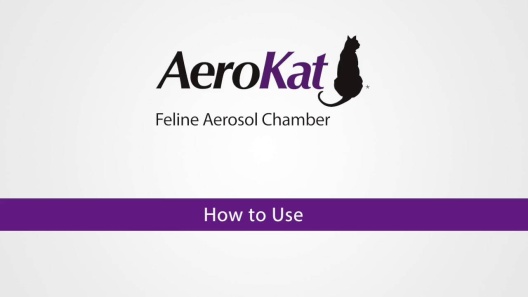 Learn More About Trudell Medical International From Our Team of Experts
---
---
Questions & Answers
17 Customer Questions
---
Does this work with Flovent 125 mcg?
---
Approximately how long does 1 can last?
Answer by • Sep 15, 2018
The medication isn't included with this system. Prescribed medication like inhalers are attached to the end of the chamber, and pumped in, allowing your cat to breathe it in through the Trudell Medical International Chamber. Each pump that's pumped into the item is typically breathed in within 7-10 breaths.
---
Are two sizes of mouth-nose cups included or just one, as pictured?
Answer by • Jul 14, 2018
This includes two face masks: (1) small mask for cats weighing 10 pounds or less, (1) large mask for cats weighing 10 pounds or more.
---
how do you clean the AeroKat Cat Asthma Aerosol Chamber
Answer by • Jan 08, 2019
It's recommended to soak the parts for 15 minutes in a mild solution of liquid dish detergent and lukewarm clean water. Agitate gently and then rinse parts in clean water.
---
---
---
By Disappointed on Apr 8, 2022
Beware of Incompatibility
I recently purchased the AeroKat Aerosol Chamber and the Albuterol that is listed as "Frequently Bought Together". Unfortunately these two products can not be used together and Chewy does not carry the albuterol inhaler that is necessary for use of the chamber. Also, Chewy will not refund for the albuterol vials which are useless to me.
---
By Laura on Mar 22, 2022
Lifesaving
I have a rescue cat from hoarding that has had respiratory issues probably most of his adult life. It has developed into chronic bronchitis. The vet prescribed this when his breathing got hard, fast, and nebulizing didn't help. This is! He is a very special kitty and he tolerates this VERY WELL. The silicone face piece is soft and if you're gentle with it the first few times, they quickly get the idea.
---
By KAML4 on Apr 20, 2022
Aerokat review
I recently adopted a cat who go lt diagnosed with asthma. I purchased the aerokat to go with her inhaler. I like that it fits well on her face and shows when she inhales and exhales the medicine. She doesn't like it but she tolerates it.
---
By Sarah on Mar 4, 2022
Great device for feline asthma
My cat was diagnosed with asthma about two years ago and has been on oral steroids that suddenly stopped working; the vet prescribed her an inhaler and this device. The first time I used it she was so shocked at what was happening, she kept still; the next time she freaked out and took off running, which caused an asthma attack. After watching some videos online, I learned how to use it gently with her. She still doesn't like it, but tolerates it, and her asthma is slowly improving. Would highly recommend this device.
---
By HoneysAeroKat on Feb 22, 2022
Great for administering inhaler to cat
Our cat, Honey, was diagnosed with asthma in December. AeroKat has been a life saver for giving her a dose of her inhaler twice a day. She's coughing way less and adjusted to the inhaler fairly well. Sometimes she gets squirmy but then I just stand or sit behind her and have my arms blocking her path. If you have a very squirmy cat, you might need 2 people but I can use this by myself on her usually.
---
By AnimaLover on Feb 13, 2022
Works well to delivery medication
The Aerokat works well for my asthmatic girl who was recently diagnosed. We are trying to get her on the lowest does of the oral medication and this device really works well. Having the valve to count her breaths is a tremendous help. Highly recommend.
---
By Cierra on Dec 30, 2021
So glad I found this
I'm very glad that chewy had this product available! It's a daily part of my asthmatic cats life. It takes a little training on the cats part but my cat Salem now knows when it's time for his treatment and is even excited for it. He knows that his inhaler helped him gain a better quality of life.
---
By DonnaL on Mar 25, 2022
Easy to use and clean
Have used it for a week and so far cat is tolerant and it was easy to clean. Great way to give medication.
---
By Aerokat on Mar 6, 2022
Aerokat cat chamber
Great customer service and quick delivery of product by next day.
---
By Patti on Oct 15, 2021
Chewy is the BEST!
First if all I was so happy with how quickly I received the Aerokat, my cat had just been diagnosed with asthma and I wanted to get him started on an inhaler as soon as possible. Also, the instructions that came with the Aerokat were easy to understand and the device is easy to use. I'm very pleased!
---