Trudell Medical International AeroDawg Dog Asthma Aerosol Chamber
Frequently Bought Together
---
About This Item
This aerosol helps to administer medication prescribed by veterinarians to treat chronic bronchitis, allergic rhinitis and collapsed trachea.
Simply snap the medication into the chamber—your dog just needs to breathe normally to get the help she needs!
Unique Flow-Vu Indicator gives you the visual assurance that the medication is being inhaled, and the device is being used properly.
Antistatic design means you don't need to worry about static cling—the medication won't stick, so it's easy for your pup to inhale.
Special low-resistance valve is designed especially for companion animals, so it only releases the medication when your dog is ready.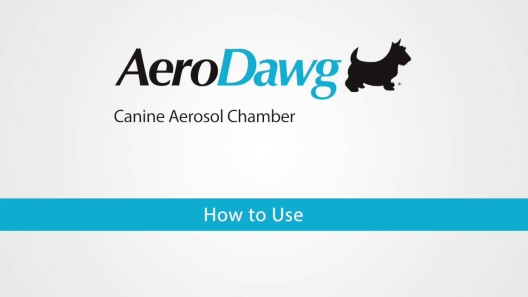 Learn More About Trudell Medical International From Our Team of Experts
---
---
Questions & Answers
11 Customer Questions
---
Is there a difference between the small size for dogs and the cat version of this product? Are the masks different?
Answer by • May 13, 2020
Trudell Medical International AeroKat* is the exact same as their AeroDAWG* Small.
---
what goes into the chamber?
Answer by • Apr 18, 2019
The dog's inhaler should be inserted into back of chamber to release the medication.
---
Is this steroid free
Answer by • Jan 01, 2019
This is a hand-held device that helps deliver inhaled medications straight to your dog's lungs. It is not Asthma medication.
---
Do this work for canned oxygen?
Answer by • Dec 30, 2019
This aerosol chamber is intended to be used with any feline inhaler, metered dose inhaler (MDI) or puffer that your veterinarian has prescribed.
---
---
---
By Sara on Jun 2, 2022
AWESOME ADAPTER!
Highly recommended! Extremely easy to use. We use it twice a day and it doesn't bother my doggy at all. She needs steroids straight to the lungs and this is so easy to use. My baby has shown a 98% improvement in her coughing in just a week. The medicine is expensive but I put her (and any critter) ahead of my own material wants! I'm ordering a second one to keep around in case something happened. Would not want to skip a treatment.
---
By Happy on May 24, 2022
Works Great!
My pup is very skiddish and I thought there was NO way he would let me use this for him. He has been having a really tough time with a cough though and the vet suggested we try. So, I ordered it (skeptically) and we practiced with it (putting it over his nose, etc) before I ordered the very expensive medication. I'm thrilled to report he uses it great and there is definite improvement in his health. Yeah!
---
By SophiaBeagle on Mar 11, 2022
Has helped my dog
My 8-year-old beagle struggles with a chronic cough that has been thoroughly investigated by our Vet. We were told that she has chronic bronchitis that can be helped with an inhaled steroid through this AeroDawg device. I really didn't want to pay the price for the device or the meds, but hearing my girl struggle with her persistent cough convinced me we had to try something. Just like me, my dog didn't love the idea either and she was not cooperative the first few times I tried to put this over her nose. But once she was able to accidentally get a snout full of the meds, her face changed and she instantly knew this was going to make her breathe and feel better. She has since been very cooperative with her twice daily applications with the AeroDawg and the results are showing after just a few days. The device itself it pretty easy to use, once you get the dog dialed in. To hear my dog breathe quietly and not suffer from coughing fits all day long is worth the price. She has had more energy and a happier outlook too.
---
By junk on Apr 13, 2022
don't bother
Falls apart when you go to use it… you have to be ultra careful that it doesn't pinch your dogs nostrils closed. Because you have to hold the pieces together while using it and hold your dog still… absolutely worthless!
---
By Tash on Mar 14, 2022
Product is Okay
It took some doing for my dog to get use to it. after many tries and treats it is working. Nice tool to use for Asthma but way over priced, its soft plastic and I don't expect it to last very long. Should be half the price or made better.
---
By Snoop on Jan 15, 2022
Aero Dawg spacer
This device works as it should. The indicator is easy to read and the nosepiece fits perfectly to ensure that the dose is inhaled.
---
By Bratt on Dec 18, 2021
Aerosol chamber
This works perfect for our Yorkie. She has chronic bronchitis and we use Flovent inhaler with this. She sits perfect and takes 10 breathes.
---
By Retty on Oct 7, 2021
Helpful Medical Equipment
My elderly dog has asthma and now needs inhaled meds. This piece of equipment works very well. I was a bit nervous about using it, but the instructions were well written and easy to follow. The dog is not afraid of it and it is fairly easy to administer his meds now.
---
By NotGreat on Oct 6, 2021
Great device for dogs that need this therapy.
If your dog is in need of using Inhalation therapy this device works great. It comes with two different sized silicone masks for their noses and you can count the breaths that they take with the included indicator.
---
By Lisa on Jun 9, 2021
Very well put together, solid product
I cannot give a review on how it works, my beautiful Chihuahua died in my arms of respiratory distress the day before the spacer came in. I can however attest to the fact that the design looks well thought out and appears that it would cover the snout perfectly. It's nearly identical to my sons spacer, yet instead of a face mask, it has two sizes of "snout masks"
---