V-Dog Kind Kibble Vegan Adult Dry Dog Food
Must enter code FALL2022 at checkout to redeem
---
About This Item
Dogs can get all of their nutrients from vegan sources and they're often healthier, leaner and more energetic when consuming plant-based food.
Other benefits can include elimination of allergic reactions, improved oral hygiene, healthier skin and coat, and effective weight management.
Features 100% vegan, healthy and delicious whole foods like peas, lentils, quinoa and brown rice; made without the use of corn, soy, wheat, gluten, fake stuff or fillers.
Fully supplemented with everything your precious pup needs, including 24% protein, L-carnitine, taurine, vitamins and minerals.
Sourced, produced and packaged in California by a vegan-owned and operated family business.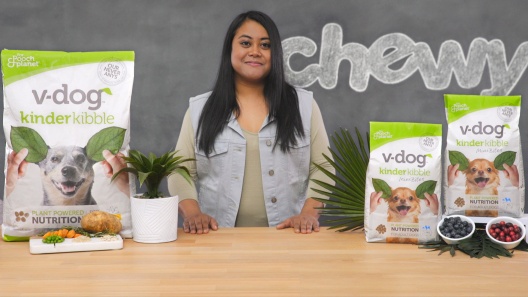 Learn More About V-Dog From Our Team of Experts
---
Compare Similar Items
| | | | | | |
| --- | --- | --- | --- | --- | --- |
| | | | | | |
| Customer Rating | | | | | |
| Price Per Unit | | | | | |
| Price | | | | | |
| Autoship | — | | | | — |
| Top Ingredients | Dried Peas, Pea Protein, Brown Rice... | Chickpeas, Pearled Barley, Oat Groats... | Green Peas, Chickpeas, Pearled Barley... | Brown Rice, Oat Groats, Pearled Barley... | Dried Peas, Pea Protein, Brown Rice... |
| Special Diet | Vegan, No Corn No Wheat No Soy, Gluten Free, Vegetarian, With Grain | Vegan, Vegetarian, Limited Ingredient Diet... | Vegan, Chicken-Free, With Grain, High-Protein, ---- | Vegetarian, Vegan, With Grain | Vegan, No Corn No Wheat No Soy, Gluten Free, Vegetarian, With Grain |
| Breed Size | Large Breeds | Large Breeds, Medium Breeds, Small Breeds | Small Breeds, Medium Breeds, Large Breeds, All Breeds | Small Breeds, Medium Breeds, Large Breeds, All Breeds | Extra Small Breeds, Small Breeds |
| Food Flavor | Fruits & Vegetables | Fruits & Vegetables | Fruits & Vegetables | Fruits & Vegetables | Fruits & Vegetables |
| Lifestage | Adult | Adult | Adult | Adult | Adult |
---
Questions & Answers
24 Customer Questions
---
How is this formula for pups with sensitive stomachs like my pittys???
Answer by • Oct 09, 2017
While we'd encourage talking to your vet, stomach sensitivity can be attributed to sensitivities to the proteins eaten in some pups. Elimination of those meat-based protein sources in the diet can help those pups.
---
How many cups per pound of dog food?
Answer by • Mar 09, 2018
There will be approximately 4 cups per pound of kibble. The 20 pound bag will have close to 80 cups, the 30 pound bag close to 120 cups.
---
I have an 8 week old Newfoundland puppy and I plan to start transitioning him to a vegan diet once he is 12 weeks old. Is this food ideal for a giant breed dog?
Answer by • Dec 27, 2017
This food is formulated for adult dogs. This product is great for medium, large and giant breed dogs.
---
The list of ingredients includes L-carnitine - isn't this sourced from meat (or dairy)?
Answer by • Nov 25, 2019
V-Dog uses a vegan source of L-Carnitine.
---
---
---
By Speed on Aug 8, 2022
My dogs LOVE it!
My dogs love this. We use it as a supplement to homemade mostly vegan food and for treats. The only thing I don't like is that this formula contains canola oil, which I don't believe is healthy for humans OR dogs. Also, when my dogs are on it alone for a couple weeks (e.g., when they are kenneled), their coats aren't as shiny as usual.
---
By Einstein2 on Jul 11, 2022
over a year going strong
It's maybe been going on a year or more since I've been vegan. I had my dog make the switch and he adjusted right away. He's more energetic, solid stools. Not to mention he loves the stuff. Devoured his bowl every day. Never looked back. Im so glad Chewy has this now. It used to take a while ordering directly. This is a game changer.
---
By Jasperthepitsky on May 20, 2022
Immediate Difference
So happy I made the switch to this food. My 8-1/2 y/o Husky/Pit mix was showing signs of aging - digestive issues, his fur was lackluster, and over the winter he sprained his elbow twice running in the snow. I started looking into senior foods and had started him on a joint supplement when it hit me that I'm a vegan, why not try it for him. Literally the first week, his digestive issues were gone, his fur was softer and shedding less - which is amazing considering the Husky in him - and he is running around like he did well before he had his first sprain injury. He LOVES this food and I LOVE the effects it has had on his health. We will be sticking with it from here on out.
---
By Theo on Mar 1, 2022
Only food my dog ever broke in to!
My Theo is allergic to everything. It had gotten ridiculous. However he loves this stuff no allergic reaction to it at all. I'm not sure dogs are supposed to be vegan so occasionally I will give him fish which he also loves an is not allergic to. This is the only food he has ever broken in to the bag to eat. He is excited to eat it and he will sit by the bag and stare at his empty bowl.
---
By Winter on Feb 22, 2022
Dog with Allergies
I ran out of our usual vegan kibble, and thought I would try Vdog as it was less expensive and a larger bag. When I read the ingredients compared to our regular brand, there really is no comparison. Sorry Vdog. Too many chemicals, etc. . I have a dog with severe allergies. I think we are going to stick with cooking all our 3 dog's food for them. No sprayed on preservatives. We are not buying the other brand anymore either. Too expensive
---
By Irene on Feb 12, 2022
Vet approved, positive GI difference for our dog
We switched from Grandma Mae's Grain Free lamb which our dog was on for years. She developed a sensitivity to it and her whole GI system was off. We were told she needs a rare protein diet which can include a vegetarian or vegan diet as well. After switching to VDOG food she is not only back to normal, but her stools also seem even healthier than before. Definitely happy with this choice!
---
By DexMommy on Jan 25, 2022
Pup loves it
My dog has been on V-dog for a few years now. He loves it and he's doing great. I do mix in a little bit of Halo Vegan dog food to make a little gravy as he's never been a fan of dry kibble. He's very healthy and happy and he really enjoys his meals.
---
By piperpups on Dec 19, 2021
Fantastic!
My household has been vegan for 15 years, but I am cautious to feed my companion animals what works best for them—even if it's not a vegan option. Ethics aren't always black-and-white in practical application. We're all just doing our best, ya know? We have a rescued French bulldog, who has allergies and a very sensitive GI tract. It took about 2 days to adjust to V-dog mixed with whatever cheap food was provided by the shelter, and we've never looked back. Margot's fur has grown in better, her tummy doesn't grumble, and her poop is solid every day. The amount of fiber in this food actually adds quite a bit of bulk to her poop (not alarmingly so), which aids in expressing her anal sacs. This is a common issue for small breeds like Frenchies, pugs, or Boston terriers, as blocked anal sacs are predisposed to infection or worse. We also have a cream Golden retriever/English lab mix, a service dog school dropout. She too has allergies and itchy skin and ears, which previously required medicated drops and antibiotics. Since we've adopted her and switched her to a V-dog diet, we have eliminated the need for the medications. In conjunction with routine hygiene, V-dog has eliminated Willow's itch ears and skin. The recurring problem areas have healed and the fur has regrown. She is as comfortable as any dog without allergies. Besides the V-dog dry food, we use the peanut butter and blueberry wiggle biscuits as treats after potty breaks, and the girls get a breath bone after they are brushed, get nail trims, or other "spa treatments" from Mama. They love all of the V-dog line, and I can't imagine changing brands at this point.
---
By Roxie on Dec 30, 2021
A healthier choice
Very happy with this dog food it helps with my dog's skin issues and resolved his chronic ear yeast infections He loves this food and his coat is shiny and lustrous. His eyes are bright and clear and he has good energy. He looks forward to breakfast and dinner. I highly recommend this food
---
By PamtheDogRunner on Dec 28, 2021
Vegan and Vegan Dogs Healthy TOGETHER!
As a vegan myself, and dying to try another vegan dog food. The unavailability of our other vegan dog food brought us the need to try another dog food. When I put the food in the bowl- it was devoured just as quickly as the first. So we now have two options for vegan dog food. We have found that most dogs and people will end up choosing vegan-based meals over nonvegan-based meals. VDog is paw fect for all dogs and even has a smell to it that smells like a person may want to eat it!
---