Frequently Bought Together
---
About This Item
Basic liner.
It's eco-friendly, made from 100% recycled plastic.
3-ply, no tear technology you can trust.
Van Ness Cat Pan Liners make cleaning your cat's litter box easier than ever before.
Eliminates the need to clean your cat's litter pan every time you switch out her litter.
Great for standard cat litter pans, high sided cat litter pans and enclosed cat litter pans alike.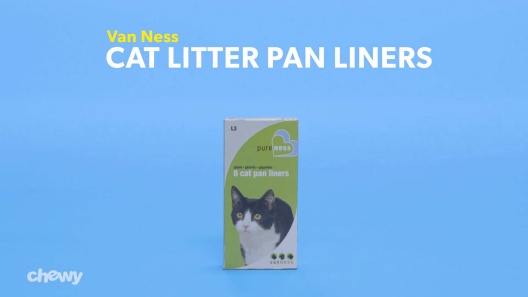 Learn More About Van Ness From Our Team of Experts
---
---
Questions & Answers
5 Customer Questions
---
How many mils thick are the VanNess liners?
Answer by • Mar 02, 2021
The L2 liners are 1.01 millimeters thick.
---
Is 19x15 the size of cat box it fits?
Answer by • Nov 20, 2017
The Large liners fit litter pans measuring up to 19 x 15 inches. The Giant liners fit litter pans measuring up to 22 x 16 inches.
---
are these liners unscented?
Answer by • Aug 13, 2021
These liners are unscented.
---
Are these bags elastic??
Answer by • Feb 17, 2021
The L2 Van Ness Cat Pan Liners includes ties to close the liners. The liners would lay on top of one another inside the pan.
---
---
---
By minnie on Jul 28, 2022
Can't even get it out of the box without tearing it apart.
These are a half-step up from the Imperial sifting liners, which is what I tried before these. These Van-ness liners are still a joke. No drawstring, no corner tabs. Tying up is difficult because you don't have enough slack. In my attempts to pull the corners together to tie it shut, I ripped the bag almost immediately. Every attempt to grab and pick up in a different way to avoid further damage just made it worse. And why bother double-bagging? There's only 8 bags to a box. So I can only get 4 uses out of one box before I have to buy more. I have 4 litter boxes in my home. I'll continue on my quest to find a good Cat's Pride replacement.... This ain't it.
---
By KittyOwner on Aug 4, 2022
Doesn't fit size as advertised
Seemed like a cheap option to try, unfortunately you get what you pay for. It doesn't fit the size that is advertised because of the way the bag is made. It's like a standard trash bag that someone has cut the top off of. If you cut it open along the edges and stretched it out, maybe it's near the advertised size, but that doesn't help anyone that wants to use it as a liner. Plastic seems thick enough to hold the litter, if it did fit. Only get if your litter box is half the size of what they listed.
---
By Jess on Jun 18, 2022
Don't buy!
These liners are thinner than generic plastic grocery bags, and each time I tried a new liner, the very first time my cat used the litterbox her nails tore holes in the bag when covering up her waste. Without a drawstring or similar method of attaching them to the pan, the liners don't even stay in place when used in an average open-top litterbox. I don't understand why the company even makes these.
---
By CTWilly on Jul 21, 2022
Try a different brand
Too small for Buddha box and there was no way to keep the liner from folding into the box. NG
---
By Aspen on Jul 24, 2022
Read full bag measurements
These bags are not for large litter boxes. They are not tall enough to fit over the sides.
---
By Toni3kitties on May 31, 2022
More like Van-mess
These liners are super thin and actually split and spilled the litter back into the box while changing. Back to Fresh Step
---
By Luvy on Aug 10, 2022
Liners are a disappointment
Not great supposed to be large . I don't like the fit.
---
By Richy on Jun 2, 2022
Cat Litter Box Liners
The liners did not have draw strings made in them. That makes them a little bit more difficult to use.
---
By Susa14 on Jan 24, 2022
wasteful system
I would like to just say that this is a wasteful system in my mind. No liner that acts like a bag is needed when the cat toilet is a bin that collects what falls through, urine and pellets that transform to a sandy form e.g. All you might want is a true liner underneath but even a double lined kitchen paper works if disposed of daily or every few days (depending on if the cat goes to the toilet inside or/and outside). I would suggest to not just buy a bin as shown in the video. Too many pellets or too much sand etc. will get thrown out too fast for sure. Let's all try and cause less waste.
---
By Lola on May 14, 2022
Just this one product
I don't recommend this product. I would highly recommend Chewy to my friends and family..
---