Van Ness High Sides Cat Litter Pan, Blue, Large
Frequently Bought Together
---
About This Item
High sided design minimizes litter scatter. Ideal for cats that like to dig in their litter.
Polished finish that is odor and stain resistant making it easy to clean.
Ideal for large cats that like to dig or multiple cat households.
Eco Ness Safe & Green 20% recycled content!
Open litter box design makes spot cleaning easy and is perfect for cats who prefer easy access to the litter.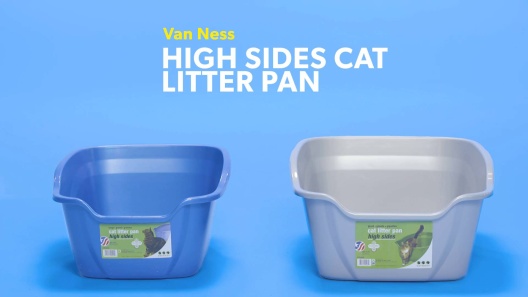 Learn More About Van Ness From Our Team of Experts
---
---
Questions & Answers
19 Customer Questions
---
Which size pan for average-sized adult cat, "large" or "giant"?
Answer by • Jan 16, 2018
Either size of the Litter Pan will work for an average size adult cat, your cat would just have extra space with the Giant size.
---
What are the dimensions of the box?
Answer by • Jul 21, 2019
The overall dimensions of the Large pan are 17.5 x 15 x 8.5 inches and has a step in height of 6 inches. The overall dimensions of the Giant pan are 21.25 x 17.75 x 9 inches and has a step in height of 7 inches. Dimensions are listed as length x width x height. With the sides being angled, the base will be smaller than the outer edges.
---
Does anyone know if this would b e good for a 20 pound Maine Coon
Answer by • Apr 18, 2019
The Giant litter pan is suitable for most large cats.
---
Are the corners in the box square or curved?
Answer by • Oct 23, 2017
The corners in the box are rounded.
---
---
---
By Lotus on Jun 9, 2022
Thumbs up!
I have been buying these boxes for some time now because I like to replace them a couple times a year, especially since they are so inexpensive, even though it's probably not necessary. I have one large cat and one small cat and this works well for both of them. They stay shiny and easy to clean and keep most of the litter in the box, so I am happy and would recommend them.
---
By LitterBoxes on May 24, 2022
Smaller is not Better
I have been using these litter pans for years. I have had large cats, some are fat, some are long, some are big boned. These pans were great for them. I still have large cats, but these litter boxes are no longer as big. I was very surprised by the reduction in size. Personally I would rather have paid more & kept the size they were.
---
By Lauren on Apr 20, 2022
Keeps litter in pan
I got the big highsided box. A couple of my cats dig in the box like they're clearing a grave, litter all over the place (and sometimes some extras...). Sometimes they flip the box because they step on the edge. I've used this pan for about a week and no more litter flung far and wide. I love it. They can dig and kick to their hearts content and not make a mess. My cats are small to medium, so lots of room in the pan for them. The price of this pan is worth not having to sweep every day or shake litter out of everything they kick it on. (My cats are serious diggers, it's ridiculous.)
---
By Olivesboy on Jun 1, 2022
Teeny Tiny
This is only for kittens-way too small for my cats. I should have paid more attention to the dimensions. But for the low price of the item I am not going to bother returning it. It would be great for a kitten!
---
By cats on May 23, 2022
ITS OK BUT
Its alright but has tipped over twice and the inside is smaller than most other pans the litter is staying in the pan for the most part but I have not seen the GIANT SIZE either. I am going back to enclosed pans.
---
By julu on May 12, 2022
Tunneling to China
Wonderful solution for diggers. But where is the Giant size? I've been watching with no luck. (13 cats due to shelter overload) Less cleanup of litter & believe me, it matters for healthy household. Allows more time for care & play!
---
By SpoiledCat2 on Jun 7, 2022
Less mess!
Less mess than a short litter box! Got it quickly, the price was right, like the blue color & my cat is using it everyday. What more can I say?
---
By Knulie on May 20, 2022
A little small
I should have taken some measurements before I purchased this litter box. The cats are able to tip it over if there is not enough litter inside. It is a little small.
---
By BobbyTheCatDad on Feb 20, 2022
Very Pleased!!!!
I bought this in hopes that it would reduce some of the cat litter that gets tracked and I am extremely pleased and very happy to say that this is great! It is definitely not "GIANT" by any means but it's perfect for me it fits right where I need it to so all in all I could not be happier and I highly recommend this but I suggest you check the measurements before you buy just because it says giant doesn't mean that it will be giant to everybody!!!! Thanks Again Chewy!!!
---
By Carmen on Mar 14, 2022
Simple and fits where I need it to
I needed a litter box to fit in a very specific spot. This one was the right dimensions. The high sides keeps litter from flying everywhere when kitty is burying the evidence. The bottom isn't very flat though. It was bulged out and rocks a bit. I proped stuff under it to stabilize it. Not that the cat cares at all.
---