Van Ness Sifting Cat Litter Pan with Frame
---
About This Item
Polished finish that is odor and stain resistant making it easy to clean
Framed pan provides added height, reducing litter spills and holding cat pan liners securely in place
Ideal for owners who want the benefits of litter scoop free maintenance
Eco Ness Safe and Green 20% recycled content
Great for cats who are cats uncomfortable using enclosed pans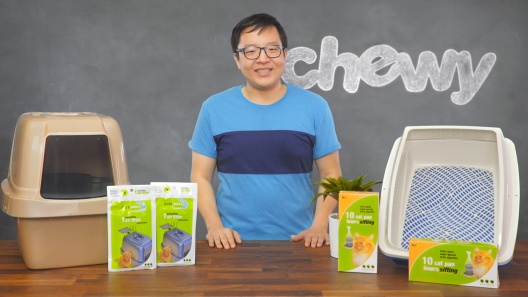 Learn More About Van Ness From Our Team of Experts
---
---
Questions & Answers
23 Customer Questions
---
How much space is there between the bottom of the nesting pan and the grid? Why are there 2 nesting pans?
Answer by • Dec 30, 2018
The sifting tray sits directly on top of the bottom pan. The litter box comes with two base pans you so can transfer the litter back into the box once it's cleaned.
---
How tall is the front part where they step in at?
Answer by • Oct 04, 2017
When assembled, the Van Ness Sifting Cat Litter Pan with Frame measures 19 x 15 1/8 x 8 inches. The front end is approximately 5 inches and the back is 8 inches.
---
are there bands to help hold liners in the 2 bottom pan
Answer by • Aug 07, 2018
Van Ness offers the following that do include the rubber band to securely hold liners in place. Van Ness Sifting Cat Pan Liners, X-Giant, 10-count
---
What is the approximate size of the largest holes in the sifter?
Answer by • Oct 17, 2017
The approximate size of the largest hole in the sifter is about 1/4 of an inch x 3/4 of an inch and shaped like a rectangle.
---
---
---
By Sunny on Feb 8, 2022
We have 2! Gets the job done.
We had one of these pans for about a year, and the quality is still great. My sister recently adopted another cat, so we got another litter box (total of 3, one isn't sifting). We use pine pellets, which do clog up the holes sometimes, but switching out the used sawdust usually lets the clogs dry up and fall. It's not the largest box (my cat is a little cramped), but it gets the job done. No accidents. He does knock out the litter as he's walking out sometimes, but pellets are easy to just toss back into the box. I'm moving soon, and this is the box we're taking with us!
---
By Terry on Dec 4, 2021
Disappointed
While this is a bigger pan, it is not that much bigger than the others I have. The top is nice to help keep the litter from scattering, but my kittens manage to scratch litter out of the front of the pan where it is lowest. The edges of the trays are not finger friendly and hurt the ends of the fingers when I am trying to separate them for cleaning.
---
By Kathy on Nov 23, 2021
Sifting litter pan
I wish the covered ones weren't so expensive but settled on this one. All my rescues went to mark it as soon as I put the feline pine in it. I bought this to try it out with the feline pine since the urine breaks down the pellets to wet saw dust consistency it would be much easier to clean up with a sifting pan. I hope it is as easy as it looks like it should be.
---
By Dani on Nov 5, 2021
seems like a great idea, but…
We tried nonclumping pine litter and clumping clay litter. With the pine litter the pieces were just the right size to get stuck in the slots. Then with clumping clay litter the urine litter clumps just clogged up the sifting slots and making a huge mess even under the sifting pan. I still can't get the slots clean, and I worked for an hour on it. We are now just using regular boxes with Dr Elsey's unscented non-clumping crystal cat litter in a regular box. That's worked the best so far.
---
By Mary on Oct 18, 2021
Okay- But Not Great
I compared this to another sifting litterbox. I have big problems with the sifting openings getting clogged up with the pine sawdust and then its a big mess trying to get them cleaned out so I can sift the rest out. I would recommend choosing another similarly priced sifting litter box if you are planning on using pine litter.
---
By rach on Feb 10, 2022
awesome! i'd buy another
easy to use and clean bought it for my kitten and it works pretty nice thank you
---
By KANN on Feb 7, 2022
Best litter box
Absolutely the best and easiest litter box I've ever owned. Great price too!
---
By Bean on Sep 7, 2021
Have to Scrape A Lot compared to other sifters
I have 2 other sifting pans at home and this one is far less convenient. The holes are cut in such a way that litter clumps get packed in so you end up having to scrape a lot to push it through. Also, the side piece is hard to get off each time you sift and it has to come off the way it is designed. Last, it drops a lot of litter that is hiding in the pan after sifting. A C minus at best. Do not recommend.
---
By lala on Aug 13, 2021
Why so many bad reviews
This is a bigger sized sifting litter box than the arm & hammer one and at a better prize! I use pine pellets with it, super easy to clean. I just pull the sifting part on top of the normal bottom pans so that it's at an angle, and move the litter around until the pine dust is all sifted. Sure some small pellets get stuck in the holes but they don't go through so there's no waste. My cat is 2 years old and 5-6 lbs, she's on the smaller size, but I think a regular sized cat would fit fine.
---
By WishfulEase on Oct 10, 2021
Hoping for easy daily cleanup
Was hoping this would make a daily clean easier and more manageable but quickly realized it was more of a hassle and less effective than scooping and a high walled box.
---