Vet Basics Lime Sulfur Dip Antimicrobial for Dogs, Cats & Horses
This item can't be shipped to CA.
---
---
---
About This Item
Effective and affordable treatment for mange, ringworm or other irritating skin conditions in dogs, cats and horses.
Makes an ideal mange control alternative for breeds with a sensitivity to ivermectin, like German Shepherds and Collies.
Antimicrobial and antiparasitic formula kills lice and mites, and effectively treats fungal and bacterial infections.
Easy-to-use formula can safely be used to treat even young companion animals, including puppies, kittens and foals.
Leave-in treatment can be used as needed by simply mixing with water and applying all-over or to affected areas.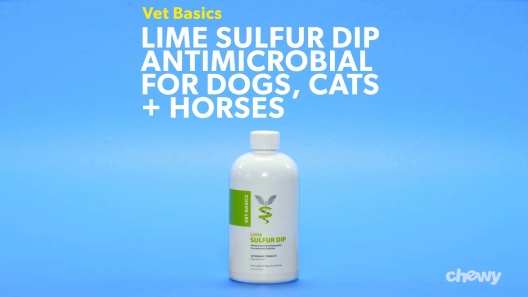 Learn More About Vet Basics From Our Team of Experts
---
Compare Similar Items
| | | | | | |
| --- | --- | --- | --- | --- | --- |
| | | | | | |
| Customer Rating | | | | | |
| Price | | | | | |
| Autoship | — | | — | — | |
| Top Ingredients | Active Ingredients: Sulfurated Lime Solution 97.8%. | — | Deionized Water, Tea Tree Oil, Comfrey... | Ferric Subsulfate,Aluminum Sulfate, Silica, Iodophor and Benzocaine. | Hypochlorous Acid (0.007%), Sodium Hypochlorite (0.002%) |
| Breed Size | Small Breeds, Medium Breeds, Large Breeds, All Breeds | Small Breeds, Medium Breeds, Large Breeds, All Breeds | — | Large Breeds, Medium Breeds, Small Breeds... | Small Breeds, Medium Breeds, Large Breeds, All Breeds |
| Health Feature | First Aid, Skin & Coat Health, Anti-Fungal / Anti-Bacterial | Skin & Coat Health, Ear Care, First Aid, Anti-Fungal / Anti-Bacterial | First Aid | First Aid | Eye Care |
| Lifestage | Adult | Adult | Adult | Adult | Adult |
| Small Pet Type | — | — | — | — | Rabbit |
---
Questions & Answers
85 Customer Questions
---
How long does it take to see a change in skin conditions like mange?
Answer by • Oct 06, 2018
This depends on the severity of the condition. This product is meant to deal with affected areas for 5-7 days at a time before needing reapplication.
---
Can I fill the bathtub with the proper dilution and put my whole dog in it? Or do I need to rub it on her like a shampoo?
Answer by • Aug 19, 2018
It is recommended to pour the dip solution (dilute 4 oounces of Lime Sulfur Dip in one gallon of water) over animal making sure it gets all the affected areas. Use a sponge on the animal's face to keep it out of their eyes, nose and mouth. Do not rinse or towel dry; let the animal air dry.
---
Can I use hairdryer to dry him? I have a 3 months kitten and he's been sneezing all the time, I'm afraid he will get sick if I just leave him there wet. Also, should I apply on his whole body or just ringworm spots?
Answer by • Aug 06, 2019
Apply the diluted lime sulfur dip solution liberally as a rinse or dip at 5-7 day intervals directly over the affected areas on the pet and massage into their skin. Allow the product to air dry and do not rinse.
---
What are the directions on the product for cats?
Answer by • Oct 17, 2017
The directions are the same for dogs and cats. Dilute 4 oz. of Lime Sulfur Dip in one gallon of water. Mix the solution well and use gloves when applying to the animal's skin. Bathe the animal with a shampoo and rinse well prior to application. Apply the diluted Lime Sulfur Dip solution liberally as a rinse or dip at 5-7 day intervals directly over the affected areas on the pet and massage into the skin. Allow the product to air dry and don not rinse.
---
---
252 Customer Reviews
---
Filter by reviews that mention
---
By MayTemp on Nov 18, 2022
Very effective
You will notice the difference even on the first time of use. My kitten had ringworms above his left eye and he lost hair in that section. The hair started to grow back right away. We just had to be careful not to get it in his eye.
---
By Good on Sep 15, 2022
Excelent treatment for ringworm and fungal issues
Just be really careful with this product it has a really strong smell. Mix 4oz w a gallon of water and bathe your dog allowing it to air dry after use. It is important to know that you have to bathe your dog with a medicated shampoo before using this product. It really works. I'm really grateful that I've found this product online !!
---
By Mr59 on Oct 30, 2022
Hole in seal
First of all the lid was over hard. Once the lid was remove there is a hole in the inner seal, and the solution had leaked out and dried around the lid.
---
By frustrating on Sep 1, 2022
can't open it
I have used lime sulphur dip before. I know it works and I can tolerate the smell. The problem with this product is that the cap seems to be impossible to open. I have tried pushing down and turning for a long time. I have tried using my full weight to push down. I have pushed down so hard that it would not turn if I applied any more strength. This thing will not budge and I'm starting to hurt the skin on my palms due to the ridges on the sides of the cap. I am wondering if maybe mine is not threaded correctly or otherwise defective because I have never had this much trouble with a child proof cap. Not at all practical. It probably works but I cannot verify.
---
By Cyndibel on Jun 27, 2022
Works great
Our dog looked so bad, red itching, loosing hair. I purchased this dip and it does smell while dipping, not a problem after it dries. After one time dipping, the problem appears to be gone. We will dip again to make sure though.
---
By Amanda on May 9, 2022
Works for Goat Mange Mites
My goats were diagnosed with sarcoptic mange mites. I ordered this after finding nothing in stock at the local livestock and pet stores. It came almost the next day and worked wonders. I sprayed their bald spots and now 2 weeks later they have new growth and seem to be feeling much better.
---
By Minnowcats on Feb 14, 2022
It really works!
We got a very aggressive form of ringworm which we treated for a few months with medicated shampoo, but it always returned. This old-fashioned treatment started working after the 1st use! We're 3 treatments into it & even our old, weak cat has cleared up and didn't have any issues from it — I was afraid it might cause some reaction due to her poor health, but no problem. Yes - it smells like rotten eggs - and you should use gloves when putting it on (I used a sponge to get it through the long hair to the skin). But if you can apply it in a bathroom or some room with a fan, that will help. But it's not as bad as many reviewers complained. Maybe living on a farm helps deal with stronger scents? But if you are having trouble clearing up a fungal issue - this is definitely worth it!!
---
By lgb37 on Mar 12, 2022
Love this stuff
I've used this for years, the best and easiest treatment for ringworm and other skin aliments, it isn't that bad to use as you might hear, the smell doesn't bother me, I don't even use gloves, just follow the directions, and great results. I run a rescue and kittens with ringworm is common, I wish I knew about lime sulfur long ago.
---
By Aaliyah on Jan 15, 2022
So far so good!
For the past few months my pup has been suffering an unknown skin condition, but I suspect it to be muted. A few months ago at his vet visit, I brought up some skin condition concerns I had to his vet, his vet instantly jumped to the conclusion of allergies and prescribed us Apoquel, which at the time I figured it was allergies as well, so I paid and went about my way. Months later here we are, apoquel has done nothing but make my pup sick and his skin conditions have only worsened. He started losing mass amounts of hair and his rashes have only spread. After some length of research I came to the self diagnosis of mites, as he has all symptoms. I was hesitant to run back to the vet, since he does not take much time to look into possibilities per last visit, so I found this product and decided to give it a go before dropping possible hundreds at the vet. It arrived today (I ordered it yesterday) and he just received his first treatment. Usually after a fresh bath, he is instantly digging at his skin again. After putting the sulfur drip on him, he has not itched since! I will update as we progress, but after the first hour of treatment I am already pleased! Yes it is stinky, but you should care more about your fur baby than your nose!
---
By Catsarehealers on Dec 6, 2021
Yes, it smells but is WORKS!!! Put your pets needs before your nose.
This product is saving the lives of many shelter animals. Yes, it smells but it WORKS. To all the owners who gave bad reviews and didn't sulfur dip their fur babies because it smells, you put your needs before your pet, shame on you. Please, if your animal has a condition that Lime Sulfur is knows to cure do the right and treat them. They feel instant relief from this solution and its very effective, we all know your farts stink so pony up and dip your fur babies!
---