Virbac C.E.T. Enzymatic Poultry Flavor Dog & Cat Toothpaste
By Virbac
Save Extra 25% Off at Checkout
Autoship
(Save an extra 5%)
Choose Autoship at checkout for regular deliveries.
Why Autoship?
FREE access to chat with licensed vets 7 days a week.
Save 5% on all future Autoship orders.
No fees, no commitments - cancel Autoship anytime.
---
About This Item
Enzymatic toothpaste specifically formulated for dogs and cats.
Specially developed to be safe, effective, and appealing to your dog or cat.
Contains the C.E.T. Dual Enzyme system to inhibit the formation of plaque.
Doesn't include any foaming agents which means this toothpaste is meant to be swallowed.
Since it's great for dogs & cats, it's an ideal supplement for multiple pet households.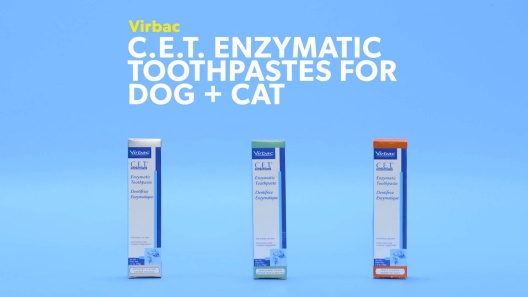 Learn More About Virbac From Our Team of Experts
---
---
About Virbac Dog Dental Health
Dental Care for Your Canine
For over thirty years, Virbac has provided a trusted line of products for your dog's dental health. From chews to toothbrushes and flavorful toothpaste, their C.E.T.® Brand of Products offers pet parents the home dental care their pets need. Each oral health solution works to remove plaque and tartar and promote fresh breath between visits to the vet to keep your dog's dental health in check.
Healthy Formula
Give your canine a chew you can trust with C.E.T.® Brand dental chews like C.E.T.® VEGGIEDENT® Tartar Control Chews for Dogs. A plant-based, gluten-free and easily digestible chew to keep your dog's stomach content. One chew a day helps to remove plaque and tartar with their firm texture and unique shape. And best of all, you'll feel confident knowing that every bite is made with only non-GMO corn and natural ingredients.
Brush Away Plaque and Tartar
Achieving pearly whites is easy for your dog with Virbac's veterinarian-recommended toothbrushes. Choose a reverse-angle brush for an easy clean or a double-ended brush to get to those hard-to-reach places. Or you can get the C.E.T.® Oral Hygiene Kit, which has everything you need including a long-handled, double-ended brush with reverse angle bristles and multiple flavors of toothpaste that dogs love.
About Virbac
Founded in 1968 by a French veterinarian, Virbac is an independent pharmaceutical laboratory dedicated to animal health. For fifty years, the company has built a personalized relationship with veterinarians. Through this partnership, Virbac contributes, day after day, to shape the future of animal health.
Shop Virbac
---
Questions & Answers
46 Customer Questions
---
Well it help remove old plaque? Or just prevent it? If not any recommendations on a good way to get old plaque off with out taking to vet to be put under? It's just she is older and putting her under worries me a bit.
Answer by • Oct 03, 2017
At the moment, this toothpaste is designed to prevent the formation of plaque on your pet's teeth.
---
Where is this product made?
Answer by • Feb 07, 2018
This product is made in the United States.
---
I just purchased a tube from chewy but there was no safety seal under the cap of the toothpaste. Should I have expected a safety seal, or does this product not have safety seals on the tube? Thank you!
Answer by • Dec 22, 2017
This Toothpaste is not manufactured with a seal.
---
How do you use this on cats? Is it safe for them to swallow?
Answer by • May 05, 2018
This product doesn't have any foaming agents which means this toothpaste is meant to be swallowed. You'd need a soft-bristle toothbrush such as the C.E.T. Dual-Ended Toothbrush and apply daily.
---
---
---
By Nettie on Apr 29, 2022
Brush your pets teeth!!!
In the past we've had dogs that had teeth pulled due to one thing or another. That will never happen to us again. We recently had a 14 year old Welsh Terrier, Jaxson, and he had perfect and white teeth until he died. We now have a 2 year old schnoodle, Jacki, with sparkling teeth and will continue to be so for many years to come. I have told countless people about brushing our dog's teeth but they all say that the dog won't let them. We didn't start brushing our Welsh Terrier until he was about 2, We had a traveling "Doggie Dental" come to our house and she said we would never need her again if we only brushed Jaxson's teeth. We used C.E.T toothpaste (don't use human toothpaste) and a child toothbrush. We have never used the finger toothbrush. My husband puts the dog on the bath rug, makes them sit down and tells them it's time to brush their teeth. He holds their mouth shut, brushes one side then the other then the front. They squirm at first but keep it up and they expect it and realize it's part of going to bed. Jacki brushes with a Sonic Care. My husband first brushes with just the brush then when that's done he turns on the power and Jacki loves it. Dogs have no way to tell us they have a toothache.
---
By LucyGoose on May 8, 2022
Great Toothpaste, Horrible Tube
This toothpaste is fantastic and does a great job of keeping my dog's teeth clean but the tube is horrible. I've tried it twice now and both times the tube has split open in multiple places within a couple of weeks. This then means that toothpaste gets everywhere and it becomes a total pain to use. It also makes a huge mess when you're trying to squeeze more toothpaste out, which isn't exactly ideal or fun (though my dog loves it and will happily "clean up"). Unfortunately I won't be buying again.
---
By Leelee on May 13, 2022
I"m almost tempted to taste it..
I bought another brand that I literally had to chase my dog to brush her teeth.. but this one has made it so easy.. she still fights a little bit (because she's spoiled) but she lets me do it. Definitely a five star rating from this mom! her teeth are worth keeping!
---
By Kaia on May 20, 2022
Great Toothpaste!
I have used this particular toothpaste on my dog for the past 8 years and it definitely has a flavor and feel she tolerates and enjoys licking. Even my veterinarian has stated her teeth look good!
---
By DeeDee on Apr 1, 2022
Virbac C.E.T. Toothpaste for dogs/cats
I bought the poultry flavor and Lily loves it. With all my research I believe it's a safe and effective product, great reviews. We are moving slowly toward getting all her teeth brushed hoping it will eliminate the need for her to be put to sleep to have her teeth cleaned in the future and illness that comes from bad teeth.
---
By grammykathy on Apr 4, 2022
Picky to Happy Chihuahuas
After buying and trying several toothpaste brands for dogs that were refused by my two chihuahuas after one sniff each, I tried this product. They love the product and want it as soon as they see the tube. I use my finger to apply the paste and they happily lick my fingers afterwards to make sure they have gotten all of the yummy paste.
---
This toothpaste helps when brushing my dogs teeth
I have one dog, my pit bull Derby, that needs extra care with her teeth to help prevent dentals. This toothpaste really helps when I'm brushing her teeth especially in the back of her mouth where the most problems are with her teeth. I highly recommend this toothpaste AS WELL AS THE C.E.T. tooth brush. The C.E. T. tooth brush makes a huge difference in getting the job done. Other tooth brushes are too big and makes my dog not want to cooperate.
---
By ToriG on May 1, 2022
Clean teeth
I use this toothpaste a couple times a week to brush my two dog's teeth (Bernese Mountain Dog and German Shepherd). The both like the taste of the toothpaste - which makes brushing an easy and fun experience!
---
By Rach on Feb 25, 2022
Ingredients
I started using this with my new puppy at maybe 4 months old. She doesn't mind having her teeth brushed. I only do so about once a week, maybe I should more. I do have a problem with this company stating where they source the ingredients being confidential. What this means is they get them from China. Why would this information be confidential? Why shouldn't consumers have the right to know where all the ingredients come from? There is ABSOLUTELY nothing the USA can not produce. It's all about cheap labor and ingredients. This really ticks me off. There is NO WAY anymore Americans can buy only America made products because most everything is made outside of the US or at least sources it's ingredients outside the USA. If we want to buy anything we have to compromise, it's just not right. There is no way we as pet owners can feel safe and secure that our pets aren't consuming something they shouldn't in the products we buy for them. I guess until so many stop thinking if our pets as objects and replaceable and/or disposable this will not change.
---
By Octavia on Apr 18, 2022
Actually seems to taste good
Octavia hates the taste of most toothpastes but this one I can tell she likes because she licks it up. She still hates getting her teeth brushed but I can get a little bit more of her teeth with this one.
---