The Virtually Indestructible Ball Dog Toy, Color Varies
Frequently Bought Together
---
About This Item
Constructed of rigid and rugged plastic that's built for years of rough and tumble backyard playtime sessions.
Hard, tear-proof polyethylene is 100% non-toxic, completely washable for easy cleanup.
Made in the USA since 1992 and tested by generations of hard-hitting, rough-playing canines and their pet parents.
Available in a variety of sizes for the perfect long-lasting, heavy-duty playing experience for dogs of any breed.
Provides hours of safe, interactive and durable outdoor exercise and entertainment to keep dogs happy and healthy.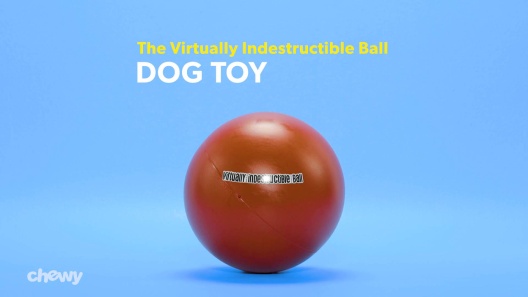 Learn More About The Virtually Indestructible Ball From Our Team of Experts
---
---
Questions & Answers
30 Customer Questions
---
Can it be punctured ?
Answer by • Nov 08, 2020
No matter how chew happy, how aggressive, how razor sharp or how strong your dog's jaws are, The Virtually Indestructible Ball will not break. It is made from long lasting, tear, break, burst proof polyethylene.
---
Does this ball float? We have a pool and the dog loves to drop balls in. It's hard to get them out if they sink.
Answer by • Nov 07, 2017
This Ball does float.
---
Hi which size is closest to the size of a standard basketball?
Answer by • Apr 06, 2018
The 10 inch toy is closest to a standard basketball.
---
Is this toy made in the US?
Answer by • Aug 21, 2018
This toy is manufactured in the United States.
---
---
---
By Ball on Sep 24, 2022
Destructive
The ball will certainly hold up to super chewers. However the ball is a very hard plastic and it's very slick, I was expecting a more forgiving material. Typically my dog can stop a ball before it crashes into furniture or walls but this one is too slippery for him. I would not recommend for indoor use as this ball will cause destruction due to its siz and material. I don't have a fenced in outdoor area so I gave the ball to the doggie daycare to use.
---
By CCAB1216 on Aug 30, 2022
Best toy for herding breeds
Ignore every negative review on here complaining that their dog can't pick this ball up or play with it inside. They obviously don't realize what this ball is for. My mutt has always shown strong herding tendencies and this ball is his favorite thing ever. If we leave it in the yard, he won't play with anything else. He's been learning how to control it better and even brings it to me to kick it now so we can play together. He gets so much more exercise since we got it and his behavior has improved because of that.
---
By Jess on Sep 10, 2022
JRT-X approved!
Got this for my JRT mix puppy who is HIGH energy and a CHEWER! I got the 10" so that she could herd it and because her sister is a large breed mix. She goes NUTS for this ball! She runs all over the yard barking, nosing, and chasing it. She'll put it under her belly and roll around on it. I alternate this toy day-to-day with her flirt pole to help burn energy. Definitely a HARD ball, so outside play only.
---
By Indestructible on Aug 20, 2022
10" is perfect for my 100+ lb. Dog
WE have a large breed mix named Napoleon. Napoleon has taken to this ball like fish to water. He loves it. It took a little bit to get him used to moving it around without carrying it in his mouth. Now he can push it with a combination of his nose and paws about as fast as he can run. He weighs over 100 pounds and he has had the ball since 2018. Its still going. We have not had to replace it. Well done!
---
By Aussiemom on Aug 26, 2022
Amazing for exercising your Aussies
I should have bought this a loooong time ago. My 1.5 year old Australian Shepherd absolutely loves this. So much so that I needed to order a second one for my grandpup Aussie. It is fun watching them figure out how to move and control it. It is also a super fun way to burn energy and get cardio exercise. I can't see how this will ever break. Wear toe protection when kicking. Lol.
---
By Babs on Sep 22, 2022
Great ball to herd
Our pitty/border collie mix loves this ball! We must have supervised play as he bats and chases it around the yard, mowing over anything in his path until we take it away. He gets quiet a workout. I would suggest removing small children and old dogs from the play area.
---
By Debfro on Sep 13, 2022
Finally an indestructible ball
Zoey loves to toss the ball back and forth to me with her paws and this ball beats them all. It is hard and when she paws it, she sends it rolling. She loves it. She would stay at it for hours if I let her. With other balls, they end up getting deflated.
---
By Carol on Aug 4, 2022
The best - ever!
OK - we bought this 14 inch ball a couple of years ago for our 100 lb GSD who has destroyed every ball before this one and we tried many. He has teeth marks all over it from trying to pick it up. We needed to put in a plug to cover the moulding hole, but after that he cannot pick it up! It is his favorite thing in the whole world to play with. This is a winner if your dog has aggressive chewing tendencies and a big mouth. My husband and Jasper play soccer every night and while that's fun just add snow for a really crazy time! Just ordered another as we don't want to wait if anything does happen to this one!
---
By Pupma on Sep 24, 2022
Truly Indestructble!
As far as being indestructible I would say definitely YES! Unfortunately my Pups had no interest in it probably because it is so hard. Horses could kick it around. I'm going to donate it to my local Animal Shelter.
---
By Sali on Aug 11, 2022
Too big for any dog I know.
I called Chewy to find out what the diameter of this ball was before ordering I asked about the one that said it was 6". Was told that it was about the size of a tennis ball. That was too small for my dog so I ordered the next size up and that one turned out to be just slightly smaller than a basketball. And extremely hard. This is not the first time I've had problems with ball sizes from Chewy.
---