Vision II Model M02 Bird Cage, Medium
---
About This Item
The perfect blend of design and practicality, this double height, small wire cage is perfect for budgies, canaries, lovebirds and finches to suit their natural behaviors and activities.
Made from non-toxic, durable materials so you can feel confident about letting your feathery friend call this home.
Knock-down style for easy assemblage and has been designed with a handy debris guard and deep base to keep 80% of waste and debris inside the cage. Simplifies cleaning with a no-drawer design, simply detach the cage from the base for easy cleaning.
Comes with many innovative features to provide the safest, most convenient cage for your pet bird and has an included multi-grip perches help promote circulation and help prevent foot problems.
Easily access feeders from the outside of the cage through the drop-down panels at each end and comes with two green seed/water cups, two waste shields, four green perches and snap-fit assembly for easy setup.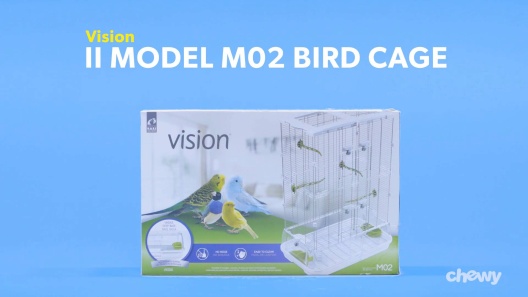 Learn More About Vision From Our Team of Experts
---
Compare Similar Items
| | | | | | |
| --- | --- | --- | --- | --- | --- |
| | | | | | |
| Customer Rating | | | | | |
| Price | | | | | |
| Bird Type | Parakeet, Canary, Lovebird, Finch, Budgie | Parakeet, Canary, Lovebird, Finch, Budgie | Parakeet, Canary, Lovebird, Finch, Budgie | Canary, Parakeet, Lovebird, Finch, Budgie | Cockatiel, Lovebird |
| Material | Coated Metal, Metal | Coated Metal, Metal | Coated Steel, Metal | Coated Steel, Metal | Coated Metal, Metal |
---
Questions & Answers
31 Customer Questions
---
is this cage suitable for a pair of breeder keets nest box
Answer by • Nov 12, 2018
This cage is suitable for a pair of parakeets. The cage recommended for a single pair should measure approximately 24 x 12 x 16 inches, this one is bigger measuring 24 x 15 x 34.5 inches.
---
How is Vision 2 different from Vision 1?
Answer by • Jul 20, 2017
Vision II Model M02 is a double height, small wire cage and the dimensions are 24.6 inches x 15.6 inches x 34.3 inches. The Vision II Model M01 is a single height cage and the dimensions are 24 x 15 x 20.5 inches.
---
Does this cage open on the top? We like to let our birds climb out of the top and sit outside on the top.
Answer by • Oct 02, 2017
This Cage features the ability to easily detach the top when needed.
---
What is the spacing between the bars?
Answer by • Jan 18, 2018
The wire spacing is half inch, spacing between the wires if 7/16 inch.
---
---
---
By Cindy on Apr 28, 2022
100% recommend this cage
My birds love this mansion. If your birds don't want to go to the bottom of the cage (where the food cups will be), buy them a little bird ladder for $6 so they can walk down instead of having to jump. My birds didn't mind but they love the ladder Honestly, assembly was fine for me, I watched a youtube video.
---
By Mari on Mar 31, 2022
Ruby's Chalet
Love the extra space Ruby has now versus her old cage. She adjusted quickly once her disco ball, mirror and treats were added. Only issue was that the box it was shipped wasn't secured. It was just the box the cage is sold in. All pieces were present. I opted to not build it with the second level. Also, have your readers on to figure out the assembly. The piece are assigned a letter of the alphabet but they are not referenced in the instructions.
---
By Margaret on Nov 22, 2021
Clean, loved by the birds and myself
I originally considered this cage before I got birds (2 budgies) but I was swayed by the research that birds prefer horizontal space. I ended up with a wide flight cage that was not very tall. During the summer we would move the cage to the screened in porch and there was always a mess that would fall out of the bottom (despite a cage skirt). The birds always hung out in one corner and the cage had a grate on the bottom that was so hard to clean. I finally upgraded to the tall vision cage and I love it! At first the birds hung out at the top and their first journey down was hilarious because they were so timid, but they have acclimated well. Now after three weeks, the birds DO use every level. No issues with the food on the bottom. I'm not using the bottom grate and can easily change the paper towels or paper on the bottom. Cage is sturdy. Doors are nice to open in both directions. I can move the cage around the house without a mess. There is just so much less mess and I find it easier to clean than a slide out bottom. So far I just take the bottom paper out of the sides and even used a vacuum with the wand attachment to get more out the other day without having to unsnap it. Birds seems happy, they love the horizontal bars for climbing up and down. They also seem to enjoy the perches that came with it.
---
By Iansandy on Feb 18, 2022
A little complicated to setup
Lots of small pieces tough for people with big hands. All around a great product otherwise setup took about 30 mins.
---
By PartOfAFlock on Oct 13, 2021
Owned since 2018
We have had this cage for about four years, and it has been home for four to six budgies at a time. There are a lot of pieces to it, but it goes together quickly. The cage is excellent. We bought the smaller version to take the birds to the vet (it travels well) and to use as a quarantine home. We like that the doors fold in or out. When folded in, they sit horizontal, and we call it the "front porch" for the birds. They like to hang out there. The cleaning is easy. The raised acrylic sides on the base contain a lot of mess. We have a water fountain and a small playset on the top. The food bowl location stinks. Even with the covers, they are soiled. I wish they would change that design so they were not on the floor. Also, the latches that hold the base and top together are flimsy - they broke very early on. All that aside, I will be buying a new one when what we have wears out. It is a nice bright modern look and is easy to care for.
---
By Suki on Apr 3, 2021
Not practical
This cage seemed cool but it's really not practical. The bottom feature is perhaps the worst thing about it. A cage with a drawer is a lot easier, we traumatize our bird every time we clean the cage. The top of the cage, not only doesn't open like most bird cages, but it's kind of domed so you can't put any budgie toys up there - most budgies like to be outside their cage, right on the top. It's also really hard to remove. The little door hinges are a pain as well, and since they lock with little plastic do-hickies, I imagine they will get worn out quickly. Finally, the non-slip material at the bottom is not needed and just a hassle. It's hard to move her cage around. I will say that the first one we received was missing a lot of parts, but Chewy was so great about it. They got us a new one at no cost and it came super quickly. Excellent costumer service!
---
By Jessy on Mar 5, 2021
Easy and simple
Almost didn't buy this cage, because of all the bad reviews and bad comments on the putting it together. If you can build Legos, you can build this cage, it took me 20 minutes to do it all. LOOK at the pictures on the instructions, follow them and done, if you're still having troubles go to YouTube there is always someone that has done it. I double-check my build like that. Also, this cage is perfect for my cockatiel I only have one. Is super tall he has a lot of fun with his toys and climbing.
---
By Catanna on Mar 30, 2021
Awesome Cage
Received item in record time just to find out it had been damaged during shipping. When opened several major parts were missing. Called to let them know. Next day received a new one with all parts. 5 stars from me. Will purchase from again and excellent costumer service.
---
By Dmills on Feb 10, 2021
Best Bird Cages
Vision bird cages are the best cages I have ever owned. There is no seed mess and they are very easy to clean. My first was a used one and I was hooked. I upgraded to a larger cage when getting a second parakeet. I just wish these cages were more available in the US.
---
By Joey on Dec 3, 2020
Nice Cage, Miserable Assembly
The directions for assembling this beast leave a lot to be desired. They're almost entirely pictures, but not nearly enough close-ups to really see what you're supposed to be doing without any written instruction. It took me a good hour, and I'm a fairly mechanically inclined person. Now that it is assembled, it's a pretty nice cage. I love the built in shields for lessening mess. I like the wire floor so that the birds don't have access to their excrement. It's a great size for our 2 parakeets, plenty of room for toys and such. I am not impressed with how easy the bars are to bend out of shape. They really should be a bit stiffer. I wish the spacing was wide enough to be able to use the little tube waterer I have too, but that's probably a bit nitpicky. Overall, I'd recommend this cage, but warn to be very careful assembling because of the wires' tendency to bend.
---