Vision II Model S01 Bird Cage, Small
Frequently Bought Together
---
About This Item
The perfect blend of design and practicality, this single height, small-wire cage is perfect for budgies, canaries, lovebirds and finches to suit their natural behaviors and activities.
Made from non-toxic, durable materials so you can feel confident about letting your feathery friend call this home and includes multi-grip perches help promote circulation and help prevent foot problems.
Knock-down style for easy assemblage and has been designed to keep 80% of waste and debris inside the cage with a no-drawer design, simply detach the cage from the base for easy cleaning.
Easily access feeders from the outside of the cage through the drop-down panels at each end and comes with two blue seed/water cups, two waste shields, two blue perches and snap-fit assembly for easy setup.
Equipped with a handy debris guard and deep base design to keep food and waste inside the cage, as well as a no-drawer design that allows you to detach the top and easily empty the base.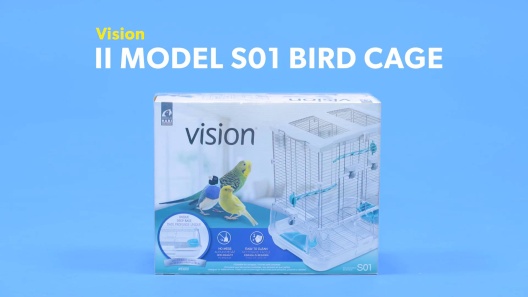 Learn More About Vision From Our Team of Experts
---
Compare Similar Items
| | | | | | |
| --- | --- | --- | --- | --- | --- |
| | | | | | |
| Customer Rating | | | | | |
| Price | | | | | |
| Bird Type | Parakeet, Canary, Lovebird, Finch, Budgie | Parakeet, Canary, Lovebird, Finch, Budgie | Parakeet, Canary, Lovebird, Finch, Budgie | Canary, Parakeet, Lovebird, Finch, Budgie | Parakeet, Cockatiel |
| Material | Coated Metal, Metal | Coated Metal, Metal | Coated Steel, Metal | Coated Steel, Metal | Coated Metal, Metal |
---
Questions & Answers
17 Customer Questions
---
Is suitable for two parakeets?
Answer by • Dec 17, 2020
This cage measures 18 x 14 x 20 inches. We recommend measuring your pets to ensure this would be a comfortable selection for them to share.
---
Is it suitable for 2 canaries?
Answer by • Jun 30, 2017
This model measures 18 x 14 x 20 inches. It would be suitable for 1 canary, but would be a little too small for 2 canaries.
---
Where is the entry door to take our little bird in and out? Measurements of access door?
Answer by • Oct 30, 2017
Vision cages come with large front double doors. They open towards the inside and serve as a convenient landing pad for birds returning from their brief time outside the cage. Together the doors measure 4.5 x 5.7 inches.
---
Can you detach the wire grate in the bottom?
Answer by • Aug 29, 2017
The bottom wire grate can be removed.
---
---
---
By Theda on Mar 23, 2022
Best Bird Cage Made
I have been breeding and raising canaries for over 35 years. This is absolutely the best made bird cage. They thought of everything. Guards over waterf and feed so droppings do not get in. Easy unlatch bottom cage for cleaning. Just unlatch and sit cage on newspaper and clean tray. Tall plastic sides to keep food and seed inside the cage. Also, helps with the slash of water when they take a bath. I am surprised at the increase in price but definitely worth it. You will save at least $50 buying this cage at chewy.
---
By maro on Apr 16, 2022
great cage but instructions aren't clear
The cage once put together is easy to clean and change the food and the after bowls. Lots of space for the bird to fly. It said it would take 5-10 minutes to put together but took me around 45 minutes since instructions aren't clear. Very few written and pictures aren't accurate
---
By Toddster63 on Jan 9, 2022
Best Cage Ever
I've had birds of all sizes over 40 years. And had experience with lots of different cages, from all acrylic to big barred large Macaw cages. But I must say for small birds, this is the best birdcage I have ever seen or used. My parrotlet happily lives in the S01 model, and this cage contains all the mess, and I love the horizontal bars which make it easy for hookbills to climb around. The German engineering and quality shines through, everything (food cups, doors, food cup protectors) snap into place perfectly and operate without a hitch. Yes, these Vision cages are expensive, but they make living with a smaller bird SO MUCH easier! Take it from someone with the experience to know!
---
By Windsong on Mar 24, 2022
Vision Cage
Very nice cage. Came shattered in pieces. Too expensive to ship back. My bird and I lost our on this order.
---
By TheFinchGuy on Nov 11, 2021
Good idea, but poor design
I love the idea of a "help stay clean tray-less enclosure", The main downfall? The attachment from surrounding wire mesh to the base of the unit is horrible. When separating the two, it really leaves you struggling to bring them back together! There is no locking mechanism holding or confirming the two halves are together? Just Gravity!
---
By Belisa on Oct 17, 2021
Good buy for my canary
Loved this cage. Easy to assemble and to clean. The only downside for me is the food trays. Tricky to take out and put back in. Also no need for two compartments per tray? But overall is perfect.
---
NOT for baby birds!
I have a new 2.5 month old Lovebird so he's pretty small right now. All the books and videos said to try and get more cage instead of too small. I like the cage, easy to put together but the corners are horrible! The little plastic clips that are supposed to pull the cage together are a complete fail. My little Tweety is anxious because he's never been alone and he has been putting his beak through the bars looking for his buddies - if this bird puts his beak into this corner he'll get his whole head through - I can't even put into words my fear of that happens. I have large paperclips twisted around the top and bottom of each corner to pull the cage together. Even when he gets older I would not recommend the cage for anything smaller than a large cockatiel- it's too much space. The width of the space in between the wires is a little big too but I think he'll be okay. I ordered another standing cage on wheels but this one was supposed to be the one in my office on a desk while I'm working so he's always in a room with me. There are some good things about the cage. I love the access to the feeding bowls and the little "hood" that comes out over them so he's not pooping in the food and water. The bottom of the cage is easy to separate to lay fresh paper - I'll have to lay paper on top of the wire right now though because Tweety will fall through. I like the shield on the side to keep the flying seeds in the cage and I like that the doors don't slide up and down because Tweety knows how to open those - yes - already (I had to use a binder clip on the tiny cage he's in right now because the little stinker was popping the sliding door up by using his beak under it and sticking his head out - and he's only seen me open it a few times!). I'm a first time bird owner so I'm hoping this helps the next person - it's a great cage but only for a BIGGER bird and certainly not babies!
---
By jls1 on Apr 19, 2021
No more mess
I loved everything about this cage except when you go to clean the bottom out there is nothing to keep your birds from flying out. The whole top of cage lifts off leaving the bottom, grill under feeders, and feeders so your birds can fly out. However I bought this cage because I have some very messy finches and it has totally taken care of that problem as far as throwing seeds and water all over the place. I like that the whole bottom snaps off because it does allow for easy cleaning so not sure what I'm going to do yet but I will figure out something that I can place into the cage when cleaning to keep birds safely in and still allowing me the ease of cleaning the bottom of the cage.
---
By JimR on Mar 28, 2021
A learning event
I like the cage, but maybe my parakeet , not so much. The cage arrived in an outer box with zero damage. Assembly was a challenge! However, my daughter which put together a med size cage, found a you-tube video which showed how to assemble the top correctly and firmly (sorry, didn't save a copy of the video, wasn't expecting a review). My parakeet, Nugget, doesn't like to land on the bottom, screen or not. He's a bit of an acrobat getting to the cups with the plastic sides. Using combo cups with seed and water in a divided cup is a mess! An undivided cup would have been a nice bath tub. Nugget on occasion used his old water cup as a tub in the old cage, now, so small to get a good bath. The plastic sides are a huge +, I no longer need a vacuum stand by. The double doors or another +. Taking off the upper portion of the cage is another plus to me the cage cleaner. Changing the cups a bit tricky. Hang onto the cups until you've got them firmly in place.
---
By Birdcage on Jul 1, 2021
Vision bird cage
I love the bird cage. It's open so you can watch your birds eat and take a bath. Easy to clean. Easy to put together too.
---