Walkee Paws Dog Boot Leggings
---
About This Item
The over-the-back connectors ensure your buddy won't lose a boot again!
The waterproof rubber boots come equipped with "grippies" for traction to help prevent slipping and sliding on wet pavement, icy sidewalks and indoor hardwood floor and tile.
The patented over-the-back design helps keep the leggings in place without being tight around your canine companion's ankles. Plus, the 4-way spandex fabric and a cushioned cord stopper offer added comfort.
You can adjust the height and leg widths. Simply stretch out the elastic drawstring openings to get your pup's paws in, then tighten to secure.
While it may take a few tries to find the paw-fect fit, once the loops are properly adjusted, you won't need to refit your furry friend each time. Once your buddy gets used to these boot leggings, he's going to paws-itively love them!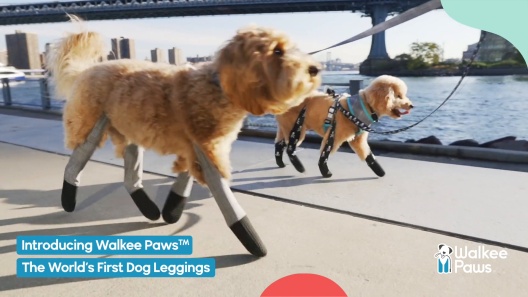 Learn More About Walkee Paws From Our Team of Experts
---
Compare Similar Items
| | | | | | |
| --- | --- | --- | --- | --- | --- |
| | | | | | |
| Customer Rating | | | | | |
| Price | | | | | |
| Material | Nylon, Synthetic Fabric | Nylon, Polyester, Synthetic Fabric | Nylon, Synthetic Fabric | Polyester, Synthetic Fabric | Polyester, Synthetic Fabric |
| Breed Size | Small Breeds | Medium Breeds | Medium Breeds | Small Breeds | Extra Small & Toy Breeds |
| Closure Type | N/A | Buckle | Hook & Loop | Hook & Loop | Hook & Loop |
| Pattern | Plaid | N/A | Solid | Solid | N/A |
| Lifestage | N/A | Adult | N/A | N/A | N/A |
---
Questions & Answers
5 Customer Questions
---
Is the material on the paws durable? We walk daily 6-8 miles approximately how long w/they last?
Answer by • Dec 06, 2021
Not only do Walkee Paws keep your dog's feet clean and protected on everyday walks, but they also feature waterproof booties to keep them dry and warm in rain or snow. Thanks to new legging fabric that's treated with a water-resistant technology, Walkee Paws keep their legs dry, too, and prevent your dog from being exposed to salt, snow melt, allergens and chemicals that can be dangerous if ingested. Over time, the natural rubber on Walkee Paws booties can wear down and develop small holes or tears. Long nails can also cause damage to the rubber. For this reason, the manufacturer does offer Rubber Repair Patches. The patch is easy to apply, helps reinforce weakened rubber and makes your Walkee Paws as good as new.
---
How long are the back straps? My sisters dog has really long, skinny legs. I want to get these for her but not sure what size. She's part whippet.
Answer by • Dec 29, 2021
The sizes are based on height and front paw width and not by breed or weight (breeds listed are a gauge as to what size breeds fit that size). Kindly measure your dog according to the sizing guide. For heights - ensure your dog is standing and measure from the top of the shoulder bald (near the base of the neck). For front paw width - have your dog stand on a piece of paper (front paw only). Trace a line on each side of paw (excluding fur). Measure the distance between the two lines to obtain paw width.
---
Do you have strong enough foot material that will work for bird dogs.
Answer by • Apr 27, 2022
While these leggings have a thick rubber, they are not meant for rough terrain. They are intended for use on wet pavement, icy sidewalks and indoor hardwood floor and tile.
---
Can a harness be worn over this for walking?
Answer by • Mar 07, 2022
A harness can fit over these boot leggings.
---
---
---
By Beanball on May 22, 2022
These are the best
Use this for my dog who is allergic to every species of grass. They keep her paws clean and dry! Great for keeping your house clean too. I have multiple pairs I rotate after I rinse and dry after each walk. Usually stay on too! Super cute patterns.
---
By Mary on May 17, 2022
Worked for a while
Needed this for a pup that had injured foot and nothing worked for chewing bandage. These did for several days ! Until she learned to maneuver her foot right out. Would be great for less determined dog
---
By Molly on Feb 15, 2022
Do not recommend
While we love so much of what we purchase from CHEWY, these boots are absolutely useless. They were amusing to see our dog in for about 3 seconds, then she walked out of them. Thinking maybe we sized her wrong we tried our other pup who is bigger. They did not stay on him either. I just don't know how they work? Maybe you need a really specific body shape? Our rescue from Florida is REALLY not loving NY winter so we have been trying everything to make her more comfortable. These were a waste of money, to be completely honest. They do not work at all. This purchase was for a chihuahua-terrier mix.
---
By Heather on Feb 28, 2022
Do Not Recommend
My dog is 11 years old and has wore boots her entire life. I tried these because I was hoping I didn't have go adjust them as much, but I still do. Actually more than the boots I have from other companies. I don't have any pros with these. I have all cons, and I'll start with the size chart which is completely off. It's important to measure your dogs paw while standing for boots since your dog will be standing while wearing them. My dogs paw width measures exactly at 3 inches which puts her at a large OR medium. I tried the large first through the company who makes these. The large measures width wise at 4 inches. That 1 whole extra inch literally swallowed my dogs paw. They flopped and my dog couldn't walk in them. They might as well of been 5 inches. (Remember my dog is a PRO at walking in dog boots). So I decided to try the medium which measures width wise exactly at 3 inches (I didn't know they measured at 3 inches until I checked for myself). They are way too small! It took me forever to get my dogs paws into all 4. The boots don't have any shape to them and they don't contour to a dogs paw. There's nothing on the inside. It's only rubber. The odd shape and small size made it impossible for my dog to walk in. There should be a strap across the top to keep the boot from sliding around because the straps that go up the legs do not keep the boots in place. I'm sorry and I hate leaving a bad review. But I have 9 other pairs of boots from other companies and my can walk fine in them.
---
By Tukee on Jun 3, 2022
Cute, but not thick enough
They fit great, but the rubber bottoms are way to thin to protect our small dog from the very HOT and rocky yards we have in Arizona.
---
By Linda on Apr 2, 2022
Walker paws. Waste of money
This was a total waste of money. There is no padding for the foot more like a sock end. Need to protect the pads of feet. This is the first thing I got from Chewy that was not what it claimed to be. So disappointed. Would stay on either.
---
By Joshua on Feb 25, 2022
Good but not Great
I have a boxer who absolutely hates snow in Minnesota. His paws freeze up and then he stops in his tracks and begins begging for me to be picked up. I bought these because the boots he wears tend to fall off. I wanted them to be waterproof around his paws and to give him more comfort he would otherwise receive. I own boots fall off his feet continuously and others that stay on relatively well. I bring this out when the snow is higher because it's cold here and I don't want snow to seep down his paws in his boots. The Great: Once on, these stay on my boxer 99 out of 100 times. He can walk around and do his business without me picking up a 70lb dog because he cannot walk anymore. The Good: Fastening to the legs making sure they stay on works well enough. They are not foolproof but they make it easy enough to slip on and off. The Okay: My Boxer tolerates the boots and these being placed him him. He doesn't like them but he doesn't like the snow and cold more and he wants to be able to go outside. These do slip off on rare occasions and I have to stop and put them on in freezing temperature. I already did that with his boots, thankfully I am doing it less often. The Bad: It takes a lot longer to get this on with all of his other gear. Getting his front paws where his toe does not catch the rubber where I cannot slide his entire paw down is a pain in the butt. The Terrible: The straps or tightened using this plastic fastener stopper the size of a pebble. Two of these broke off which meant I couldn't tighten it with ease anymore. I chose to get it tight enough and then tie a knot around his legs to keep it there otherwise he will get out of it easily. It now takes longer to put this on because I have to angle his paw to get around the already tightened straps because it's more convenient to leave the knot in. On the plus side, it for sure doesn't slip off. For how expensive this product is, they could have chosen the fastener to have a velcro style string, an elastic string or use some sort of clips to keep it tight than this plastic pebble. I still recommend this product because it is the only one that I found that are styled as suspenders and keep on my dog's paws even though he hates them. It could be better in a lot of ways.
---
By CABO on Feb 25, 2022
Poor Product
First, sizes run much smaller than advertised. Second, the material of the connecting bands is a thin, silky material that tangles and twists, and does not allow for easy straightening for fitting onto an anxious, moving dog. Third, after one use, my dog still kicked-off the boots and tossed them when moving around.
---
By yde1 on Feb 4, 2022
game changer
I was highly skeptical. Tip: watch the video for exactly how to fit them the first time. Not intuitive, but I followed each step. Just took a 45 minute walk in slush, rain and snow, and not only did they stay on, but my pup was clean and dry when we got home. Put them on under his raincoat. He is a Havanese, so short and fluffy. Which means he gets soaked and super dirty when walking on a day like today. These boots completely changed the game.
---
By Schatzi on Jan 30, 2022
Does not fit dogs with shorter legs and longer bodies
We purchased these for our pup for the winter and measured her paws carefully. As the other reviews mentioned, the sizing guide seems to be incorrect and the boots are too floppy around the paws. Also, the "legging" part does not fit her legs at all. She is quite small (12 lbs) with a longer torso and shorter legs. The product just slumps weirdly around her back paws/legs so that the rubber boot part doesn't even stay on her feet even if you adjust the harness section snugly across her back. It looks like it might work for a dog with a shorter torso and longer legs but would not recommend for a doxie or any pup with the same sort of frame.
---