Ware Chew Proof 4 Story Small Animal Cage, Purple
By Ware
---
About This Item
All-metal, chew-proof design with shelves and ramps.
Secure, durable, powder-coated wire cage.
Brightly colored metal drop pan.
Easily attaches and detaches for fast, simple cleanup.
Easy to assemble, with no tools required.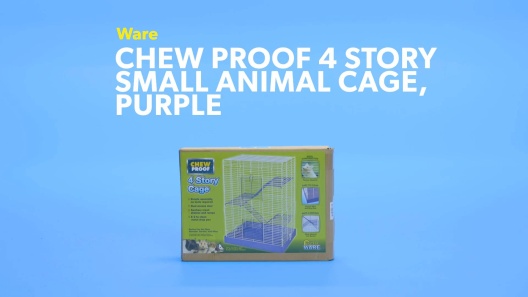 Learn More About Ware From Our Team of Experts
---
Compare Similar Items
| | | | | | |
| --- | --- | --- | --- | --- | --- |
| | | | | | |
| Customer Rating | | | | | — |
| Price | | | | | |
| Small Pet Type | Chinchilla, Gerbil, Hamster, Mouse, Rat | Rabbit, Guinea Pig, Chinchilla... | Rabbit, Guinea Pig, Ferret, Rat, Degu, Hedgehog | Hamster | Hamster, Mouse |
| Material | Coated Metal | Coated Metal | Coated Metal | Coated Metal | Plastic, Steel |
---
Questions & Answers
27 Customer Questions
---
Does it include the food bowl and water dispenser?
Answer by • Oct 25, 2019
This critter cage comes with (1) metal base, (1) wire cage set, (2) wire latches, (3) wire mesh shelves and (3) wire mesh ramps.
---
Would this cage be suitable for a chinchilla?
Answer by • Aug 05, 2019
This cage would not be recommended for a chinchilla as it is not large enough. In general, it is recommended for a chinchilla cage to have a minimum of 2 square feet of floor space per pet multiple levels within it so your chinchilla can climb and jump.
---
Would the size be good for a Guinea pig?
Answer by • Jun 16, 2019
While some small animals enjoy climbing on multi-level platforms in the cage, guinea pigs generally prefer flat, open spaces. Guinea pigs tend to be scared of heights, and even a gentle ramp leading up to a second level may be too frightening for a guinea pig to attempt.
---
how big is this cage.how tall and how wide
Answer by • Apr 13, 2020
This cage measures 17 x 12.75 x 24 inches (length x width x height).
---
---
---
By Hamster on Mar 19, 2022
Ace loves it!
We recently adopted a hamster from a friend & he is loving his 3-story hamster apartment. It was very easy to put together. The metal bottom is what drew me in. I don't care for the plastics because they always get chewed up (or get those weird urine stains in the corners). This cage is ALL metal. Seems pretty secure. So far, no escaping! We watched Ace climb up and down the little ladders the first night with bits of bedding in his mouth to make a sleep pouch on the third floor. He's definitely getting more exercise than before. Happy hamster!
---
By rayS3 on Apr 5, 2022
Good for what I was looking for
You get what you pay for, personally I was pleasantly surprised with how terrible the reviews were. it's a bit flimsy and the ramps were easy to knock off with 3 energetic dwarf hamsters but just wrapping a little wire around the platforms and ramps was sufficient to holding them in place. Also 2 rats max its pretty small. This cage is not good quality but it's fine with a little wire and much better then I was expecting. The pan is shallow about 2 inches but again it's fine and what I paid for if I was looking for something good quality then I would've bought a 100 dollar cage not a 35 dollar 1
---
By Winter on Mar 25, 2022
Great for my ratites!! perfect starter cage!!
Not sure why all of these reviews are so low. This cage is great for its price. My girls love it and as long as you zip tie the sides it is very sturdy. (Also zip tie the levels and ramps if your pets are rowdy) I've had it a couple weeks and I have not been disappointed! It's even held up to my nutty cat sleeping on top of it all the time LOL it's the perfect size for my two female rats. I would say definitely get another bigger cage for 3+, but my girls have plenty of room for the time being. I'm working on making covers for the ramps and levels since the wire isn't great for their feet. But that just gives me something to do and decorates the cage nicer :)
---
By tree on Mar 17, 2022
great starter cage for 1-2 rats! (:
before purchasing, i was cautious due to negative reviews, however, i'm so glad i purchased this cage! very cheap and a pretty tall cage. other people recommended zip tying the middle corners, which I did, and it's perfectly stable! i kept the three shelves in (one came with a hook broken but not a big problem) but i did take the ladders out and replaced with ropes, bridges, or ledges! the bottom pan is perfect to clean the bottom of the cage and the cage comes undone from the bottom pan easily! I will say though, now that my rat is closer to being fully grown/is fully grown, the cage is seeming a bit smaller, so i would caution only one to two rats in this cage (even though rats should be housed in pairs or groups).
---
By Nikki on May 11, 2022
not good for rats, or bigger rodents
This is a well built cage, with a great locking feature, and made of all medal. The medal is covered well, and it has 3 levels. It is MUCH too small or anything other than a mouse. It is not good for anything bigger.
---
By Rose on Mar 26, 2022
Not the best product
This product was not the best, got it in and it was going to need a whole package of zip ties to hold it together. I knew it would need some from the reviews i read but this would have been so much more. I thank Chewy for being understanding and doing a refund. If i need anymore pet supplies with a faster shipping time i will definitely be back.
---
By Decent on Mar 15, 2022
Good for price
I took in two rescue rats and need a place for them ASAP so I bought this cage. The levels and ladders do fall easily so I just used zip ties to secure everything and it has held up great! Plenty of space for two female rats but probably not enough for males.
---
By clara on Feb 1, 2022
the doors don't close
the cage is okay the only downsides are that it was difficult together and the cage door fall off on their own which is a problem in itself i have to use bread ties just so my hamsters don't get out also the panels that are used as stairs come off easily and don't stay in place plus they are hard they need some padding just in case the animals fall my hamsters like it, it's much bigger than their old one so i guess it's good for now
---
By Stella on Apr 3, 2022
Don't buy not worth it
This cage is so cheaply made its hard for my mind to wrap around like a big company like chewy would sell something like this! Horrible!
---
By lodiablos on Apr 2, 2022
Looks better and bigger in pics
Not impressed. Bought on sale and still not worth the money. Do not recommend this. Ladders don't stay. Overpriced and cheaply made.
---