Waterpik Pet Wand Pro Dog Shower Attachment, 2.5 GPM
Check if we can ship this item to you. This item can't be shipped to certain states.
---
---
---
About This Item
Professional-grade bathing wand is great for dogs of all sizes with hand-held water spray technology.
High-pressure comb-shaped water spray makes cleaning and rinsing easier and faster even with thick hair.
Easy water flow adjustment for high to low pressure sprays and pauses for optimal control for sensitive areas.
One-hand operation makes bath time hassle-free, and includes suction cup hook for when you need both hands.
Quickly attaches to shower pipe, utility sink or garden hose so it's great for indoor and outdoor use, and includes rubber ergonomic grip handle for added comfort.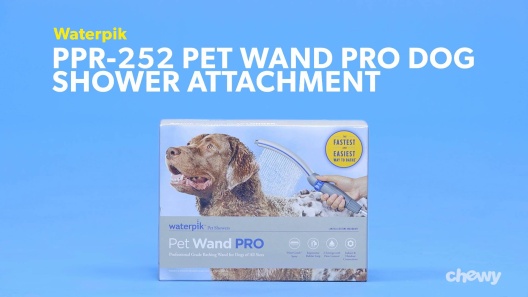 Learn More About Waterpik From Our Team of Experts
---
---
Questions & Answers
33 Customer Questions
---
I do not want to leave this attached to my shower all the time. Is it quick to install when needed and quick to uninstall when I am done?
Answer by • Jun 21, 2018
When installing Waterpik attachment, it includes a diverter knob where you can switch from standard shower and wand. It also includes a suction cup hook for when you need both hands.
---
Instead of the shower can I hook it up to the tub part?
Answer by • Mar 03, 2020
This Pet Wand Pro may be compatible to hook up to a bathtub faucet, however it would depend on the faucet of the bathtub. The hose of the PetWand Pro can be attached to any pipe with 1/2 inch NPSM threading, and some tub faucets may be able to accommodate this type of attachment.
---
I live on a farm with well water. While that is great and the water tastes amazing, the pressure is not very strong. Will your product boost the water pressure?? Thanks for your time. Becky
Answer by • Dec 24, 2018
This product can increase and decrease the water pressure. Dial clockwise to increase water pressure
---
What tools are needed to install this onto the shower head?
Answer by • Jul 06, 2020
This shower attachment is fairly easy to install. The only additional tools that you may need is a wrench. Please click on the attached photo to reference the installation instructions.
---
---
---
By Sara on May 5, 2022
Makes life easy
I had been wanting to swap out the shower head in the kids bathroom for awhile for this purpose then found this product. It is AMAZING I love that you can control the pressure from the handle and that it even has a shorter spray for people with smaller dogs. At first my pup was a tad afraid of it but got used to it. Install instructions included pictures and made it super easy. I would just recommend having some pliers handy to loosen/tighten everything.
---
By blondewithadog3 on Apr 4, 2022
Really awesome!
My 40lb border collie mix isn't much of a fan of bath time. Before I was using a very large cup to get her wet and to rinse her off. This wasn't the best thing to use because it was strenuous and didn't work very well. My fiancé ordered us the Waterpik Pet Wand to help make bath time easier and it's amazing! We ordered it Friday April 1 and it came on Saturday April 2 thanks to Chewy's amazing shipping. We used it today (April 3) and bath time was great! The Pet Wand delivers strong yet gentle pressure to ensure that water gets down into my dog's double coat. I think my pup enjoyed the bath too because of the nice water pressure from the wand. I switched it to the lower, more gentle pressure setting when rinsing her belly and more sensitive areas. It made bath time much faster since it got her coat wet much faster than a cup. It also helped loosen up any undercoat she was shedding too! Overall, this item is awesome and I'm so excited to use it more for future bath times!
---
By SimpleMan on Feb 25, 2022
50lb dog hates baths
This is easily one of the best things I bought for my dog. Super easy installation to my shower head and it cut my dogs bath time in half. She is 50lb and has really thick dense fur. Before I was using a cup and filling up the bath tub to get her fur wet which took forever and she hated being in the water. This took only about 20 seconds to get her fur completely soaked and ready for soap. I feel like it was the most thorough bath I've been able to give her. She doesn't magically love baths now but it makes a less painful process for both her and my back. I highly recommend if you regularly bath your dog in the house.
---
By SibeMom on Jan 31, 2022
Great Product
After research, this particular product was rated at the top 2 choices. I love that it is versatile in that it can be used indoor as well as outdoor. I have 2 siberian huskies so their coat is very thick & full. It worked great on them making it easier to give them a bath inside w/o a lot of mess everywhere. The low setting is great to control the water flow to reach areas like their head & face. The high setting worked great for the rest of the body. I highly recommend this product for any size dog. Easy to install, use & helps save money by bathing at home. The extra plus of using it outside during warmer temperatures makes things easier.
---
By Lucy on Mar 31, 2022
Best shower for dogs
I can't believe I did not buy this before. It was a struggle to bathe my dog. Now she sits calmly and likes to be showered. Totally recommend it. I used to get all wet with the dog and the regular hose. Now we both enjoy when I shower her!
---
By Kristyn on Feb 21, 2022
WISH WE WOULD HAVE GOTTEN
So easy to install. Not only does this make my puppy much less anxious while having a bath. It saves on back pain and the length of time to give a bath. Just wish the suction cup would work to hang it on the wall. But just as easy to disconnect the wand and hose from the rest of the unit and put away so it looks nicer. Like I said wish we would've gotten it sooner!!!
---
By SCFosterdogmamma on Feb 7, 2022
WE LOVE THIS THING
With regular fostering and four dogs of our own, we have tried several shower attachments to make bath time easier. Our only regret about this product is that we didn't buy it sooner! We absolutely love it, it adds length to a shower head hose it works indoors and outdoors, and our dogs don't mind it as much as some of the other shower head attachments. If you have big dogs or squirmy dogs or dogs that don't like showers we 100% recommend this thing!
---
By Walt on Apr 27, 2022
doggie shower heavan
This wand makes it so much easier for my mom to bathe me. I love the curve - so easy to get around my big body! I look and feel great!
---
By Erin on Mar 18, 2022
Quick to rinse
I have used this twice so far in the shower and it is fantastic! Rinses out the soap very quickly. Comes with all the parts including the splitter for the shower head. Easy to set up and use!
---
By Dogmom on Jan 24, 2022
Great product
This attachment is life changing. I have 3 dogs. One is a German shepherd and one is an australian shepherd. They have very long hair that has been difficult to penetrate to get all the soap out... until now! The dogs appear to actually enjoy bath time now too. I have only used it attached to the shower, but it also has the ability to hook up to a water hose. If you are on the fence, I say this is a must!
---