West Paw Zogoflex Toppl Tough Treat Dispensing Dog Chew Toy
---
About This Item
Zogoflex® is an exclusive material that makes fetch, tug-o-war, and chew therapy more fun — it's easy on doggie mouths, stretches (without stretching out) and sports an unstoppable bounce — all while staying tenaciously tough. For dogs who love to swim (or just need a distraction in the bathtub), Zogoflex® stays afloat.
Toppl is a puzzle dog toy that traps treats with its inner ridges and tips over to keep dogs entertained and challenged, interlock the two sizes (sold separately) to make playtime even more fun
100% recyclable, BPA-and-phthalate-free, non-toxic, and FDA-compliant
It's easy to sanitize Zogoflex® toys at home — just pop it on the top shelf of your dishwasher.
Made in Montana from US-sourced materials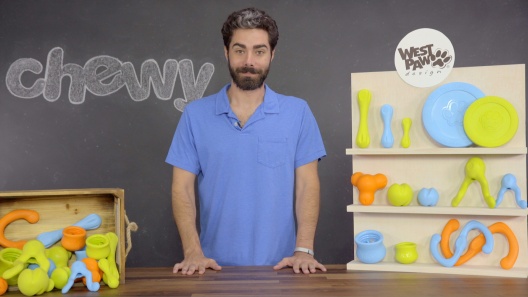 Learn More About West Paw From Our Team of Experts
---
Compare Similar Items
| | | | | | |
| --- | --- | --- | --- | --- | --- |
| | | | | | |
| Customer Rating | | | | | |
| Price | | | | | |
| Toy Feature | Tough Chewer, Outdoor, Water Toy, Bouncy, Exercise | Tough Chewer, Outdoor, Water Toy, Bouncy, Exercise | Tough Chewer, Outdoor, Water Toy, Bouncy, Exercise | Tough Chewer, Outdoor, Water Toy, Bouncy, Exercise | Tough Chewer, Outdoor, Water Toy, Bouncy, Exercise |
| Material | Plastic | Plastic | Plastic | Plastic | Plastic |
| Breed Size | Medium Breeds | Medium Breeds | Medium Breeds | Medium Breeds | Medium Breeds |
| Toy Type | Treat Dispensers, Chew Toys | Treat Dispensers, Chew Toys | Treat Dispensers, Chew Toys | Treat Dispensers, Chew Toys | Treat Dispensers, Chew Toys |
| Lifestage | Adult | Adult | Adult | Adult | Adult |
| Chew Style | Tough | Tough | Tough | Tough | Tough |
---
Questions & Answers
10 Customer Questions
---
What is the goal is when you connect the large & small together? Many reviews said the dog loved "opening it" or "getting it apart" for the treats inside. So is the challenge to separate the two? Or to play with it as a unit, trying to get the treats to fall out of the holes?
Answer by • Dec 30, 2018
The two sizes may be interlocked to make make the toy even tougher, and provide your pet with more of a challenge when trying to obtain treats.
---
How do I interlock the two sizes?
Answer by • Jan 10, 2019
The Small and Large size can fit together. Push the Small into the Large, each main opening facing each other. Next, twist gently to secure together.
---
Does it come with both pieces that are pictured?
Answer by • Apr 26, 2018
The image showing 2 toys is comparing the Small and Large sizes. Both have to be purchased separately.
---
Is this Lead Free?
Answer by • Feb 04, 2022
The ZogoFlex toys are lead-free.
---
---
---
Amazing food puzzle
We have a one year old, 65 lb German Shepherd, who is extremely high energy. I needed something to put her dinner in to keep her busy and slow down her eating. She loves these! So much so that we bought four of them. I do wish they had an extra large size as we have to use two for her dinners, but the fact she gets excited for them and it takes her an hour to eat, makes it a win! They work well to put in the freezer and are dishwasher friendly.
---
By Hallie on Sep 22, 2022
Great for Pups
We love West Paw Toppls! They're easy to fill, last a long time, and are a lot less frustrating for younger puppies who can't master a KONG yet. These are great for enrichment, a pup on crate rest, or for crate training. They're also a great way to keep a dog busy while doing something like trimming nails or brushing their coat.
---
By Cabbage on Sep 12, 2022
Excellent enrichment
I own both a small and large toppl. Switched over from another famous red treat dispensing toy. My dog has some separation anxiety and is therefore crate trained. I use these to feed her meals in her crate once a day (evening), regardless if we are home or not. It is meant to be her quiet time. The Toppl is a good option to keep her occupied and have a positive association with being alone. I have giver her chews and sticks before, in her crate, and later found that sometimes she does not eat them. She loves chews and sticks otherwise, but sometimes it seems they are not enticing enough to distract her from the fact she is alone lol however I have never come back to her crate and found she did not eat her Toppl meal. I have used these toys both separate and interlocked. But I prefer to use separate. The reason being that when simply interlocked, it is actually not that much of a challenge to get the treats out. My dog just rolls it on the floor and they are all out within 10 minutes. Because of her small size, she cannot separate the top and bottom on her own. So on the other hand, when the treats inside are frozen, then it is interlocked, it is nearly impossible to get anything out until it melts by itself. Yes this scenario could keep her occupied for an hour even, but in the end it just frustrates her and gets her worked up (barking, climbing the couch and throwing the toy from a height, etc) My dog is 10.5 pounds and I feed her small size kibble. I take halfway rehydrated kibble (not mush) and stuff both toys, cover the bottom with foil, then freeze them. It takes my dog anywhere from 25 to 40 minutes to go through them. (It is a little easier for her to get stuff out of the large one because she can ger her whole snout inside) It is both mentally and physically stimulating for her to use this toy because it involves a lot of licking, chewing, rolling and even throwing. I have tried putting peanut butter, treats, chews and even frozen chicken feet on these. They all work great, but I prefer the simplicity of just serving a regular meal. Also love how easy they are to clean by hand and using the dishwasher, as opposed to a toy with a narrower opening. Will be buying more to keep on hand!
---
By Anya on Aug 2, 2022
need a break from your dog?
This item is fabulous. I fill it with her raw ground meat, bone and organs, with some oatmeal, and mashed green veggies, which is what she eats normally. But put in the toy, it makes her slow down to eat. I use the small size for my doberman pincher, if I used the larger one she would get fat quickly. it would be too much food.. Sometimes I freeze stuff in them, for outside in summer. Like peanut butter, mixed with broth , or yogurt (plain only) berries, fruit, meat, cheese or anything I think she might like. I also give her one anytime she is to be put in kennel for a while. Seems to settle her down quicker when she has this food filled cup to lick food from.
---
By Sarah on Sep 22, 2022
Expensive but worth it
This product is so much easier to clean than the kong. I also find it easier to stuff than the kong. Both me and my dog love it. The material is durable as well (for reference: my dog has started tearing holes in his red kong)
---
By DrRay on Aug 25, 2022
Tough but gets slimey
Wonderful toy that gets super slimey after it's been licked for a while. I also don't like that there are large holes at the bottom which the treats fall out of easily. I use apple sauce or smush ripe bananas in it. 60lb, 8 month old labradoodle loves it. And it keeps him out of my face for a few mins.
---
By Grandmaofeight on Jul 11, 2022
At last entertainment
Two Pug's, Ella and Zulu sisters Very energetic, Have tried other chew toys that you can fill, just didn't work out for us These are marvelous I freeze them and it will entertain them and keeps them apart from each other, has their own and it's good for at least a half an hour usually 45 minutes peace at last someday given to them in the morning and then again in the late afternoon it's so quiet. Easy to clean, easy to fill! Very happy
---
By SheltieMom74 on Jul 25, 2022
My pups LOVE these!
These were recommended in a Fb group so I bought one locally and loved so I ordered two more (I have three dogs.) I fill them with yogurt (about 1 Tbsp) and stick a couple of small treats in and freeze. All my pups LOVE them and I love the fact that these only have one hole mid-way up on the side so the yogurt (or runny peanut butter) doesn't come right out before you can freeze. Now I need to get three large to make puzzles! Highly recommend these!
---
By Amora on Aug 12, 2022
Didn't last long
I will start by saying it does as intended and my puppy loved it! With that being said, she only used it once and had already bit a piece loose at the top. Luckily I only let her have it under supervision so she didn't ingest any of it but she's only 14 weeks old and hasn't lost her puppy teeth. I unfortunately had to toss it.
---
By sweetben on Aug 15, 2022
Sticky wicket
This item can have many uses but I have not found one I like yet. Some things are too runny and come out the whole. Other things get stuck in the slots so my dog cannot get it clean so I have to clean it. Item itself is tuff and durable. Would be nice to have some recipes with it.
---