Whisker Litter-Robot WiFi Enabled Automatic Self-Cleaning Cat Litter Box
---
About This Item
Self-cleaning litter box with unique process for sifting waste provides a fresh pan every time your little pal goes.
Features an enclosed and carbon-filtered waste drawer to reduce unpleasant odors.
Removes the need to scoop and reduces litter usage by 50 percent.
Connect app lets you keep an eye on waste levels, get notifications and troubleshoot.
One unit can support up to 4 feline friends.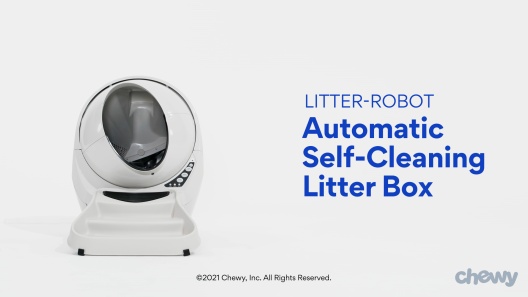 Learn More About Whisker From Our Team of Experts
---
---
About Litter-Robot 3 Connect
The Self-Cleaning Litter Box of Choice
Litter-Robot 3 Connect is the WiFi-enabled automatic litter box preferred by cats and people alike. With the Litter-Robot 3, your kitty will always have a clean place to go, and you never have to scoop cat litter again.
Don't Be a Scooper
Litter-Robot's proprietary sifting process automatically separates waste from clean litter and deposits the clumps into a drawer below the unit. This process helps reduce odors and keeps the box clean without manual scooping—simply empty the waste drawer when it tells you to and add litter as needed!
Smarter Litter Box, Better Pet Care
Self-Cleaning
Litter-Robot is fully automatic, using a sifting process that begins just minutes after your cat exits the unit.
Odor Control
The prompt sifting action and the carbon-filtered, fully enclosed waste drawer help to greatly reduce unpleasant odors.
Cleaner Paws
Say goodbye to dirty paws that track litter everywhere—Litter-Robot gives your cat a clean bed of litter every time.
Multiple Cats
One Litter-Robot can handle up to four cats, and the consistently clean litter bed is ideal for territorial felines.
Get Connected
Monitor your litter box right from your phone. The Whisker app allows you to view Litter-Robot's waste drawer level, get notifications, troubleshoot and see recent usage history for insights into your cat's health.
About Whisker
Whisker, formerly known as AutoPets, is the maker of Litter-Robot and Feeder-Robot and the company behind Litterbox.com. Launched in 2000, Whisker is an international leader in connected pet care and refined pet accessories. They build solution-oriented products that are beautiful, enjoyable and intuitive to use, with a focus on delivering meaningful insights for those who use them. Whisker proudly designs, assembles and services its robots in the USA.
Shop Whisker
Compare Similar Items
| | | | | | |
| --- | --- | --- | --- | --- | --- |
| | | | | | |
| Customer Rating | | | | | |
| Price | | | | | |
| Litter Box Type | Automatic, Covered | Self-Cleaning, Automatic | Covered, Self-Cleaning, Automatic | Automatic, Covered | Self-Cleaning, Automatic |
| Material | Polypropylene, Plastic | N/A | Plastic | Plastic | Plastic |
| Lifestage | N/A | Adult | Adult | N/A | N/A |
| Compatibility | Wi-Fi | Wi-Fi | Plug-In Power | Plug-In Power | Plug-In Power |
| Cleaner Type | Litter Box | Litter Box | N/A | N/A | N/A |
| Technology Feature | N/A | Programmable | N/A | N/A | N/A |
| Litter Feature | — | N/A | N/A | N/A | N/A |
---
Questions & Answers
35 Customer Questions
---
What do you use for bags?
Answer by • Dec 07, 2020
The Litter-Robot does not require special bags or liners for the waste drawer. As long as it fits, you can use it. The dimensions of the waste drawer are 16 inches high x 12.5 inches wide x 5 inches deep. Customers often use 10 to 13 gallon kitchen garbage bags or large plastic grocery bags.
---
Where is this product manufactured?
Answer by • May 03, 2021
This litter box is manufactured in the United States in Wisconsin.
---
How litter does it hold and how often do would I have to replace litter
Answer by • Mar 18, 2021
Fill the globe with approximately 8-10 pounds of litter, until it meets the raised fill line on the black rubber globe liner when spread flat. If there is too much litter in the globe, it will be expelled into the waste drawer during the first few cycles. Since the waste clumps are removed during each cycle, there is no need to put excessive litter in the globe. The Litter-Robot uses litter very efficiently since the patented sifting system only removes the clumps. We recommend checking the litter level against the raised fill line (on the black rubber liner of the globe) each time you empty the waste drawer, which is about once per week for a single cat or twice for multiple cats. Be careful not to overfill the globe.
---
How do I completely empty the box to put in new litter?
Answer by • Jun 26, 2021
Empty all of the litter from the Globe by pressing the Empty button. The Globe will rotate in the opposite direction of a Clean Cycle, allowing the litter to fall through the waste port, into the drawer. If litter remains in the Globe, sweep the granules toward the Waste Port. Press any button to return the Globe to the Home position.
---
---
---
By Morgan on Jun 22, 2022
Perfect for us
Our 3 cats love this. Watching the ever turning robot scoop their waste away has been the highlight of entertainment for 6 months now, encouraging them to simply use it again to watch the magic. Not that their habit of filling other litter boxes in a day is anything new. With this being the only litter box they choose to use, we are emptying it every other day. The bags we use are standard 10 gallon bags, bought in bulk, and it works great. Minimal effort on our end in comparison to their regular, non motorized, cat box. All is good, and we do not regret this in the slightest. Now for why 4 stars: First is the noise. Nothing you can't learn to ignore, but if you have a quiet house you will hear it, ever so slowly and methodically turning, the gears whirring with the weight of litter for about 2 minutes. And if your cats are like ours, everyone needs a turn in setting off the sensor. Again, it's nothing we can't get used to, but this is by no means a quiet litter robot. The other reason it's 4 stars is the slight malfunction we've stumbled across during its cycling phase. (As a note, we do not use the App for this device, so if there is an error code, we do not see it.) Once or twice a week the litter bot will suddenly just stop spinning 1/4 of the way through its cycle. No extra lights, no sounds, it just stops, helpless in how to correct this action. The fix, however, is simple. An unexpected power cycle (unplugging it and plugging it back in) does just the trick. All we do after that is hit the cycle button and the job is completed. Nothing too extensive, but it can be inconvenient at midnight when one of the cats discover it and proceed to scream at us for help. Despite this, we highly recommend this product, as do the cat council of our house.
---
By Daisy on May 26, 2022
Solid Automatic Litterbox
I love this automatic litter box and would recommend. I only have to pull out the bag once a week, so I save a lot of time and do not inhale as much litter dust. The main reason that I didn't give this 5 stars is because pee gets stuck to the rubber basin. I have to check the litter box twice a day to dislodge the pee, so that it falls into the waste bag in a cycle. For this reason, I still have to dedicate more time in my routine to take care of the litter robot than I initially expected. Lastly, 2 of my 5 cats refuse to use this litter box. These 2 cat hate covered litter boxes and would rather pee/poop outside the box than use a covered litter box. This isn't reason I gave the litter robot one less star. However, this might not be a good option if you have stubborn cats.
---
By Jord on May 27, 2022
Travel for a living and it's a LIFE SAVER
I have tried 3 different robotic litter boxes for my kitties. they aren't picky which is great but i am to say the least. I've tried the one that washes and dries the litter.. HORRIBLE. I've tried the one that doesn't clump the urine, HORRIBLE. This robotic litter box has made it a breeze when i travel for living and i have someone checking in on my lovely babies! It is user friendly, easy to run, easy to clean and maintenance! Nothing has gone wrong with it and I've had it for 2 weeks, longer than any others I've tried. The app is lovely as well so i know when i need to change and when i need to order more bags for the waste container!
---
By Mom22ManyPets on May 25, 2022
I love this!
There's no need to "practice" letting your cat get used to it. My cat literally pooped on the floor while I was getting everything ready and his old litterbox's lid was off. He was too impatient, then when the robot was set up, he went right in to finish his business. It's very easy to set up and it seems to be working great. I'm actually looking forward to the "full" light coming on to see the rest of the process. We've only had it for 3 days. We did need a small extension cord to attach to the plug that comes with the robot because it wasn't quite long enough for where we have everything set up. Definitely a 10/10 product so far.
---
By JP555 on May 5, 2022
Great purchase
I originally purchased a cheaper automatic litter box thinking it would suffice but one of my two cats never took to it. So when I tried this one I was hesitant. Luckily for me, both cats took to this one right away! The one that didn't use the last one is pretty skittish. So the fact that he has no problem with this one is a huge relief. When I first introduced him to the moving parts he was only curious and not scared much. The only downside of this litter box is that the litter gets all over the place. Both my cats have always sprinted out of their litter boxes once finished. So it's no surprise that they do that for this one. I just keep a handheld vacuum nearby to clean up the excess litter whenever it gets all over the place.
---
By DarinN on May 30, 2022
Best purchase ever!
I was about to get rid of our cats. I hated cleaning the litter box. This robot saved my cats from homelessness. It is so easy to clean, it sends Me alerts. Hey your box is full. I simply open the drawer and remove the bag. Put in a new bag and viola. My cats are great full and don't even know it.
---
By Wacky on Jun 1, 2022
NOT odor free :(
We've had this model for about a week and a half. I was so excited to get it!! Spending this kind of money you would expect excellence! The issue I have is it still smells! Maybe I have a sensitive nose?? But I think if you're going to pay 600+ dollars it should do a pretty good job of masking the smell of cat poop! I even checked the liner to make sure that nothing was stuck. The smell of cat poop lingers all around the box. And just FYI it's not the kitty litter itself. I've used the same clumping litter previously with an open box that I manually emptied and never had that kind of smell. If I can't find a solution I will have to return this product
---
By Lauren on May 27, 2022
Wait for the next model!!
Unfortunately, after 5 years being very happy with the previous model, I paid $500+ for this version, which has a very shallow litter box requiring frequent changes. Also, the dome is not removable - it gets caked with litter and the only option is to wipe it out. It looks like they are releasing a new version shortly which has addressed these and other issues. Don't purchase this model!!!
---
By Dogmom on May 12, 2022
Best thing EVER
My only complaint is that I didn't buy this YEARS ago! I don't have to worry about my dogs getting in the litter box, no more cats stepping in dirty litter and no more scraping and dumping. Oh...and no more smell. It is a lot of money however it is a very sophisticated piece of equipment so no regrets here. LOVE IT!!!!
---
By andrea1975 on May 13, 2022
litter robot
Unfortunately, super expensive product, and less than a year, the sensor isn't working. Called for chewy, cause the warranty is 18 months , and they only can send a new one , when they receive the product with problem . In my opinion, isn't fair, because what should I do while the new one do not arrive ? They are sending me a simple box . I'm sad and totally disappointed. It's my second shop at Chewy, and the both , I had problem . The customer service say: I understand, but , you know : they don't .
---