Whisker Litter-Robot WiFi Enabled Automatic Self-Cleaning Cat Litter Box
By Whisker
---
About This Item
Self-cleaning litter box with unique process for sifting waste provides a fresh pan every time your little pal goes.
Features an enclosed and carbon-filtered waste drawer to reduce unpleasant odors.
Removes the need to scoop and reduces litter usage by 50 percent.
Connect app lets you keep an eye on waste levels, get notifications and troubleshoot.
One unit can support up to 4 feline friends.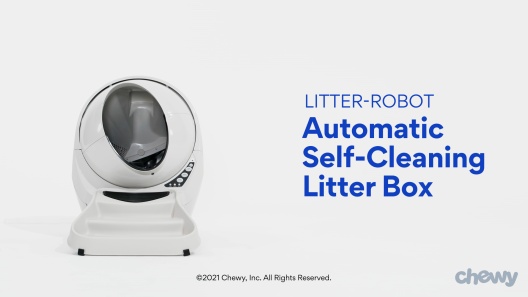 Learn More About Whisker From Our Team of Experts
---
---
About Litter-Robot Automatic Litter box
The Smarter Litter Box
Say goodbye to your litter-scooping days with the automatic, self-cleaning Litter-Robot litter box. It's WiFi-enabled for easy monitoring and engineered to leave a clean bed of litter for your cat every time. 
Never Scoop Litter Again
The Litter-Robot's automatic sifting process separates cat waste from clean litter and deposits it into a carbon-filtered drawer below. All you need to do is empty the waste drawer when it's full and add litter as needed. No more scooping, hassle or mess—just an always-clean litter box your kitty will love!
Get Connected
Stay on top of things with the AutoPets Connect app. It allows you to remotely monitor and control your Litter-Robot right from your phone. Check waste drawer levels, troubleshoot and get notifications that keep you up to speed. You can even see recent usage history to get important insights into your cat's health.
Solving the Litter Box Problem
Take your litter box game to the next level with the automatic cat waste containment system designed for your busy lifestyle. It takes scooping out of the equation and keeps unpleasant waste and odors out of sight and out of mind.
Self-Cleaning
The fully-automatic sifting process begins just minutes after your cat uses the Litter-Robot, removing waste for a hands-free clean.
Odor Control
Quick action shuttles the waste into a fully enclosed, carbon-filtered drawer that locks away funk and odor.
Clean Paws
A clean bed of litter every time keeps your cat from stepping into a gross mess. That means cleaner paws and less tracking out of the box. 
Multiple Cats
One Litter-Robot can handle the use of up to four kitties. Always-clean litter can help reduce territorial litter box issues, too.
Efficient And Cost Effective
Not having to scoop saves you time and efficient scooping preserves litter, helping reduce usage by up to 50% and saving you money.
About AutoPets
AutoPets is the maker of the Litter-Robot, Feeder-Robot and Litterbox.com. They're dedicated to enriching the lives of pets and solving the problems of pet parents through innovation. With more than 20 years of experience developing highly functional, easy-to-use products for pets and people, AutoPets is on a mission to keep you and your pets happy!
Compare Similar Items
| | | | | |
| --- | --- | --- | --- | --- |
| | | | | |
| Customer Rating | | | — | |
| Price | | | | |
| Litter Box Type | Automatic, Covered | Automatic, Covered | Self-Cleaning, Automatic | Self-Cleaning, Automatic |
| Material | Polypropylene | Plastic | N/A | Plastic |
| Compatibility | Wi-Fi | Plug-In Power | Wi-Fi | Plug-In Power |
| Potty Feature | N/A | N/A | N/A | N/A |
| Cleaner Type | Litter Box | N/A | Litter Box | N/A |
| Technology Feature | N/A | — | Programmable | N/A |
| Litter Feature | — | N/A | — | — |
---
Questions & Answers
35 Customer Questions
---
What do you use for bags?
Answer by • Dec 07, 2020
The Litter-Robot does not require special bags or liners for the waste drawer. As long as it fits, you can use it. The dimensions of the waste drawer are 16 inches high x 12.5 inches wide x 5 inches deep. Customers often use 10 to 13 gallon kitchen garbage bags or large plastic grocery bags.
---
Where is this product manufactured?
Answer by • May 03, 2021
This litter box is manufactured in the United States in Wisconsin.
---
How litter does it hold and how often do would I have to replace litter
Answer by • Mar 18, 2021
Fill the globe with approximately 8-10 pounds of litter, until it meets the raised fill line on the black rubber globe liner when spread flat. If there is too much litter in the globe, it will be expelled into the waste drawer during the first few cycles. Since the waste clumps are removed during each cycle, there is no need to put excessive litter in the globe. The Litter-Robot uses litter very efficiently since the patented sifting system only removes the clumps. We recommend checking the litter level against the raised fill line (on the black rubber liner of the globe) each time you empty the waste drawer, which is about once per week for a single cat or twice for multiple cats. Be careful not to overfill the globe.
---
How do I completely empty the box to put in new litter?
Answer by • Jun 26, 2021
Empty all of the litter from the Globe by pressing the Empty button. The Globe will rotate in the opposite direction of a Clean Cycle, allowing the litter to fall through the waste port, into the drawer. If litter remains in the Globe, sweep the granules toward the Waste Port. Press any button to return the Globe to the Home position.
---
---
---
By JP555 on May 5, 2022
Great purchase
I originally purchased a cheaper automatic litter box thinking it would suffice but one of my two cats never took to it. So when I tried this one I was hesitant. Luckily for me, both cats took to this one right away! The one that didn't use the last one is pretty skittish. So the fact that he has no problem with this one is a huge relief. When I first introduced him to the moving parts he was only curious and not scared much. The only downside of this litter box is that the litter gets all over the place. Both my cats have always sprinted out of their litter boxes once finished. So it's no surprise that they do that for this one. I just keep a handheld vacuum nearby to clean up the excess litter whenever it gets all over the place.
---
By andrea1975 on May 13, 2022
litter robot
Unfortunately, super expensive product, and less than a year, the sensor isn't working. Called for chewy, cause the warranty is 18 months , and they only can send a new one , when they receive the product with problem . In my opinion, isn't fair, because what should I do while the new one do not arrive ? They are sending me a simple box . I'm sad and totally disappointed. It's my second shop at Chewy, and the both , I had problem . The customer service say: I understand, but , you know : they don't .
---
By jerry on Apr 26, 2022
wifi connect
we recently had to replace the router on our computer system in our home. the new router is a new wifi 6 router. our litter robot was incompatible with the new router. after numerous calls to litter robot and our internet provider to try and get a compatible router, we finally talked to a tech support rep at littler robot that was able to identify the problem. they sent us a new circuit board for the litter robot that made it compatible with our new router. it only took a phillips screwdriver and about 10 minutes to install the new circuit board and it connected to our internet with ease. we love the litter robot and happy to have it working with the internet the way it was designed to do
---
By Dogmom on May 12, 2022
Best thing EVER
My only complaint is that I didn't buy this YEARS ago! I don't have to worry about my dogs getting in the litter box, no more cats stepping in dirty litter and no more scraping and dumping. Oh...and no more smell. It is a lot of money however it is a very sophisticated piece of equipment so no regrets here. LOVE IT!!!!
---
By lantom on Apr 24, 2022
Best litterbox ever
I love this litterbox but more important, my kittens do too. We had another automatic litterbox but they kept jamming it up. This works wonderfully and they love seeing it empty. In fact, they help to knock the clumps down the hole, it's a riot. I highly recommend this to any cat owner. It's easy to maintain and worth every penny.
---
By Benjamin on Mar 27, 2022
Worst Purchase of 2022
I've experienced four major issues with my Litter Robot 3 (Connect Edition) + Accessory Bundle: (1) The cat-detecting sensor will randomly come on during the cleaning cycle and often the only way to get it to reset is to power the machine on and off. This happens quite frequently (50% of the time) for me and is a frequent issue in other negative reviews. (2) The machine is supposed to filter clean litter from cat waste, however it does a poor job of doing this and often fills the cat waste tray with large amounts of clean litter. (3) Cat urine will often stick to the side of the litter box and can only be "freed" by hand. Defeating the purpose of a self-cleaning litter box. (4) For multiple cats, the max level of litter is lower than ideal and will often need to be replenished multiple times per week. If overfilled, the machine does not cycle. I would not recommend this purchase and am returning my unit - it seems others have had a good experience (which is great!) but I wouldn't pay 1/4 of the MSRP for this unit.
---
By LunasLitter on Mar 29, 2022
Best Investment
I am a person who appreciates robots and how an invention makes humans lives more manageable. Easy set up, app is simple, one cat and I empty every week and a half. I choose to change out bags every other cycle, any normal 13 gallon trash bags works, purchased the stairs it helps to keep some of the litter from being everywhere, well worth the money!
---
By LitterRobot on Mar 11, 2022
4 Months Review
3.5 Stars for me. Is an electronic litter box life changing, yes! Do I love them, yes. Did I wish I loved this enough to buy another one, yes. But unfortunately at this price, this really needs some work. Just like other reviewers, I am experiencing the same issues. Biggest issue overall is it says it's full far before it's actually full. The waste when dumped falls to the left side of the box so it signals that it's full when only 1/4 of the drawer is actually full. Each day I am told it's full, but when I open it, I can just shake the waste to even itself in the box and can get another day. Each day I can do this for up to 3 additional days before it's actually full. Is this fine if I am home, sure but if I go out of town then what? Additionally, it frequently sends me notifications that the sensor was interrupted during cycle and on many occasions the box has gotten stuck completely and can only be fixed by turning it off and back on again. The app should allow you to turn it off cause again when you are not home you can't have the box stuck in mid cycle. In one week I had it stuck mid cycle 3 days in a row with the only fix being by being turned off manually. I ended up buying the attachment package with stairs and fence so for $750 after tax, it's just hard to say I love it enough and can rely on it enough to pay another $750.. I have 4 cats and really intended to purchase two units but wanted to make sure I loved it first, it took one of my cats 3 months before he would use it so originally I only had 3 cats using it but now that they are all on board I know I need another one but I just can't justify the price. :( ( I will update my review with a photo of what they consider full, along with the time frame).
---
By Tiffanie on Mar 15, 2022
Best Thing EVER
We have 2 Cats currently. Throughout life we had several cats and I spent so much time scooping. This box is so amazing. No scooping and the way that it contains any smells is just amazing to me. I have had my Litter Robot for over a year now. I recently had a small issue with it and had to contact Litter Robot. They were so wonderful in getting me the replacement pieces I needed free as it was still under their purchase warranty. My cat had bitten off one of the buttons when I first got the box. When I was chatting with the lady I asked if I could buy those as well and she said yes of course. Next thing I know I got an email with my replacement parts and my new buttons all for free. No shipping and that button issue was not the fault of litter robot at all. Excellent service and such a great product. I have nothing but good results from this litter robot!
---
By RandiC on Apr 27, 2022
Worth the investment
We hesitated to make this pricey purchase but it is SO worth it! We recommend Slide litter for it to work best. We have 3 cats and they love not having to step around someone else's poo.
---