Yeowww! Catnip Yellow Banana Cat Toy
By Yeowww!
---
About This Item
Made from durable cotton twill and colored using only natural vegetable or soy based colors
Each toy contains 100% organic catnip that is grown without use of pesticides and is stuffed to the max using only the leaves and flower tops for a premium blend with a strong aroma that will last for age
Perfect for cats to scratch, bite, and bat around
Individually stuffed, hand sewn and 100% made in the USA
Contains no fillers or plastic pieces, just all natural catnip your kitty will go wild for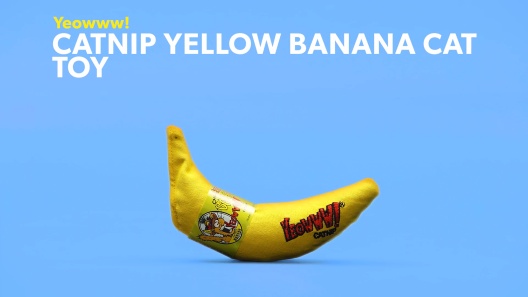 Learn More About Yeowww! From Our Team of Experts
---
---
Questions & Answers
10 Customer Questions
---
Is it large enough for a cat to bunny kick?
Answer by • Jan 15, 2020
This toy measures 7 inches in length. Please click image below for reference.
---
Is it refillable
Answer by • Jul 07, 2017
This toy is not able to be refilled with more catnip.
---
Are you able to wash it somehow? My cat got is super dirty
Answer by • Jun 13, 2018
This catnip toy is not machine washable. Spot clean with a damp wash cloth to remove any dirt.
---
Where is this toy made?
Answer by • Mar 05, 2020
This cat toys are 100% made in the USA.
---
---
---
By Sarah on Apr 26, 2022
Hmmmmmmmmm
I've bought these millions of times over the years. Ok but not that much, but regularly through various sites. All of a sudden these are almost double in price and bam the cats no longer care for it lol. I don't know if it was an old batch. It didn't have the very strong odor of catnip that you can smell through the box that makes your postman wonder what is really in the box. They usually go bananas and and slobber all over the banana until it's green and then destroyed a few days later, but they haven't yet. The bananas are still yellow and clean I even tried twisting and squishing the bananas to see if it would liven up the catnip to no avail. I'm sure eventually they'll back get around to these things and destroy them, but it shocks me they haven't yet after over 2 weeks
---
By Anna on May 16, 2022
Good toy, bad price
The toy itself is 5/5, however the current price isn't worth it. A few months ago these were less than $5, and now are almost $10. I've been checking back often to see if the price has dropped. These are good toys, but not at the current price. I'll start buying these again once the price is back to normal.
---
By Mell on May 17, 2022
My cat loves this toy!
He can smell the car nip it is filled with and can't keep himself away from it! The shape is perfect cause he can grab onto it with all his claws. He eventually plays with is so much that he will break it open and leaves a mess of cat nip everywhere but it is well worth it!
---
By Bookkat on May 13, 2022
Kitty Love
My cats are eight years old and generally have little interest in toys, but they love this yellow banana. They go crazy when a new one arrives and even for some time after, will be walking by it and flop down to grab and kick the banana. Potent catnip and a great shape.
---
By Aryana on Apr 6, 2022
Cat went bananas
I make kicker cat toys. My cat ignores them. I make catnip mice. My cat ignores them. I put piles of plain catnip on her bed. My cat ignores them. I get her this banana, and cat loses her mind over it. Omg, no idea what's in here (although I have faith that it's all good for kitties), but if you want a toy that is sure to be a hit then this one is for you. And the banana shape seems to have something to do with it, as I got her the Yeowww fish and she was less impressed. She has now commanded me to add one of these to each Chewy order we place! And since she's awake while I'm asleep and could potentially harm me then (just kidding), I will obey. What the cat says goes!
---
By ErinFromDelaware on Apr 21, 2022
Potent:guaranteed to drive your cat bananas(literally and figuratively)
This item does not smell like a banana, but it will drive your cat bananas if catnip has its effect as it does on my cats. You can smell it as soon as you open the box! No loose items to potentially choke or hurt your cat's digestive system if they eat it. Long lasting. Overall, a very aPEELing option to consider if looking for a cat enrichment item !
---
By Bitey on Apr 12, 2022
Kitty loves this toy
I was initially disappointed because the toy is smaller than I imagined (maybe about 5 inches long) and I got it for my kitten... but my 4 yo cat totally took control of it. She loves this banana. Completely possessive over it. It has been a month now and she still plays with it daily and carries it around with her. Unexpected, but great purchase for me since she shuns most toys.
---
By KimT on Apr 25, 2022
Too Bad, So Sad
I never saw my cat love a toy so much! Not much interest in toys. Even with catnip. He went nuts over this banana toy and after a couple of bites and kicks, within 15 minutes, holes were leaking catnip all over. Poor sad kitty when I had to take it away. Very poorly made and very disappointing.
---
By Gingerg on May 8, 2022
Great catnip toy made in USA!
One of my cats is not big on toys but this was a hit from the start. I have replaced one already because he chews on the end, gets nasty, to taste the catnip. The catnip is from USA as well as the toy so I know it's safe for him to chew on.
---
By Shelley on Apr 6, 2022
Umm..this thing is amazing
I bought the banana cat toy with a couple of other toys for my 3 cats. I need to get two more so they do not have to share this one. After pulling it out of the box I gave it to our girl Ruby who played with it for a solid half-hour and drooled all over it she liked it so much. It's been about a week and they all love it so much they will try to "hoard" it for themselves.
---