Yeowww! Stinkies Catnip Sardines Cat Toys, 3 count
By Yeowww!
---
About This Item
Three multi-colored, fish-shaped toys in each tin are made from durable cotton twill and colored using only natural vegetable or soy based colors
Each toy contains 100% organic catnip that is grown without use of pesticides and is stuffed to the max using only the leaves and flower tops for a premium blend with a strong aroma that will last for age
Each sardine is over 3" long, perfect for cats to scratch, bite, and bat around
Individually stuffed, hand sewn and 100% made in the USA
Contains no fillers or plastic pieces, just all natural catnip your kitty will go wild for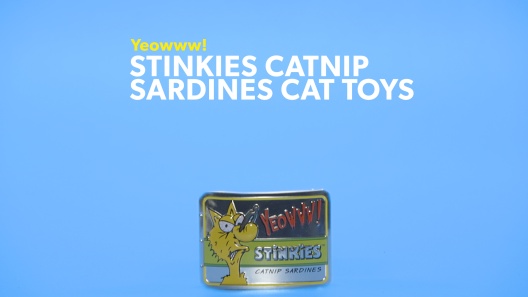 Learn More About Yeowww! From Our Team of Experts
---
---
Questions & Answers
5 Customer Questions
---
My cats have several Yeowww toys and love them.... even when they are years old. My question is, how can I safely clean them (banana, cigars, rainbow) without altering the efficacy of the toy. They can start to look pretty nasty very quickly.
Answer by • Feb 19, 2018
These toys are not made to be washed. It's recommended to surface clean with a damp brush.
---
Do these really smell?
Answer by • Dec 20, 2017
The Yeowww! Stinkies Catnip Sardines Cat Toys have a strong aroma of organic catnip.
---
Are these refillablem
Answer by • May 01, 2018
This product cannot be refilled.
---
What country is the catnip grown?
Answer by • Feb 02, 2021
The organic catnip is sourced and manufactured in the United States.
---
---
---
By DosGatosDiablos on Apr 5, 2022
these are the best ever
This brand is always a favorite. Instead of being scented of catnip and filled with fiberfill, these are simply packed with catnip! We first had the banana by the same makers and had to get another because with 2 cats you can't just have one favorite toy. They love the banana as a kick toy and they groom it. These little fish guys are smaller so they get tossed around and picked up more like a traditional toy. They are really quality and the cats simply go crazy for them?
---
By Fishies on Apr 24, 2022
Go Fishing!
My cat's favorite toy is to tie one sardine onto an old wand with twine. Several times a day she meows repeatedly until we follow her to wand location. She loves to stalk the sardine from behind the chair, leap out, tackle it and roll on it. Again and again! The sardines are the perfect size for small prey. Oh, what fun!
---
By Jamie on Mar 8, 2022
Senior cats and kitten love
I used to buy these years ago for my 3 cats but when one of our cats was diagnosed with seizures we stopped giving them catnip to try to help. Unfortunately, she passed away last year so we started buying catnip again. Our 2 senior cats and new kitten love these and get very excited when I pull them out. When the smell fades I put some of your catnip in the tin and it's the only catnip they like!
---
By SalemLab on Dec 4, 2021
My old cat is like a kitten again!
I ordered these as a Christmas gift for my 12-year-old Maine Coon mix. He's mellow and rarely plays: if he does play, he bats a toy, gives it one pounce, and he's done. The packaging on this was too cute to pass up. Great for gifting! Each little sardine is well-sewn into pretty thick material, so these don't feel flimsy or like they'll be shredded immediately. They're also packed with catnip. The catnip quality must be decent or very good because even still packed up in the Chew box, up on an entry room table, kitty was crying and trying to lick the Chewy box. I gave him one this morning as an early treat and he's in heaven! Standing up on his hind legs making me hold the sardine so he can rub his face against his fish. Picking it up and running down the halls. Rolling around, licking it like mad. I love seeing him get some physical activity and he clearly loves these. I'd recommend for your own cats or as a gift.
---
By Dcoo on Feb 16, 2022
Turns my dainty little miss into a wild kitten
My 8 year old cat is always so composed, sooo picky about playing, and rarely gets hyper with toys even catnip ones. But for some reason this brand of toys turns her into a wild little kitten. First time I've seen her bite something and flip around like crazy! 100% recommended for your picky cats!
---
Kitty love
Was unsure about this because it was a little pricey. I decided to purchase . The packaging I am sure is what increases their price, it is very fancy. Having said this I re ordered it is for a cute gift for another cat friend. Cats love the little fish
---
By CatLover on Jan 28, 2022
Disappointing
Compared to the other catnip toys in the same brand, these were disappointing. Not only is the catnip smell not very strong but I think they are too small for our cats to roll over with or rub on themselves - they get lost! Price was also rather high for what you get.
---
By FriendlysMom on Jan 1, 2022
Cute packaging
Friendly immediately played with his new sardines, then lost interest. He usually prefers that his toys are aged, so once he licks them a few more times and the catnip gets soaked in saliva, these will likely be a favorite. Nice packaging for a gift. I'll put two sardines back in the metal container with some loose catnip to infuse them for maximum effect.
---
By Ninjananny on Dec 25, 2021
Lives up to its name
Don't smell bad to me but apparently they are powerful stuff. Really funny to watch a big strong cat kicking the daylights out of a tiny toy. He doesn't get tired of it the second day so the odor must really stick around. One of my go-to purchases when I want to add a little treat.
---
By Nicc on Dec 20, 2021
Picky cat approved
My girl is not big into most catnip toys or even cat toys in general. But these sardines will actually get her to go a little cuckoo most times. Love the cute tin they come in and it's a great way to keep them fresh. Anyone I've given these to as gifts it has been a hit with their cats as well.
---