Zesty Paws Stay Green Bites Chicken Flavored Soft Chews Digestive Supplement for Dogs
See 'Details' tab for instructions to redeem
Autoship
(Save an extra 5%)
Choose Autoship at checkout for regular deliveries.
Why Autoship?
FREE access to chat with licensed vets 7 days a week.
Save 5% on all future Autoship orders.
No fees, no commitments - cancel Autoship anytime.
---
About This Item
Stay Green Bites are functional soft chew supplements that may help with grass burn from dog urine, while also providing digestive support.
Each chewable includes ingredients with properties that may support nitrogen levels in canine urine to help you care for your furry friend and your grass!
This formula contains Cran-Max, a premium cranberry concentrate to support kidney, bladder, urinary tract (UT) health for your doggie.
These chewables feature VitaFiber (Isomalto-oligosaccaride), along with Bacillus coagulans and DE111 probiotic (Bacillus subtilis) to support normal gut flora and digestive health.
Each bite contains a Gut Health Blend to support digestion and bowel movement to help dogs with digestion.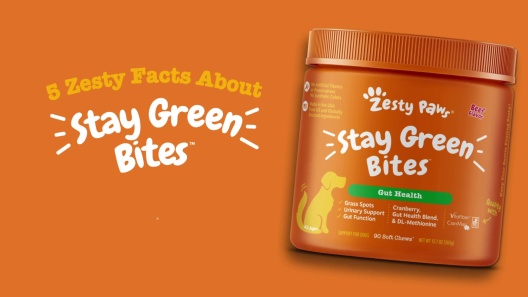 Learn More About Zesty Paws From Our Team of Experts
---
---
About Zesty Paws Dog Supplements
Wag-worthy Pup Products
Dogs aren't just pets—they are family, too. So, keep your furry family member feeling great with products made to support canine health and well-being. Zesty Paws products are a terrific way to keep your bestie feeling zesty through all the cuddles, fetches, sprints and happy barks life has to offer.
Support Your Canine's Health
Whether your pup needs skin support, a happy tummy, more energy or a healthy dose of calm, Zesty Paws has a wellness supplement for him. Their products combine carefully chosen ingredients with tail-wagging good taste. Find a chew, oil or stick to suit your sidekick and support his overall well-being.
Made with Premium Ingredients
Zesty Paws partners with some of the industry's most prominent ingredient brands to bring you the latest in pet-functional products. They craft each formula based on the latest advancements in pet nutrition to create wellness solutions that are something worth barking about!
Made in the USA
Zesty Paws loves dogs just as much as you do, so they go the extra mile to ensure quality for your best friend. They use premium ingredients sourced from the US and around the globe and make all their products right here in the USA. You'll never have to wonder what you're giving your dog with Zesty Paws.
About Zesty Paws
Zesty Paws is on a mission to create products that enable a joyful zest for life in pets and their human companions. They combine premium proprietary blends, paw-erful branded ingredients and great taste to make supplements your best friend will devour with zeal. Choose the fun way to keep your bestie feeling zesty with Zesty Paws!
Shop Zesty Paws
---
Questions & Answers
21 Customer Questions
---
Can Stay Green Bites be give in combination with the Mobility Bites?
Answer by • Sep 26, 2018
Due to the all natural formulation of Zesty Paws supplements, their products can easily be combined with each other to assist in reaching your pet's health goals.
---
If your dogs weight calls for 2 chews do you give at same time or 1 morning 1 night?
Answer by • Jul 19, 2018
The suggested dosage is to administer this supplement once daily. You can either split the dosage for one in the morning and one in the evening or both chews at the same time.
---
Do the "Stay Green Bites" come in a non Chicken formal?
Answer by • Jan 27, 2019
At this time, the manufacturer only makes this supplement in a chicken flavor.
---
Are these safe for young puppies?
Answer by • May 27, 2019
This supplement is suitable for dogs of all ages.
---
---
---
By StayGreen on May 12, 2022
Stay Green? Really?
The product is called "Stay Green." This is at least the third supplement that I have purchased and tried over the past year for my now one-year old German Shorthaired Pointer puppy. Each product is advertised as something that will or should neutralize the acidity (or whatever) in the dog's urine and thus keep her / the dog from destroying your lawn. Earlier this spring I re-seeded a large portion of my front lawn because of the urine killing the grass. I put up barriers so my puppy would avoid the new grass ... so obviously she went somewhere else in the yard and ... you guessed it ... there are brand new brown spots in my lawn. And yes, I have read and followed the directions on the label ... I do not want the brown spots and you would think that some company just might have the scientific brilliance to figure out a product that would do what we all would like it to. Neutralize the urine. I will recommend that product. Not so sure ... yet ... about this one.
---
By RoroLINY on Apr 14, 2022
Jury is still out
Pup loves the taste but I definitely had to give more than required. He's 10lbs but I give him 2 a day and that seems to work! It's been about 2 weeks and so far so good! :)
---
By Vert on Mar 20, 2022
Didn't stop grass burn
Used this for over a year to really give it a chance and no change in grass burn. Still as yellow as ever.
---
By PAPET on Jan 12, 2022
My dog loves this product!
Have been using Zesty Paws Probiotic Bites and Stay Green Bites and my 3 year old dog seems to do very well on them. I usually just add these to her dry food and she doesn't hesitate to eat them.
---
By Albert on Nov 5, 2021
I recommend Zestypaws Green Bites to eliminate grass burns.
I have been useing and recommended Zestypaws Green Bites (ZP) to eliminate grass burns. My Rhodesian Ridgebacks three females ages 13, 7, 5 with no problems. The grass burns have all but been eliminated. I recommended ZP to my son who has a German shepard who is alergis to most everthing and has had no problem using ZP.
---
By AngelG on Sep 2, 2021
Chicken flavored digestive chews welcomed by my pom.
I recently got this jar of Zesty Paws Core Elements Stay Green Chicken flavored chews digestive supplement for my pomeranian to try for free in exchange for my honest opinion through BzzAgent, and I am very happy with how much my dog likes these. My picky pomeranian usually won't eat dog supplements without them being hidden in some kind of meat that she likes, but she welcomed these chicken flavored digestive chews, and was very happy to have one every day since. I highly recommend getting these for your dog!
---
By Paul on Sep 2, 2021
3 out of 4 dogs loved them
My wife started a ritual many year's ago by giving our dogs treats every night abound 9:30 P.M. just before they went out for the last time before bedtime. Now they start in on her about an hour early since I received a full size sample of these to try. My Shih-tzu, Alaskan Husky, and Chinese Crested love them and my Jack Russell Terrier not so much, she prefers he usual treats over this, but she will eat them if there is nothing else offered. Two of my dogs would eat grass all the time, no matter what kind of food I tried. Since they have been eating these everyday for the past two week they have not been eating the grass and their stomach doesn't seem to make noises any more. I would definitely recommend Zesty Paws Stay Green Bites. #BuzzAgent #Igotitfree
---
By Baller3 on Sep 2, 2021
Helps digest quickly
My 3 year old pitty should have been named Hoover. She legit eats everything, most of which she shouldn't be eating. Her favorites consist of stuffed animal fluff, and rubber balls. Needless to say she doesn't digest things very well and ends up constipated a lot. When I got a chance to try these free through Bzzagent I was really excited. It's been almost a month with twice a day, and things are flowing much better than before. I see much less butt scooting, and it takes her much less time to finish her business. I haven't noticed too much difference in terms of damage to my grass because we have 2 other dogs that I have not been giving these supplements to. They are stiiiinky, but not in an intolerable way. My dog loves them and waits for them as a normal part of her day. If I could get her to be normal and eat food only I wouldn't need these, however I think I may have added these as a staple in our day to day for quite some time. Definitely worth a try if your dog has digestive concerns.
---
By RaulC on Aug 26, 2021
They loved it
I have 4 dogs and Ive tried many supplements for them. After the first "treat" they wont have them again they just leave them on the ground. When they offered a sample I said doesn't hurt to try. So far they love them when I tell them treat they come for it. After they get theirs they follow me to get another. My oldest is a Chihuahua she doesn't have many teeth left so she gets to have some also because they are suoer soft. I will definitely buy and recommend them to my family and friends
---
By Camille on Sep 2, 2021
Doggy approved
We had never tried any Zesty Paws products but since it was a free sample I decided it was worth a try. You could always tell where my pup was used to going to pee in my front yard because of the burned grass spots. Since starting to use this supplement I've definitely noticed an improvement in my yard. I think it is great that it helps with their digestive system and that it doesn't matter what size or stage of life they are in. As soon as I opened it he was interested, I thought he was not going to like them because the smell for me was not too enticing like his regular treats but he really like them and is able to chew them real easy. I will continue to buy them and would consider buying other Zesty Paws products.
---