Zilla Fresh Air Screen Cover for Terrariums
Frequently Bought Together
---
About This Item
Provides fresh air, safety and security for pets and promotes the necessary exchange of air to help keep cold-blooded reptiles healthy and active.
Rigid steel frame is durable and designed to keep its shape even after daily use.
Black wire mesh screen is crafted to stand up to clawing and high temperatures from heat fixtures.
Perfect for a variety of pet homes including turtles, frogs, newts, hermit crabs, insects, lizards and snakes.
For added security, use with Zilla Locking, Non-Locking or Heavy Duty Screen Clips (sold separately)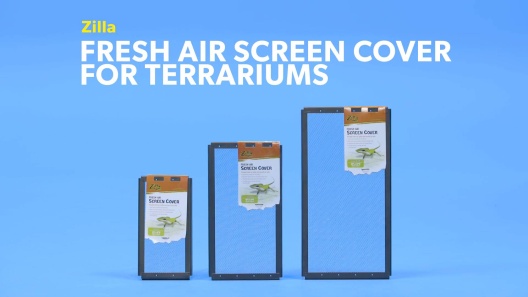 Learn More About Zilla From Our Team of Experts
---
---
Questions & Answers
10 Customer Questions
---
Will this withstand my 13 lb cat standing on it?
Answer by • Nov 21, 2017
This cover is made out of black wire mesh screening that is strong and escape proof. While a standard cat is able to stand on this cover without damaging it, we don't recommend this behavior.
---
Can I put a heat lamp sitting directly on top of the screen?
Answer by • Aug 15, 2020
You can place a lamp on top of the screen.
---
Does a 12inch lid fit a 10 gallon long tank?
Answer by • Jun 09, 2021
We recommend measuring your individual tank to see which size would be suitable. The 12 inch measures approximately 12 x 0.6 x 6.5 inches. The 20 inch measures approximately 20.5 x 0.08 x 10.9 inches. The 36 inch measures approximately 36.5 x 18.9 x 0.7 inches. The 48 inch measures approximately 48.5 x 13.1 x 0.8 inches.
---
Does this air screen cover fit the sliding mechanisms on all tanks of the specific sizes listed? I have a 20 gallon aquarium that has the sliding mechanism. I just need a new lid to slide on, will this one work?
Answer by • Jul 27, 2019
This screen cover is designed to sit on top of the tank and does not slide into place.
---
---
---
By Amber on May 6, 2022
Really good but the box it came in
I think the lid is awesome! It fits my 40 Gal tank perfectly!! BUT.. it came in a box the size of a refrigerator LITERALLY. and there is SO much paper inside of it over 100 feet, i just feel like this could have been avoided that's a lot of trees!!
---
By kait on May 3, 2022
fell apart and wobbles
as soon as i opened it the top came off and its super unstable
---
By Broken on Nov 5, 2021
Poor shipping.
We bought a 55 gallon fish tank, and we were trying to find a screen lid to put over the aquarium. When our screen arrived, it had a whole in the middle of it. and it didnt fit our aqaurium. We have never bought anything online through this store before. Hopefully we will get a refund, and try and find a lid screen that fits.
---
By Okay on Jan 31, 2022
Check sizes
I got the wrong size twice I had got the 30 first then I got the 20 but the size difference is a bit confusing
---
By Crowley on Sep 28, 2021
Pros: Functional. End of list.
I'm not overly impressed with this product. The box it came in was fairly damaged by the time it was delivered, and the edges of the lid were bent inwards so I had to pry them back into their original angle. The lid itself had a sort of flimsy feeling to it, but that may come with the length of the product. It does, in fact, fit my terrarium. I gave it one star for that. And it is, a functional lid. Second star. Either way, my Snaughter (snake daughter) can't tell the difference, because she's a snake. I can tell the difference. As far as you know, I am not a snake, and I am capable of being underwhelmed.
---
By Michelle on Jun 4, 2021
Bent when I go it
It fit the aquarium that I got it for. I should have spent the extra $5 on the one that half can lift without taking the whole thing off. And to top that, it got bent in the mail because the way they boxed it sucked...
---
By TerryGrayson on Aug 4, 2021
Great screen top!!!
I bought the screen top for my 40 gallon breeder tank and it fits perfect. No problems whatsoever.
---
By customer1 on May 21, 2021
Good but not great
I found a top that fits my 55 gallon aquarium perfectly. Only issue is, is that it was a little bent and beat. I'm just hopping my hamster doesn't find a way to escape it. I think it'll be okay. But never a guarantee!
---
By Anastasiia606 on Sep 19, 2021
turtle screen
i luv it! Perfect size Also I luv the large filtration set up
---
By DavidB on Jan 22, 2021
Dimensions are not as described in the Q&A
Needed a screen top of a turtle tank (55 GAL). Of course, nobody makes a screen top that fits a 55 gal tank perfectly. I took some measurements and I needed a screen that fits into an 11"x23" opening. After going through the Q&A it was noted that this screen measure 20.5"x10.9." There is even a review that states that this fits a 55 Gal tank perfectly. Great, I thought, 10.9 is basically 11" and I can get something to fill the 2.5" gap. Wrong! it is 10"x20" on the nose and therefore was too small for my tank. The product is a good product, but the people answering the Q&A need to learn how to use a tape measure. At this point it looks like im going to have to fabricate my own cover since Zilla only make 3 or 4 different sizes.
---