Zilla Light & Heat Mini Day Blue Halogen Bulb for Reptile Terrariums
---
About This Item
Lamp provides daytime blue light that pin-points light and heat using less power
Up to 250% more efficient than incandescent bulbs
Provides healthy light and essential warmth for your reptile
25 Watt Mini Halogen Bulb is equivalent to 50 to 75 watt incandescent bulbs, 50 Watt Mini Halogen Bulb is equivalent to 100 to 150 watt incandescent bulbs
Thicker glass and stronger filament bulbs yield over 1,000 hours on average, double versus incandescent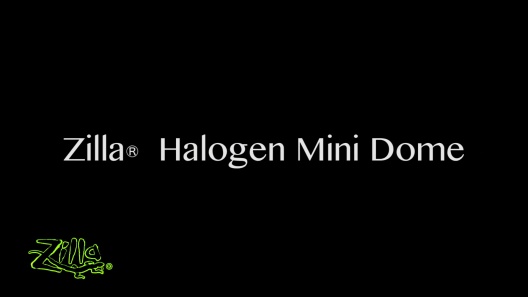 Learn More About Zilla From Our Team of Experts
Halogen bulbs should not be touched with bare hands as the oils of the skin will significantly shorten the life of the bulb or cause it to shatter.
---
---
Questions & Answers
7 Customer Questions
---
Is this a uvb light or heat lamp?
Answer by • Apr 08, 2018
The Zilla Mini Day Blue Halogen Bulb for Reptile Terrariums is an energy-saving halogen replacement bulb for your terrarium's heating fixtures. It can be used with the Zilla Halogen Mini Dome, Heat & UVB Basking Fixture and Mini Heat & UVB Fixture. This tiny bulb provides spot heating and blue light to keep your reptiles warm and comfortable.
---
Where is the fixture to put this in? Can I use this in place of a baking lamp, I need to get Pablo's (7ft red tail boa) habitat warmer in the winter. Thank you.
Answer by • Sep 17, 2018
It can be used with the Zilla Halogen Mini Dome, Heat & UVB Basking Fixture and Mini Heat & UVB Fixture.
---
What's the difference between the blue and white mini halogens? Is blue light better or worse for aquatic turtles?
Answer by • May 13, 2021
The Blue and White Halogen bulbs are only different in color. Please see the attached temperature guide below.
---
Does this work for tortoises?
Answer by • Jun 08, 2019
The bulb is suitable for lizards, snakes, and tortoises.
---
---
---
By Alexx on Jun 11, 2021
They get hot
Good think I bought both a 50 and 25 watt. The 50 got about 102, so I had to switch to the 25 for my ball python.
---
By Novemberrain76 on Oct 30, 2020
Great product for the price!
Definitely worth the money. Efficient and great quality. Definitely would recommend.
---
By Tykie on Oct 17, 2020
Great Company
The best Company out there. Shipping and Customer Service is an A ++.
---
By Anonymous on Nov 15, 2018
Doesn't last for very long!
This light was great while it lasted. It gave that extra few degrees to keep my bearded dragon at the right temperature, and it was great to use with the dual UVB fixture. But then the light stopped working all together unless it was held in a specific position, or it instead started smoking and died again. This only took about two months when it's supposed to last for several more. Very disappointed overall.
---
By Cathy on Nov 22, 2017
Excellent alternative to traditional heat bulbs!
These bulbs last much longer than other heat bulbs. The 25w produces just as much heat as a 100w bulb on my ball python's 40breeder tank. Traditional bulbs tend to heat up the entire room and emit heat from the fixture itself while these mini halogens direct all the heat into the tank.
---
By Shaffer on Apr 13, 2017
Could not be happier!
Product was exactly what I needed! Thank you for the great prices and fast delivery! Your prices make it easy to take good care of my reptiles!
---
By PACKY on Feb 28, 2017
GREAT LIGHT
GIVES THE RIGHT LIGHTING FOR THE GUYS AT NIGHT. THEY SLEEP MUCH BETTER IF THEY DO WAKE UP THEY GO BACK VERY NICELY.
---