Zilla Lighting & Terrarium Heat Power Center for Reptile Habitats, Digital
By Zilla
---
About This Item
24/7 timer power center allows for daily programming with on/off outlets as well as constant power outlets.
Easy-to-use digital programming and LCD display.
Both cycled power and constant current.
8 Total outlets - 4 daytime/nighttime alternating outlets and 4 constant power outlets.
UL-listed device, up to 1875 watts, 15 amps.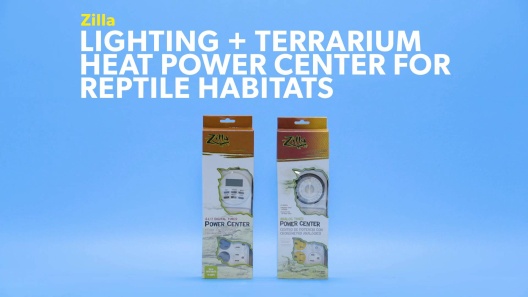 Learn More About Zilla From Our Team of Experts
---
---
Questions & Answers
13 Customer Questions
---
If I was going sway for a week would this still work in turning off andnon the daytime light and nighttime??
Answer by • Jul 12, 2019
This power center has a time cycle on and off option. When the yellow (daytime) outlets are on, the blue (nighttime) outlets are off, when the yellow (daytime) outlet runs off, the blue (nighttime) outlets are switched on automatically.
---
Will help from making your electric bill go higher?
Answer by • Feb 07, 2018
The Power Center helps with timing, you'll still be using the same amount of power so there isn't a guarantee on your power bill.
---
Can you plug an entire power strip into this? I work with a turtle rescue and it would make life a lot easier if the power strips could be on timers.
Answer by • Apr 07, 2019
It is not recommended to plug a power strip into this product. Doing so may exceed the capacity of the power strip and the circuit, which could result in a fire.
---
What is the difference between a digital and an analog?
Answer by • Nov 21, 2017
With an LCD digital display and simple push-button controls, the digital option provides minute-by-minute accuracy. The analog timer uses a convenient dial to set an on/off schedule that mimics the natural sun cycle for light and heat.
---
---
---
By SailFin on Mar 8, 2022
Extremely great product
Confusing to set up directions could be better with all those different settings and I would still buy another one if I ever had to easy to hang so its out of the way of any wires among other things that could possibly get in The way
---
By Stopped on May 13, 2022
Stopped working in just over a month
This item stopped working in just over a month. We tried resetting the programming and nothing works.
---
By Ghost on Feb 25, 2022
The timer function isn't working :(
We got this to control the lights in my baby bearded dragon's cage and the timer isn't working. We have tried everything but still can't get it figured out. We still have to turn the lights on and off manually.
---
By great on Aug 17, 2021
Smarter then the consumer
I bought one of these 2 years ago ... guess what it still works ... timer resets like any clock would if power is cut .... it says right in the description 4 alternating outlets ... means 2 day 2 night and 4 constant power .... this thing is definitely smarter than the average owner
---
By Steve on Nov 15, 2020
Clock timer is always inaccurate
After our last timer stopped working, we bought this one for our Beardie and noticed that it reset every time the power went out, but the bigger issue is that the clock timing is terrible. It never keeps accurate time, so I need to correct the clock every other week or so as the lights begin to go out too early and once you adjust the clock time, the machine does not adjust the lights accordingly. In other words, if the lights go out too early and I adjust the timer so the lights should be on for another 20 minutes- for example, it does not auto-correct itself, it catches up on the next cycle change, usually the next morning when it's time to turn on. We've had this unit for about a year after we exchanged it from the same unit for the same reasons. When I originally spoke with customer service about it, they said it was strange as the timer is digital, but that doesn't fix the issue.
---
By Lynann on Nov 27, 2020
Great...when it works
I bought this to be able to have great cycles but also have my heating pad on all the time. It took a bit to get set up but once I did it worked great...for a month. Then I reset everything and got it set up and working again, and again it worked great...for a month. I have contacted customer service to get it replaced or get a refund. Hoping that if they do replace it, it works better. If not, I will let you all know.
---
By Capmoon on Jan 26, 2021
Love this, just what was needed
This is perfect for my snake cage. Have enough outlets and includes 2 day and 2 night ones.
---
By minnie on Nov 22, 2020
Great for my purposes. Not as versatile as it seems - don't let it seduce you.
Full disclosure, I bought this for my aquarium even though this is marketed for "reptile use". The power strip won't know the difference. I checked its specs against how much power my filter/heater/lights consume before deciding to buy. My needs are minimal and I have it set for just a daily 9AM-9PM cycle, to alternate my hood lights for daytime with my nightlight for nighttime. My heater, filter, and air pump are plugged into the white outlets, so they are always on. I haven't had a power outage so I don't yet know if the backup battery is useful. Regardless, I already have an independent backup battery pack in case that happens, so I'm not super concerned. I am perfectly satisfied with this product - it does what I want - however... Some criticisms, of which I have many: I fail to see the usefulness in this being able to have 8 different timer schedules, if all it can do is alternate whether the day or the night outlets are on/off. The outlets turn on and off as a group also. You cannot specify that you, for example, only want one of the daytime outlets to be on for X amount of time, and set the other daytime outlet to be on for some other time. Not to mention, you can also program it for specific days of the week - but why? I might only want lights on Mondays and Tuesdays, for some reason? Maybe it addresses an aspect of herp care that I'm not privy to, but I don't understand that. If you can't have each outlet run its own schedule, you're losing actually useful versatility that people are looking for and will pay for. Other reviewers have talked about the timer "losing proper time" or being faulty. I have not had either of those issues in the 2 weeks that I have been using this. Check that your Mode isn't set to RDM. RDM randomly toggles the schedule to begin and end plus or minus 15 minutes before or after the programmed schedule. I view this as a fault of the timer's design. Don't give customers unnecessary room for confusion and mistakes. The RDM Mode seems useless to me. Why would I ever use that? Just turn on and off as scheduled. I don't think my fish will care about the lack of variety. If I get tired of it working reliably, I will program a new time myself. If anything, customers want to mimic the real-world photoperiod, not just be random. The sun doesn't just randomly set sooner or later each day. It makes me wonder if this timer was beefed up with useless features no one will realistically use just to mark up the price. You can't even have a separate schedule running for periodic misting, without just buying an entire second one of these for that purpose. You can do better than that, Zilla. For all my criticisms though, this is exactly what I wanted for my situation and despite how it sounds, I am very happy! I just can see clearly why the reviews for this product are all over the place. I would not have bought this if it weren't marked down right when I decided that I needed a timer. Setup was just a little confusing, but not bad at all. Don't be surprised if you program it how you want it, plug in your daytime stuff, and don't see it working. The manual informs you that, if the current time is past the time that you want daytime plugs to turn on, it will take a day for it to cycle and begin working normally. So give it a day before you get upset. Another thing - check what Program Mode it's set to. I spent a couple minutes being confused before I realized I needed to set the Mode to AUTO before the timer would... automatically run. During the initial setup, the Mode defaulted to OFF, so nothing turned on. That is another feature that seems useless to me. But whatever.
---
By Mamaoftheburrow on Sep 7, 2020
can't get it to work
We still have not been able to get the timer function to work. We got this for our bearded dragons habitat and are very disappointed. We followed all of the directions and have tried it in multiple ways to no avail. Pretty sad for the amount we paid for it.
---
By Nattles on Sep 3, 2020
Perfect For All My Reptile Tech
It took me a bit to figure it out, but once I got the timer setting to work, It's been smooth sailing ever since. I just can't figure out why it needs batteries if it's plugged into an outlet. But whatever, It's perfect for my Emerald Swift setup!
---