Zilla Mini Night Red Halogen Bulb for Reptile Terrariums
---
About This Item
Lamp provides nighttime red light that pin-points light and heat using less power
Up to 250% more efficient than incandescent bulbs
Provides healthy light and essential warmth for your reptile
25 Watt Mini Halogen Bulb is equivalent to 50 to 75 watt incandescent bulbs, 50 Watt Mini Halogen Bulb is equivalent to 100 to 150 watt incandescent bulbs
Thicker glass and stronger filament bulbs yield over 1,000 hours on average, double versus incandescent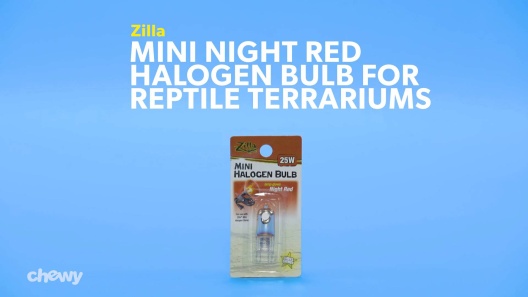 Learn More About Zilla From Our Team of Experts
Halogen bulbs should not be touched with bare hands as the oils of the skin will significantly shorten the life of the bulb or cause it to shatter.
---
---
Questions & Answers
5 Customer Questions
---
I have a 18x18x36 zoomed cage with a young veiled chameleon he sleeps more in the top plastic bush will the 25 or 50 watt be better for at night my home gets about 70 at night
Answer by • Aug 20, 2018
Chameleons do not need night lights. If temperatures drop lower than 60 degrees Fahrenheit, a ceramic heat emitter that does not give off light can be used. Chameleons have a photoreceptive scale, or parietal eye, on their head that senses light, so even the blue and red bulbs disrupt sleep.
---
Hello also wondering if I'm able to use this for turtle which watt? I usually have a 50 is that given effort heat? Thanks cant wait to try if it can wk for my Turtle.
Answer by • Mar 26, 2020
This bulb may be used in a turtle habitat. Please click on the attached photos for detailed heating guides for each bulb.
---
I've been using one of these for my Leo but the light is more of a light orange/ white.... are these ok to use with nocturnal animals or should they be used with a red/UV bulb instead?
Answer by • Nov 27, 2017
These bulbs provide healthy light and essential warmth for your reptile, and is Up to 250% more efficient than incandescent bulbs.
---
is this suitable for 40 gallon bearded dragon tank?
Answer by • Sep 22, 2021
The Zilla Mini Halogen Bulb is suitable for use in a 40 gallon Bearded Dragon tank.
---
---
---
By mini on Apr 24, 2022
Work well for me
These have held up well, they work well for the combo led with timer I have. It takes up less space but produces a nice nighttime heat for my bearded dragon.
---
By Elic on Mar 27, 2022
Product Unable to be used 24/7
The low profile nature of this lamp is great but you cannot use this lamp overnight. Completely defeats the purpose of this product because the reptiles can see the light at night.
---
By Ajay on Jan 3, 2022
Disappointed
I just bought this in October an it's already not working! I haven't messed with light at all and woke up to it off. I put the bulb in the other lamp and nothing! How did it burn out so quickly?! I don't understand why when these are supposed to last longer and be better.
---
By Monica on Nov 19, 2021
Provides heat, but not great for night time
I didn't know this before I ordered it, but red light is not actually great for reptiles (it used to be believed that reptiles couldn't see the color red so these would provide heat without them registering light and therefore would be great for nighttime heating, but this isn't true). Going forward, I'll use the mini ceramic heaters because those don't provide any light at all while still providing the heat, but that's more of a preference choice than anything. The actual bulbs work great and I love that they fit with the low-profile/space-saving overhead lamps.
---
By Tank on Apr 15, 2022
It's a great product however mine broke
It broke very fast I think it was because it was too hot
---
By autumn on Sep 4, 2021
always satisfied
ordering from chewy is always such a pleasant experience for me.. the shipping is super quick, i'm always shocked when my packages arrive no longer than two days after placing my order. great variety of products, all super reliable, relatively cheap, & good quality.. my go to for my pets needs. 11/10
---
By Lwils4542 on Mar 9, 2021
Night red is bright red.
I would not recommend this product for reptiles at night. I assumed that it would be a dull red, but it is almost as bright as day bulbs. I will not use these unless I am in a pinch. I had to switch my night heat to a ceramic bulb in a different dome since zilla doesnt make anything for this dome thats not bright as day.
---
By Novemberrain76 on Oct 30, 2020
Great product for the price!
Great product for the price. Affordable. Efficient. Quick shipping. Found at a local pet store for 4x the cost of what I can pay on Chewy!!!
---
By Nicole on Nov 23, 2020
Zilla light
Love these lights! Last a long time and you cannot find them cheaper anywhere else!
---
By Maria on Nov 28, 2020
Worth the purchase
This had been the best lowest price after research.
---