Zilla Tropical Vertical Starter Kit with Mini Halogen Lighting
Frequently Bought Together
---
About This Item
This starter kit is perfect for a first-time small reptile parent and comes with an easy-to-use setup guide.
You can fill the terrarium with up to 5 inches of water!
Suitable for tree frogs, crested geckos and other small tropical, tree-living reptiles.
The tall terrarium features a front door and a hinged screen top so you can easily access your pet from more than one place.
The front door has a locking latch and a locking pin to help keep your pet in his own space.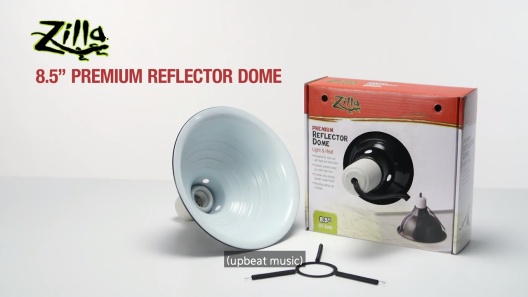 Learn More About Zilla From Our Team of Experts
Halogen bulbs should not be touched with bare hands as the oils of the skin will significantly shorten the life of the bulb or cause it to shatter.
---
---
Questions & Answers
39 Customer Questions
---
Is this adequate enough housing for a leopard gecko? Can this be permanent option? Or is 20gal more preferred? And should I get something that is longer in length or higher in length like this option?
---
We are looking at getting a Crested Gecko. Would this house him his entire life or would we have to upgrade at some point. On line it says they should have a 20-gallon tank, but is that really necessary.
Answer by • Apr 24, 2020
For hatchlings up to six month old geckos, we recommend a 10 gallon Zilla Critter Cage or Zilla Vertical Tropical Kit. This allows the gecko to have plenty of room to explore, while not making them feel lost in a large and open enclosure. Once the gecko has grown past 6 months, you can increase his tank to a 20 gallon Zilla Critter Cage, or keep it in its Zilla Vertical Tropical Kit, which can house one adult crested gecko for his whole life.
---
Can I use this for leopard geckos
Answer by • Nov 03, 2019
This cage would not offer a leopard gecko enough floor space to move and live comfortably. Leopard geckos are not climbers and they lack the signature "sticky fingers" that allow them to scale walls and windows.
---
How many "gallons" is this considered? Would it be suitable for two tree frogs?
Answer by • Apr 28, 2019
This tank is considered to be approximately 11 gallons. A minimum of 4 gallons of tank space per frog is suitable space for tree frogs.
---
---
---
By Tabby on Aug 15, 2022
Our tree frogs love it!
Excellent little home for our green tree frogs! Simple, easy set up. Has everything we needed. All we had to do was add plants and frogs! :-)
---
By Manda on Jun 25, 2022
Nice set up
Beautiful tank with great set up. However the temperature/humidity gage is broken. I'll have to get a replacement before my pets live in this tank.
---
By MelissaNoel on Sep 27, 2021
Our Tree Frogs Love It
We were new to frogs, but somebody recommended this starter kit to us, so we decided to try it. Our two white's tree frogs love it. We ended up taking out the Styrofoam background because one of our frogs got stuck behind it, and we got a much larger water dish, overall we love the kit. We filled the terrarium with branches and leaves and plenty of things for them to climb and hide in. They have adjusted wonderfully.
---
By bassman on Aug 25, 2021
Good value
It's a great starter kit for the beginner and at a decent price. My 10 year old Grand daughter is thrilled and looking forward to having a tree frog to care for...
---
By Nina on Oct 15, 2021
Great terrarium
Great size terrarium for my whites tree frog!!!!!!!!
---
By Addi on May 9, 2021
More of a complete set than I thought!
I absolutely loved this! I will be using it for a Posion Dart Frog. I bought my own rocks to put underneath for drainage and moss for the dirt. All in all it looks amazing! *The plants were my own real plants.
---
By Lwils4542 on Mar 9, 2021
Tank is OK
The tank itself is OK for the price. It comes with the BARE BARE minimum of accessories. the photos make it look like it comes with leaves, vines, etc but it does not. The list on the box looks long but its really just some hulabaloo about the tank itself and its "features". its no better than any other 12x12x18 bare tank i have purchased. I have a reptile in it, it works, but know it doesnt come with a lot.
---
By Brie on Jan 25, 2021
Good terrarium but the starter kit sorta sucks
The terrarium itself is a great size and hold up well. Came in great condition and is water proof on the bottom and 5 inches up. Overall, terrarium is great. The starter kit however, is iffy. I didn't use the coco substrate it came with because I had bought other substrate for my small crested gecko. The light that came with it doesn't work very well. I can't set it on top of the mesh top because my crestie climbs and I don't want to burn him, but I needed a light because I live in a cold region. The mini blue day light is eh. If you need a good heat lamp, that is NOT it. The dual temp and hydro gauge also sucks. The gauge is quite a bit inaccurate and very finicky. There can be water droplets in my tank on the glass that the hydro meter will read 40% humidity but when there isn't any moisture it says 60%. The temperature gauge is also really hard to read because it is very small and has no lines in-between tens (aka only goes 60, 70, 80, etc.) I need a temp gauge that is easier to read and also a bit more accurate.
---
By LauZaat on Jan 20, 2021
Perfect for Small White's Tree Frog
This small kit was the perfect size for a young White's Tree Frog. He will need a larger habitat when he gets bigger. The kit comes with almost everything you need. I just added an artificial plant and vine and a larger bowl. The included bowl is too small for water. It can be used as a feed bowl.
---
By Sunnie on Feb 16, 2021
Perfect habitat
Complete package as is but I added materials to set up a BioActive habitat for my tarantula.
---