Zoo Med AquaSun Aquarium Timer
Frequently Bought Together
---
About This Item
Automatically turns your aquarium lamps on and off for you by setting it once.
Provides a natural day and night cycle for your fish and is completely customizable.
Switch from "set it and forget it" timer option or constant power mode with an easy switch.
Features LED indicator light, mode switch, one outlet, and safe 3-prong receptacle.
Easy to use―just set the on and off times with the convenient dial and plug in your lighting.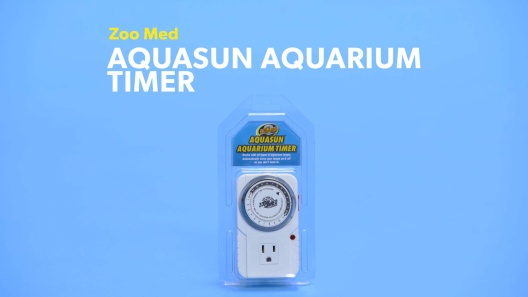 Learn More About Zoo Med From Our Team of Experts
---
---
Questions & Answers
9 Customer Questions
---
Would this be safe to use with a 75w or higher basking bulb for a reptile?
Answer by • Dec 28, 2018
This timer is rated for 15 Amps/1875 Watts and should not exceed this rating. A 75 Watt bulb is fine to use.
---
Can this be hooked up to the Fogger Humidifier?
Answer by • Oct 03, 2022
This aquarium timer is designed to be used for aquarium lamps only.
---
1/17/21 can I plug into timer a strip outlet to power on of more then 1 power source
Answer by • Jan 18, 2022
With the timer you cannot plug a power strip into it, it just needs one item plugged in.
---
Can a surge protector be plugged into this?
Answer by • Nov 23, 2020
It is not recommended to use a surge protector/power tap and splitters to control multiple devices, since it may create an unsafe condition.
---
---
---
By Amber on Oct 18, 2022
Doesn't work for long
Had it for about 1 month before it stopped keeping time. Ran slow and now it doesnt work at all. Waste of money.
---
By DANA on Oct 13, 2022
Did Not keep time... Ran Slow
Bought this to use for my aquarium light. Every day this timer ran slow of 30-35mins. Recycled "trashed it!"
---
By Miguel on Oct 17, 2021
Works well, not super easy to set up
The timer does its job, however it does not come with detailed instructions. You have to push down a series of pins around the dial to indicate which hours you want it to be on, set the dial to your current time, and then plug it in. It seems like if you don't plug it in at the exact time the dial is set, it will not turn on and off at the exact time you want it to (I set the dial for 4:00 pm and the "on hours" from 7am-7pm but didn't plug it in until a few minutes after 4pm and as a result my aquarium light didn't turn off until a few minutes after 7pm). It also only seems to work if you set it up during the time you want it to be on. For example, I tried to set it up after 7pm at one point and could not get it to work, which I think is due to a small switch inside the dial not being activated from the pins that are pushed in for the "on hours". The "on hours" not being accurate to exact times is not a big deal but a notice that the timer won't work unless you set it up during the "on hours" would have been nice. The product is very analog and not very intuitive but it works as advertised and would have been 5 stars if not for the vague instructions. Hopefully this helps someone and I do still recommend the timer.
---
By timer on Dec 6, 2021
does not work
I am very disappointed in this timer. No directions as previously stated. Timer does not work at all.
---
By Timer on Jun 2, 2021
Bad instructions
This product needs a specific type of outlet and you will not find that out until you purchase and open the packaging.
---
By Perfect on Jul 22, 2021
So easy and happy fish!
I love that I don't forget to turn the light off and on!
---
By CG13 on Jun 14, 2019
Basic Timer But Bulky
The timer seems to be a pretty basic timer, but for twice the amount (which still really isn't much). My biggest issue is how bulky it is. It takes up so much space on the outlet it pretty much renders the second plug useless. I'm unable to plug another 3 prong appliance below this. I had to go get a much smaller timer and have no use for this one.
---
By BobG on Feb 4, 2019
Excellent timer once you get it set up.
This timer is well made, works very well, and lasts longer than others I've tried. I've been using these for quite a few years. The only negative is the instructions which are written for a 24 hour timer (numbers 1 through 24), not an A.M./P.M. which, along with the black and white bands, makes set up a bit tricky.
---
By PaxMom on Aug 24, 2018
Works Perfectly!
For the low price I didn't expect much but this is a really nice, reliable timer. I bought one and am ordering 2 more for my other tanks. I would highly recommend this timer, just be sure that it is compatible with your light power source and plug it directly into the wall outlet, not a power strip! Thanks Chewy for making this affordable!
---
By Shaymin on May 26, 2018
Works Great, but No Instuctions Provided
This item is very useful. It works just the same as a reptile timer. The only issue is that mine did not come with instructions on operating it. Luckily there's a video on YouTube for it! Definitely recommend!
---