Zoo Med Mopani Wood Aquarium Decor
---
About This Item
Naturally grown hardwood features a smooth surface, textured detail, and unique mottled color.
Exotic and all natural accent piece sinks in aquariums and looks great with other enclosure décor.
Adds interest and appeal and makes for an enriching environment for aquarium or terrarium pals.
Perfect accessory for aquariums or terrariums to complement any naturalistic look.
It contains no artificial colors or synthetic resins and is available in two sizes to meet your needs.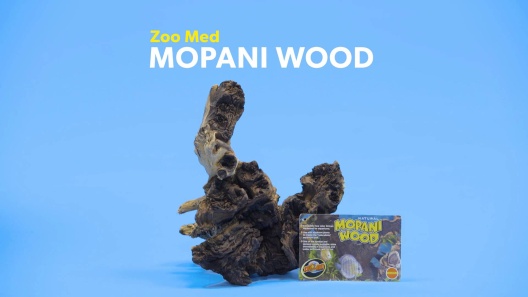 Learn More About Zoo Med From Our Team of Experts
---
Compare Similar Items
| | | | | | |
| --- | --- | --- | --- | --- | --- |
| | | | | | |
| Customer Rating | | — | | | |
| Price | | | | | |
| Fish Type | Tropical Freshwater, Betta, Cichlid, Goldfish, Marine Fish | Tropical Freshwater | Tropical Freshwater, Betta, Cichlid, Goldfish, Marine Fish | Betta | Betta |
| Aquarium Type | Freshwater, Saltwater | Freshwater | Freshwater, Saltwater | Freshwater, Saltwater | Freshwater, Saltwater |
| Material | Wood | N/A | Wood | Ceramic | Wood |
---
Questions & Answers
28 Customer Questions
---
Does this kind bleed in your tank
Answer by • Oct 02, 2019
All natural wood leaches tannins (these are good for your fish), which discolor water and reduce pH levels. To minimize this effect, soak wood in a separate container, and change water daily to remove excess tannins. The wood will be ready when the water color goes from dark brown to a very light. Adding extra carbon to your aquarium filter can help remove any remaining discoloration.
---
Is this suitable for hermit crabs?
Answer by • Jan 02, 2018
This Mopani Wood is suitable for a Hermit Crab's habitat.
---
Does this wood rot in water after a period of time because most wood does?
Answer by • Nov 07, 2019
This African hardwood is specially selected for their natural ability to stay intact underwater and in highly humid conditions. While this item is a natural product that may eventually break down, pet parents using Mopani wood in their aquariums have reported owning their pieces for many years.
---
Which size is recommended for a 20 gallon aquarium?
Answer by • Sep 03, 2018
We recommend measuring the space you'd like to use the wood piece in as well as consider what type of pet you will use it for, to determine the best size for your specific tank. The Small measures 6-8 inches and the Medium is 10-12 inches.
---
---
---
By Sureee on May 7, 2022
Pretty cool
I bought this for my red eared slider's aquarium. I recommend completely submerging the piece in a bucket of water and replacing the water every day for AT LEAST one week before putting in your aquarium. Which is kind of annoying but worth it! You don't want it to dirty your water and when you go to replace the bucket water, you'll see what I mean. Anyway, this thing is pretty cool my turtle loves it!
---
By Kate on May 12, 2022
Not sure what's wrong with it
It looks beautiful BUT I'm not sure what I did wrong. I put it in a bucket and rinsed it and put it in new water like it says till the waters clear, but I bought it a month ago and the water still isn't clear and leaks color and it's starting to smell like rotten eggs
---
By Julies on Feb 20, 2022
Great pieces of wood
I ordered 2 pieces of the medium size. I am happy with both. One is almost like a wooden person. Lol. The other is like a wood crab. Lol. I have them in my 120 gallon ciclid tank. The clown loaches have not left them alone since I put them in the tank. It has made them very very happy. I did soak them in a 5 gallon bucket for 1 week and kept changing out the water everyday. I highly recommend you do that as well. There was tannins for sure! I will be buying more pieces for my other tanks soon. Definitely take a chance and grab these. The price is so reasonable.
---
By Jeni on Apr 5, 2022
Aquarium wood
The wood is gorgeous, I loved the way it looked. I got a size medium for my 30 gallon tank and it was bigger than the tank!! I had to cut a piece off of it. I looked to find some type of recommendation on what size for what tank and couldn't find any, so this is mine. The medium is huge!
---
By Alyssa on Feb 14, 2022
Chunks of mopani
The measurement process online made it seem like you would get small pieces, but I got some cool, larger pieces. I bought a random pile of 5 because I like giving my plecos lots of places to swim in and hide. And because I know it's a natural product, I expected a random grab bag of wood pieces, which is what I got. Mopani wood pretty much always is light on one side and smooth, but then the other side is dark and craggy. And it's not super soft or twiggy so you'll have your driftwood for many years. It does release tannins, which I find to be a bonus since the fish really seem to love it. It will continue to release tannins for pretty much forever. Boiling it will just soften your wood. Highly recommend just rinsing the travel dust off and then using it as-is. A lot of the local fish stores seem to be having trouble getting wood in stock right now, and Chewy came through for me.
---
By Rodney on Mar 12, 2022
Still up in the air
So far I've submerged the pieces in water 5 times for 24 hours. Water is still dark brown. Going to give it a couple more times before I toss them in the trash. On a side note, they are very nice pieces. Just don't have the time to continue soaking them. Other driftwood I've dealt with in the past only took 3 times in the process before adding them to my tank.
---
By Fins4PawsMom on Feb 5, 2022
Perfectly Beautiful
I couldn't be happier with the piece I received if I had picked it out myself! I boiled it for 2 hours (only half would fit in the pot at a time) to help leach some of the tannins. It sank immediately when placed in the tank. It is still leaching some tannins which was expected and will not harm the inhabitants. I'm sure if one wanted to soak for several days or more with daily water changes it would eliminate most of the leaching but I was too excited to place it in my tank. I'm planning on setting up a new tank soon and will be ordering 1 or more pieces and hope to receive similar shaped pieces.
---
By bean on Mar 26, 2022
lots of tannins
its a nice looking piece of wood. there are some holes in the one i got so i hope no fish get stuck in it. however i've been soaking it for over a week while changing the water everyday and the water is still very brown, so i dont know when or if i'll get to use it in my tank.
---
By Hannah on May 3, 2022
Too hard to clean for first use.
I have scrubbed and scrubbed this piece of wood. I've also soaked it. It turns the water red/brown when I've soaked so I am not going to put this in my aquarium.
---
By BeBe on Jan 14, 2022
Mopani Wood
I purchased the large Mopani wood and it is really beautiful, but the piece I received is mostly black not much brown in it and I have been soaking it for a month to get most of the tannin out of it.... I change the big container of water its in 4 times a day and it still leaches out so much tannin I can't even see the piece in the bottom of the container.... needless to say I am very unhappy with my purchase, when you order online you can't see what piece you are getting you are at the mercy of the picker. I suggest if you want this wood that you go to a store and visually pick it yourself so you know what you are getting.... I will keep soaking mine just to see if it is ever going to stop but I won't be putting it in my tank : (
---