Zoo Med Repti Tuff Halogen Lamp, 75-watt
Frequently Bought Together
---
About This Item
Provides daytime light and halogen heat source for reptile terrariums and aquatic tanks.
Perfect basking light for most reptiles and aquatic turtles to keep them thriving.
Bulb is completely splash-proof so it won't shatter or go off when splashed with water.
Ideal for arid or high humidity environments so it's great for any customized set-up.
Built for daily, heavy duty use and is compatible with any standard hood or clamp lamp fixture.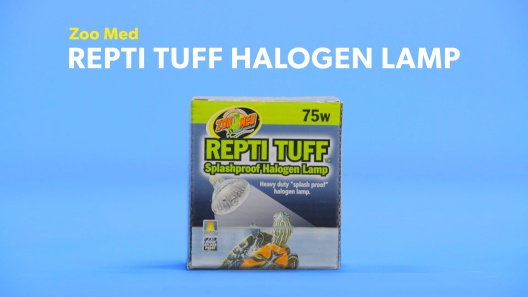 Learn More About Zoo Med From Our Team of Experts
Halogen bulbs should not be touched with bare hands as the oils of the skin will significantly shorten the life of the bulb or cause it to shatter.
---
---
Questions & Answers
17 Customer Questions
---
Is the 75 too hot for an aquatic turtle in a 20 gallon tank, resting 6in above the dock?
Answer by • Nov 11, 2018
This can used for an aquatic turtle.
---
Would this work well with Fluker sun dome lighting fixture 10 inch, or would it work better with the smaller version?
Answer by • Jun 30, 2017
This can be used in a reptile hood or clamp lamp fixture only. Fluker's Sun Dome Lighting Fixture is made of quality aluminum construction with ceramic socket and supports bulbs rated up to 100 watts (5.5" fixture) or 160 watts (10" fixture), ideal for this lamp.
---
For a 10 gallon tank with would be better 75 or50 watt halogen bulb
Answer by • Jun 10, 2018
The amount of wattage needed would depend on how much heat your reptile needs.
---
Would this be ideal for a 10 gallon tank for a turtle
Answer by • May 29, 2018
Zoo Med Repti Tuff Halogen Lamp provides daytime light and halogen heat source for reptile terrariums and aquatic tanks.
---
---
---
By Wendy on Mar 12, 2022
The best light bulb so far
The most long last light bulb I ever used. I bought my first light two years ago and I am still using it right now. And it is as hot as before. The previous basking lights I used only last 6 months in average. But this one, it's two years already and it still works just fine.
---
By KB94 on Apr 3, 2022
Great light
This feels really sturdy. Installed easy. Holds up to splashing well. It's perfect for my turtle.
---
By kitten on Sep 7, 2021
perfection
I do recommend this highly because it works! It's better than nothing
---
By Jeffafa on Jul 20, 2021
Love the warm glow on my shell
I can't speak for myself, but Franklin REALLY likes the new lighting!
---
By Turtlemomma on Feb 24, 2021
Great bulbs
I love these bulbs and so do my turtles. Fast shipping and awesome prices.
---
By Good on Jun 6, 2020
last long and works great
After getting my turtle from my cousin I didn't know much on basking. When his normal lamp broke I wasn't sure what I should do, so I looked on Chewy and saw this lamp and ordered it along with a fixture. I began turning it on and off during the day, but since I got my new basking area from him month later I just leave it on since it is placed over the tank. I'm currently writing this an entire year after I got, and it's still going strong. Looking forward to buying one again.
---
By John on Sep 6, 2020
Inconsistent
Every time I've gotten one of these lamps, it either has had a shorter-than-promised life or just hasn't worked at all.
---
By NLCK on Jul 7, 2020
The bulb burst
The glass bulb bursted. It broke over my tank the glass killed 5 of the feeder fish in my turtles tank. I think it was a faulty bulb or lamp that I also bought on chewy
---
By crestieandturtle102 on Mar 24, 2020
Amazing Great for Turtles
I have a 40 gallon Mississippi Map turtle tank and it lasted me for about 7 months which is amazing I've had the best luck with this lamp so far and really recommend it to any turtle owner.
---
By Healight on May 13, 2020
Great for shower room
Works great! Actually using in the shower . The light we had was too big and wasn't guarded against splashes of water
---