Zoo Med Reptile Fogger Terrarium Humidifier
Frequently Bought Together
---
About This Item
Compact ultrasonic humidifying fogger is designed to keep your tropical pals comfy and moist at all times.
Helps maintain proper humidity levels with adjustable flow using a simple analog dial.
Simply fill bottle with water and place extendable hose in or on your enclosure to let the humidifying fog flow.
Perfect for tropical reptiles and amphibians like frogs, chameleons, geckos, salamanders, and more.
Includes no spill valve to make it easy and mess-free to refill the bottle as needed.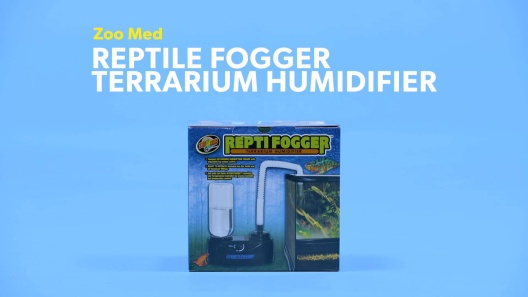 Learn More About Zoo Med From Our Team of Experts
---
---
Questions & Answers
17 Customer Questions
---
how long should it take to start working
Answer by FrogMom • Sep 02, 2022
It should start working as soon as turned on and filled with water. Adjusting the dial will adjust the flow of fog.
---
Does this have a timer where it turns on at certain times or it just sets for how long it will be turned on??
Answer by • May 02, 2019
This does not feature a timer. It may be used with the Repti Fogger™ in conjunction with Zoo Med's New HYGROTHERM™ automatic Humidity and Temperature Controller (sold separately).
---
Are you able to use it for ball pythons?
Answer by • Apr 15, 2021
This product is suitable for use with ball pythons.
---
Approximately how much water will this collect at bottom of enclosure? I have a repti breeze full screen enclosure
Answer by • Jul 31, 2017
There shouldn't be any water collecting at the bottom of the enclosure, only fog comes out of the tube and should come out of the screens.
---
---
---
By leaky1 on Sep 24, 2022
Get paper towels
Right out of the box worked perfect day number two half the fog and unit leaked on the floor
---
By Deez on Aug 28, 2022
Terrible, it arrived not working
I literally got it today and unboxed it to plug it in and find out that it doesn't work at all
---
By Jack on Apr 19, 2022
Broke but fixed it
It worked great but then it started leaking out of the base. I tried putting a rag under it to stop it but it just soaked it. Had to cover the whole base and much of The whole system with duck tape to make it stop. It seems to be fixed now but disappointed it did that.
---
By MattyT on May 19, 2022
Keep looking
Terrible quality product. Began leaking after about a week and became progressively worse. Now completely useless. Look for a better quality fogger.
---
By Alicia on Jun 11, 2022
Terrible right away
This started leaking almost immediately and ran through the water so quickly. Do not get this humidifier.
---
By Mushu on Apr 1, 2022
Veiled Chameleon loves it!!!
I have an older veiled chameleon and i was misting his cage twice a day before I bought the fogger. He absolutely loves it. He will stand in the fog for hours and walk toward it if i move the hose. I absolutely recommend it!
---
By Dementri on Feb 26, 2022
Didn't work right
I've owned multiple of this brand fogger however after a fire ruined the ones I had I had to replace them and this one made noise and the fog itself was too dense and dripped water more than it fogged correctly.
---
By seth on Jan 8, 2022
Great humidifier
This worked great for me! I've had it for about 9 months now and haven't even had one problem. If you use tap water and water conditioner for this I would highly recommend cleaning it every so often to lengthen the life of it. Other than that it works great. You can even get a WiFi plug as well to put it on a timed schedule. It's very simple to set up too just fill bottle with water and plug in and your set.
---
By poor on Mar 30, 2022
not good product
Had it 2 weeks and it's broke already. Tried to turn it on one day and it's no longer putting out any steam.
---
By Britt on Mar 18, 2022
Don't buy this
Runs out of water within a day. Less you than a month with it and it leaks all over and won't even hold water now.
---