Zoo Med Reptile Lamp Stand
By Zoo Med
---
About This Item
Designed to safely suspend a lamp fixture or dripper above your reptile enclosure.
With adjustable knobs to change the height and length to fit your unique needs.
Base plate goes underneath the terrarium to prevent it from getting knocked over.
Features a convenient on/off switch and a safety clip to keep power cord out of the way.
Maximum adjusted height of 38 inches and length of 15 inches; for terrariums from 20 gallons to over 100 gallons.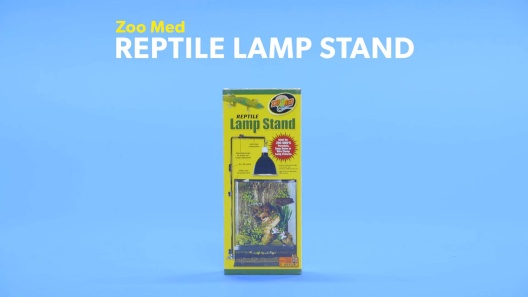 Learn More About Zoo Med From Our Team of Experts
---
---
Questions & Answers
15 Customer Questions
---
Theoretically, could this be swung around the other way (not over the tank but over a table to the side of the tank) and be lowered to warm frozen/thawed mice?
Answer by • Sep 11, 2019
We recommend thawing out the frozen mice in a hot bowl of water. Mice should not be thawed out by any source of heat, as it can potentially be cooked.
---
What are the dimensions of the base? Also, can this product support a double dome lamp fixture?
Answer by • May 12, 2019
The base plate measures approximately 9 x 6 inches. This lamp stand may be used to safely suspend any of Zoo Med's Lamp fixtures or Drippers above your enclosure.
---
How do you set it up.
Answer by • Mar 25, 2018
The counter balance base plate goes under the bottom of the reptile tank and the height and length are adjustable.
---
Can it be used on an aquarium?
Answer by • Jul 29, 2018
This lamp is suitable to be hung over an aquarium as well.
---
---
---
By Chad on Apr 11, 2022
Mediocre as best
This stand does what it is intended to do. However, I had to purchase new hardware because one bolt would not thread in to the stand and the plastic on another bolt (grip part) was broke when I opened the box.
---
By stupidhats on Nov 27, 2021
Gets the job done!
Absolutely no complaints here; sturdy, works great, without being too ugly. It did take some time to figure out how to assemble without instructions, but when I figured it out, it works great! Might switch my double dome for one basking light and a tube UVB, though; it looks a bit lopsided with the double dome. 5 stars!
---
By Tori on Mar 10, 2022
Lamp stand
Good quality, comes with instructions but super straightforward and easy to put together without.
---
By Case on Nov 29, 2021
very helpful, well made
I have a top open tank with a sliding screen. The lamp previously sat on top of the enclosure and had to be moved whenever I entered the tank. This stand has made it so much easier to get into the enclosure without disturbing my beardy's light source. I just hang it up and do what I need to do.
---
By klee on Dec 31, 2021
Only one stand worked
One stand is pretty much useless because the part where you screw in the side to adjust the height has no thread for the screw. :(
---
By Rennaa on Dec 25, 2021
Highly recommend
I can't remember If I bought mine on the site or another but I highly recommend it. We have had ours for months now and its worked great!
---
By Tyle on Nov 15, 2021
Nice, sturdy lamp stand.
Nothing crazy about this lamp stand, it'll just do exactly what you want for a very reasonable price. It's sturdy and has almost no modes of failure; it'll keep your reptiles safe.
---
By CactiCorduroy on Sep 21, 2021
Keeps the lamp at a perfect height
The lamp works as intended, makes sure the top of my terrarium doesn't overheat. It also has handy little hooks to hold the cord of my lamp, and it makes my whole set-up look more neat and put together. The only problem I had was with assembly, because it doesn't come with instructions, but it was simple to put together once I stared at it for a couple minutes. Recommended.
---
By Penny on Oct 3, 2021
Photo misleading - bulb not included!
Please read the description the bulb and fixture aren't included. Stand only. Also once you put the lamp on, the stand is not completely stable. You will need to either have the lamp facing the front, or have the enclosure on top of the stand, otherwise it will easily fall.
---
By sebby on Aug 17, 2021
not what I thought it was
It's my fault for not reading enough before I purchased, but I didn't realize until I received the stand that it doesn't actually have a lamp; it's just a stand to put a lamp on. It doesn't come with any instructions but it's not too hard to put together. I'm confused as to why the box advertises that it comes with an on/off switch when it doesn't… because it doesn't come with a lamp.
---