K&H Pet Products EZ Mount Penthouse Cat Window Perch, Grey & Black
By K&H Pet Products
---
About This Item
Securely attaches to any window in seconds with the proven suction cup mounting system.
Enclosed design features a built-in ledge so that cats can easily enter and exit.
Lined with microfleece to make it an extra-comfortable place to lounge.
Gives cats an out-of-reach escape from dogs and children in the household.
Perfect for sunbathing and watching over the house through the mesh windows.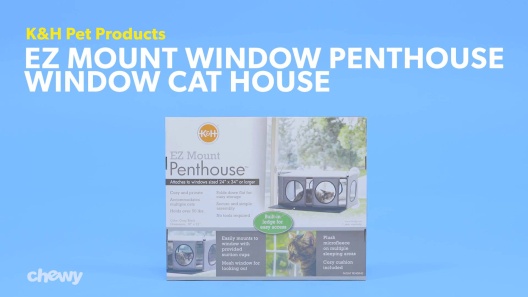 Learn More About K&H Pet Products From Our Team of Experts
---
---
About K&H Unheated General Cat Products
K&H Solutions for Your Cat
Take care of your cat with a wide assortment of premium K&H pet accessories. They offer a bed for every cat's unique needs, from windowsill beds, kitty sacks to loungers and more. Your feline will love having her very own cozy, personal space and you'll love the quality that K&H puts into their pet beds.
Green And Energy Efficient
Made from green, bio-based foam and polyfill from recycled bottles, many K&H products use less energy than the average nightlight.
Machine Washable
All K&H beds are either machine washable or made with a machine washable cover for cleanliness and convenience.
Vet Recommended
Veterinarians and pet experts recommend both traditional and heated K&H pet beds for their reliability and comfort.
Therapeutic Warmth
Every K&H bed and mat provides soothing warmth for muscles and joints—perfect for active or aging and arthritic pets.
Safety
K&H prioritizes safety and works closely with MET Laboratory to ensure all their products are safe for your pets and home.
About K&H Pet Products
K&H has over 20 years of experience making products for pets with the goal of making their lives—and yours—better and easier. They know how much you care about your pets and are dedicated to designing innovative, quality solutions that enhance their comfort and well-being.
Shop K&H
Compare Similar Items
| | | | | | |
| --- | --- | --- | --- | --- | --- |
| | | | | | |
| Customer Rating | | | | | |
| Price | | | | | |
| Furniture Features | Removable Bed | Removable Bed | Removable Bed | Removable Bed | Removable Bed |
| Furniture Covering Material | Faux Fur, Nylon | Faux Fur | Felt | N/A | Faux Fleece |
| Height Range | N/A | 30 inches & under | N/A | N/A | N/A |
| Tools Included | No | No | No | No Tools Required | No Tools Required |
| Furniture Frame Material | Plastic | Plastic | Plastic | Plastic | Plastic |
| Number Of Condos | N/A | N/A | N/A | N/A | N/A |
| Furniture Mount Type | Suction | Suction | Suction | Suction | Suction |
---
Questions & Answers
24 Customer Questions
---
Can it hold a 12 lb. cat
Answer by • Dec 08, 2017
This product can even hold multiple cats with the extra-strong suction cups provided. As with any suction cup, debris, temperature changes, sunshine and excessive use can weaken the holding power. We recommend removing the suction cups at least once per month to clean the window area, clean the suction cups and then re-install them for optimal strength.
---
what are the dimensions?
Answer by • Jun 21, 2021
The penthouse measures 19 x 23 x 9.5 inches and can hold up to 80 pounds.
---
Is the top of it made so a second kitty can lounge there?
Answer by • Oct 11, 2017
A kitty can lounge on the top of the EZ Mount Window Penthouse.
---
Can you use it in winter in Mn or will to much cold air leak in house
Answer by • Dec 04, 2017
This cat house is not insulated to keep your cat warm. However, this product is lined with microfleece to make it an extra-comfortable place for your cat to lounge.
---
---
---
By Stac on Mar 27, 2022
Coming back for a second one!
This kitty perch is loved by both of my cats. So much so that I'm coming back for a second one to put in another room. The only con I have is that one cat had an accident on the top and it was kind of hard to clean. I didn't want to scrub the faux fur off. Also on the inside there is a piece with faux fur on one side and vinyl on the other. If I have the faux fur on top it sides around and the cats don't like it. So I keeps the vinyl on top and it doesn't slide. That's aside, the cats are in it every day. They are rarely on it at the same time but they aren't the best of friends. I have seen them on it together tho, one on top and one inside. The suctions for the window holds amazingly.
---
By Trixie on May 8, 2022
Suction good/ netting bad
It doesn't work for us, apparently my kittens don't know how to retract their nails and are constantly getting hung up and trapped in the netting. The suction cups worked great, but it's a large and cumbersome contraption. I plan on returning it and getting the one that is a combo scratcher/perch which advertise that it folds up so you can still use your blinds.
---
By Kammie66 on Mar 20, 2022
Best Investment / Worth every Penny
We have a 5mon 12lbs Maine Coon he is a big baby. Every Morning I put up his penthouse and every Evening I take it down . We do this everyday & I had the penthouse for a few months now . So we really put it to the test especially my Boy he bites on the wire that holds the the top part of the suction and he knows after biting it he's not getting through it. Overall this penthouse is the best investment for my boy every cat owner should have one . My boy loves it and we love it. Don't think twice just buy it you won't regret it. Don't take my word for it look at the pictures.
---
By HSmith23 on Feb 26, 2022
Easy to install, secure, worth every penny!
After recently moving, and having a young Great Dane that never leaves her alone, leaving our feline to mainly stay upstairs or in the basement, she now has a perfect spot to relax and nap on the first floor. Placed this in the window right next to my home office, allowing me to see the peace and comfort she has on a daily basis. The only thing I questioned about the product, was the need for a mesh net on the window side of the perch? I thought about cutting it out, and making the 2 circular entry points larger, as she seems to not use the bottom portion of this perch, but regardless, she loves it! Worth every penny, and easy to install!
---
By Christine on Mar 10, 2022
She loves it
For months she wouldn't go in it, so I bought a shelf to replace it with. The day I was going to take it down she decided she finally liked it, and now she sits in it everyday. Replaced the inner pad with one of my pajama shirts because she loves my shirts, and the inner pad seemed like it would slide around and scare her away, she's scared of everything.
---
By Isaac on Apr 3, 2022
Used and broken
The perch showed up in two boxes taped together. It was bent and has foot prints on it. The return policy is painless though, hopefully they don't just relabel and ship this to someone else like they apparently did to me.
---
By Lynn on Dec 30, 2021
Awesome, #1 Must have for all cat owners
I bought this for my new 4 month old kittens, who love looking out my apartment window on the 11th floor. I have it next to my recliner so they feel next to me, without needing to lay on my lap. I love them occasionally on my lap but there already so big, trying to move them to get up is a big deal. I have fostered 180 cats and kittens and you need multiple forms of entertainment as well as structures to get them off the ground. This is very stable and I could see 2-4 cats on this at same time , of ave weight. ( not 4 main coons), I think it's made well and adheres fully with all 6 extra large suction cups. I followed all instructions on the included papers and it's been months without a issue.
---
By Jess on Feb 1, 2022
Great for kittens
I bought this when a previous window seat collapsed when a cat jumped onto it. With 6 suction cups, it's much more secure. It can handle two wrestling kittens and even stayed up when one of the kittens pried off a suction cup to chew on it. (I will be glad when teething is done.) Also great for the older cats, when the kittens will let them use it!
---
By StLLK on Jan 7, 2022
Already got my moneys worth
I work from home. 2/3 of my cats seem to enjoy roaming my desktop as I attempt to work. This handy double window perch solved my issue AND made them very happy. It now sits in a window at the corner of my desk and they stay put! Win Win. Sturdy enough to hold one of my large cats on top perch. They LOVE it. Would get it again! Sometimes they even crawl in the lower level together. In that case my 3rd cat could rest on top! Lol
---
By Jasper on Jan 9, 2022
Just put a cat tree by the window
Bought this with optimism and am now returning it feeling like the concept is fundamentally flawed. It doesn't feel poorly-made, but it has a number of problems: 1. Like most cat furniture, it's a little too small. Cat furniture makers seem to be under the impression the average adult cat weighs about 5 or 6 pounds, so most of the cute or fun stuff out there is only for kittens, small cats, and normal to large-sized adults who like to squeeze around in small spaces like a weasel. 2. It's not sturdy enough for normal-sized cats. The stretched nylon flooring is flimsy under a 10 pound cat (reminder: this is an average weight for an adult), and the "give" in its construction makes it difficult to trust. 3. It's high-maintenance. Mounting it correctly is an ordeal of cleaning the window, cleaning the suction cups, possibly needing to warm the suction cups up, and making sure everything is nice and square, only to have to redo the process every few months as recommended on this page. Doing this incorrectly risks the thing coming off the window with your cat inside. 4. Obvious room for improvement not taken. Immediately when setting this up, I realized I'd like to be able to fold it flat and started brainstorming ways to modify the item to allow this. It could either fold up, attaching the black landing pad to the top suction cups by an additional cord, or down, by disconnecting the cords from the top suction cups entirely (if they were attached with hooks) and letting the "house" portion hang. Given how the level of difficulty involved in setting this up correctly makes it unfeasible to just take it down every time you want it out of the way, the ability to at least flatten it against the window would be nice. A lot of people seem to like this item, so clearly it's doing something right. It's a cute idea that some spaces can make use of. But if you want something fancier than a simple platform stuck to the window, I think it'd always be easier to just put a cat tree there instead.
---