Vision II Model L12 Bird Cage, Large
---
About This Item
The perfect blend of design and practicality, this double height, large-wire cage is perfect for cockatiels, lovebirds and parrotlets to suit their natural behaviors and activities.
Made from non-toxic, durable materials so you can feel confident about letting your feathery friend call this home and included multi-grip perches help promote circulation and help prevent foot problems.
Simplifies cleaning with a no-drawer design, simply detach the cage from the base for easy cleaning and you can easily access feeders from the outside of the cage through the drop-down panels at each end. This cage also comes with two terra cotta seed/water cups, two waste shields, four terra cotta perches and snap-fit assembly for easy setup.
Knock-down style for easy assemblage and has been designed to keep 80% of waste and debris inside the cage.
Equipped with a handy debris guard and deep base design to keep food and waste inside the cage, as well as a no-drawer design that allows you to detach the top and easily empty the base.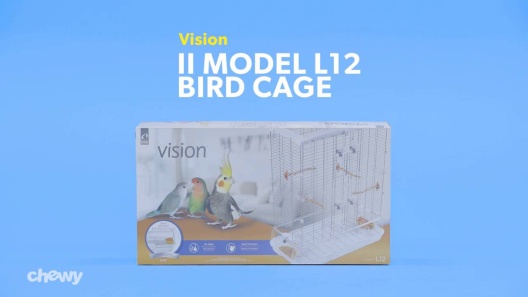 Learn More About Vision From Our Team of Experts
---
Compare Similar Items
| | | | | | |
| --- | --- | --- | --- | --- | --- |
| | | | | | |
| Customer Rating | | | | | |
| Price | | | | | |
| Bird Type | Cockatiel, Lovebird | Parakeet, Canary, Lovebird, Finch, Budgie | Parakeet, Canary, Lovebird, Finch, Budgie | Parakeet, Canary, Lovebird, Finch, Budgie | Canary, Parakeet, Lovebird, Finch, Budgie |
| Material | Coated Metal, Metal | Coated Metal, Metal | Coated Metal, Metal | Coated Steel, Metal | Coated Steel, Metal |
---
Questions & Answers
28 Customer Questions
---
Would this cage be suitable for Finches?
Answer by • May 23, 2018
This cage is suitable for Finches.
---
Would this be ok for a green cheeked conure?
Answer by • Jan 05, 2018
This cage is a suitable size for a Green Cheek Conure.
---
Is this good for 2 budgies?
Answer by • Feb 28, 2019
The perfect blend of design and practicality, of this double height, large-wire cage is perfect for birds like cockatiels, lovebirds and parrotlets to suit their natural behaviors and activities.
---
Are the bars Close enough, that you could use it for parakeets ?
Answer by • Dec 20, 2017
This cage would work for Parakeets.
---
---
---
By TheBarrister on Mar 12, 2022
Fantastic Enginering
Folks either seem to love or hate these Vision cages. I'm firmly in the Love Camp. It is not difficult to put together, but the directions do leave some important bits of info out, so I can see how it could be frustrating. However, these are very well designed cages. They are easy to clean (yes, you have to lift the entire top off the base!) but more importantly, it keeps the mess inside the cage, not on the floor. My cockatiel is very happy with this cage! His dexterity has improved in the few months that we've had him because he climbs the horizontal bars with ease now and is generally kept busy exploring inside this cage.
---
By WilburOliverTiel on Feb 8, 2022
NOT made for Long-Term
I have owned a vision cage before and this is my second one that I purchased. Personally, I really like the vision cage but it's not something that is suitable for long-term. I only use this cage for travels, boarding, or if I plan to take them to another room. PROS - easy to clean (compared to their huge cage) - seed guard is a PLUS! - a good travel size - looks pleasing to the eye CONS - the perch is not suitable for their feet - the doors are unpredictable and can fall suddenly when trying to open them - the plastic can break easily if not being careful - wears down very quickly over time (which is why I see this as a more temporary cage)
---
By Laura on Nov 5, 2021
Perfect for my lovebirds!
I inherited Butterbean and Jellybean from a friend who passed away. I had to get a new cage because the old one was very old, battered and rusty. I chose this one and it is awesome! They seem to love it! It looks great and is easy to clean. You do have to lift off the entire cage to clean it, which someone with physical problems may have difficulty with. The directions aren't great and are entirely visual (pictures). It wasn't hard, but I did get frustrated a few times! LOL. The only con was the base has curves and cutouts that made it hard to use paper in. So I bought a roll of vinyl shelf liner, used the bottom grill to trim 2 out, including the part for the bowl rest, and now I just switch one out daily (I place it on top of the bottom grill and rinse the other off on the shower then hang it to dry. I was able to fit it perfectly! It looks great and I was able to choose a color I liked! Once a week I dump the entire bottom piece of any debris that got by the vinyl and rinse the entire base in the shower. My cage stays really clean this way.
---
By FeatheredTreasuresAviary on Nov 17, 2021
Wanted to like it
This is a cage that was very obviously designed by someone who has never in their life owned any sort of bird. The only way to clean the bottom of the cage is by removing the entire upper portion first. Completely silly and inefficient - even though the design is a bit appealing to the eye.
---
By Jeannie on Sep 11, 2021
I love Vision!
I bought this HUGE bird cage, Vision II Model L12, and it exceeds my expectations. This is the 5th Vision cage I've bought in different sizes, but this one was the largest one and is great for my new Quacker. It was a little tricky to put together, but the same as all the others that Vision makes so I knew how to do it and faster this time. My new bird has plenty of room and he loves the space to fly. Vision cages make keeping a bird so much easier. I've had plenty of cages for my birds, but Vision cages are the best ones. Cages are spacious, come with 2 perches, and come with water and seed trays that fit securely so my bird cannot dump the seed and water all over. The shield (bottom) part keeps the seeds from being thrown all over the floor. The bottom is easy to clip off and clean. I can clean it in about 5 minutes from start to finish. No mess, no fuss, just a happy bird and satisfied customer of Vision. I must add that this was my first time using Chewy for my pet's needs, but I will be using them again. They were fast and efficient from start to finish! Thank you Chewy and thank you Vision!
---
By birbmom on May 31, 2021
best cage ever
This cage is the best cage ever! Tons of room, keeps seed off of my floors, and super easy to clean. I love the multiple doors, and the ease of getting to everything in the cage. Definitely would recommend.
---
By puppy on Apr 1, 2021
Happy Birdie
Very happy with this purchase!! It's a lot bigger than expected. I found it a bit pricey, but overall it's been super easy to clean. My Rio loves it! I added some fun toys to the cage and it looks beautiful! Would definitely recommend!
---
By Bryndon on Jun 30, 2020
Happy budgies
People really weren't kidding when they said this cage is a bit difficult to assemble, the diagrams in the instructions could be a bit more clear. The base of the cage does a good job containing food mess which is great. I also like that there are lots of doors and the latches are very secure so my little escape artist can't let herself out when I'm not supervising. I do wish this cage had some vertical bars. Certain attachments, like my water silo, won't for this cage due to the horizontal bars so that is a bit inconvenient. It's also a bit of a hassle to change the newspaper because you have to take the entire top of the cage off, but it comes off with clips so it's not too bad. My budgies seem to be happy in their new home so I'm ultimately happy with the cage!
---
By Hannah1235 on Jul 27, 2020
Great cage for my cockatiel.. much more room
Great cage! I was looking for a bigger cage and went to many other websites looking for one until I found this one, my cockatiel loved sitting up high and its the perfect cage for it. The only issue is that it took me about an hour and a half to put together. That being said, the instructions were straight forward. I would recommend this if someone has one bird or more then one.
---
By Josh on Aug 31, 2020
Great Cage
UPDATE* I had order this cage for my 3 cockatiels but it had arrived damaged , customer service was quick to take care of this ! I got an email saying I would get a replacement. The cage is spacious and easy to clean.
---