Aquatic Life RO Buddie Four Stage Osmosis System, 50-gal
By Aquatic Life
---
About This Item
Sediment and carbon cartridges are up front and easy to replace; membrane housing accepts standard 11 3/4-inch cartridges.
Also includes the mixed bed resin cartridge, which removes the remaining total dissolved solids from the water.
Small footprint of this unit makes it easy to place under cabinets or in limited spaces.
Faucet adapter makes it easy to connect to standard garden hoses and comes with 20 feet of tubing to plumb.
Included mounting brackets keep the unit secure and including membrane housing wrench makes removing the cap easy.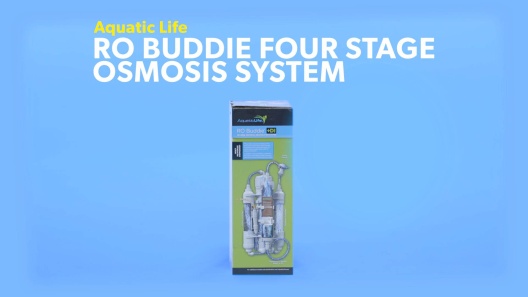 Learn More About Aquatic Life From Our Team of Experts
---
Compare Similar Items
| | | | | | |
| --- | --- | --- | --- | --- | --- |
| | | | | | |
| Customer Rating | | | | | |
| Price | | | | | |
| Fish Type | Tropical Freshwater, Marine Fish | Tropical Freshwater | Tropical Freshwater, Marine Fish | Tropical Freshwater, Marine Fish | Tropical Freshwater, Marine Fish |
| Aquarium Type | Freshwater, Saltwater | Freshwater, Saltwater | Freshwater, Saltwater | Freshwater, Saltwater | Freshwater, Saltwater |
| Material | Plastic | Plastic | Plastic | Plastic | Plastic |
| Capacity (Max) | N/A | N/A | N/A | N/A | N/A |
---
Questions & Answers
28 Customer Questions
---
Can I drink water from this filter?
Answer by • Jan 13, 2018
This system is a reliable source of economical filtered water, this system is available in a 50 or 100 gallon size to meet your aquarium needs.
---
Does this filter replace the conventional hang on the back filter for my fresh water tank or just supports it? How expensive are the replacement cartridges/filters?
Answer by • Nov 09, 2017
This reverse osmosis system is designed to thoroughly filter the water before it's used in your aquarium to remove any contaminants from the tap. The unit will produce 50 gallons of RO water per 24 hours when it's running. You'll still need a filter on the aquarium to handle waste produced by your aquarium's inhabitants. Cartridges can last as long as a year depending on how much water you need to produce.
---
Is the membrane and the resin the only canisters you need to replace? Also how do you know when it's time to change the membrane?
Answer by • Jan 08, 2018
The Carbon Cartridge will last up to 6 months. The TFC membrane will nee to be changed every 1-2 years. The DI Cartridge (resin) will need to be changed once the resin has changed colors. The Sediment cartridge will need to be changed at every other carbon cartridge change.
---
When the system is functioning properly -- what is the TDS reading of the RO/DI water?
Answer by • May 29, 2018
The RODI unit produces close to 0 TDS water.
---
---
---
By Excellentwaterquality on Mar 8, 2022
RO Buddie 4 Stage
Very easy to setup and install. My 45 gallon reef tank parameters are all in check now that I use this ro system for 5 gallon water change every 2 weeks.
---
By Karla on Aug 8, 2021
Wastes 4 gallons per gallon of clean water, can't hook up under sink
I got this for a humidifier. I looked up YouTube installation, this model is one that is supposed to connect to your sink faucet. NOT under the sink, unless you want to buy extra parts first at a hardware store. One tube is for clean water, another discards 4 gallons of "waste" water for every gallon of filtered water. I live in an apartment, and don't have the proper space for the waste water to go. It also seems very wasteful. I hope to find something that can run under my sink and waste less water
---
By Goldphish on Jun 6, 2021
Well worth it for small setups.
This system has been hands down the best for me only having a 50 gal reef tank. It saves me money from going out using gas and money for buying water. The naysayers will say this system is horrible and 101 things but for the price and if you have a small setup and being compact even make it portable if you want to it's well worth it. I get zero PPM from my TDS meter and zero on chlorine from salifert test kit. Today I swapped out the filters and DI resin let it run for a bit. It's back filtering my tap water.
---
By Jmrobe1 on Oct 30, 2021
Great product
Excellent Reverse Osmosis for planted fish aquarium
---
By Kaz035 on May 2, 2021
Delivered in under 24 hrs
I ordered on Saturday around noon I could not believe that my RO Buddie showed up at 11am on Sunday. That is insanely fast shipping. I just purchased RO water from my lfs yesterday so I won't be installing this until next week but I expect it to work as great as I hear.
---
By Ravi on May 31, 2021
Must have for aquarium keepers
If you mess with shrimp, discus, or any aqautic that requires remineralized rodi water, this is hands down the best value per gallon. It's pretty quick too!
---
By Desmond on Jan 18, 2021
No more LFS water for me
Got this RO unit and let me say after filtering water and testing, it's 0 TDS. I'm in Queens NY. Chewy has it at the best price online and their shipping was super fast also and very simple to set up and start using. After setup make sure to run for 30 mins to prime the unit. All in all this unit is well worth it and I highly recommend it.
---
By koko on Apr 18, 2021
RO unit is great
Works great nothing bad to say about it fills up bucket in an hour so I can mix my salt for my tank
---
By rodiless on May 10, 2021
Garbage rodi
A piece of junk made 30 gallons and that was it.Would not buy it again on a bet
---
By Geezy on May 5, 2021
Good product
Good product shipped fast and does wht I need it to
---