Aqueon Aquarium Silicone Sealant, Clear
---
About This Item
Made with 100% silicone to seal aquariums for a leak-proof, water-proof finish.
High-strength silicone creates a permanent seal that will not crack or shrink.
It's the same grade of silicone used to seal new aquariums so you can expect professional-grade quality.
Formulated to be non-toxic so it's perfect for use on all aquariums, including freshwater and marine aquariums.
Made in the USA and comes in one tube or 2-pack options to fit your needs.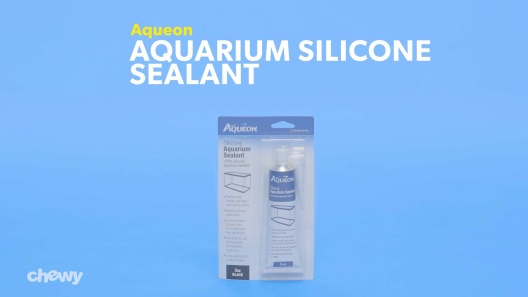 Learn More About Aqueon From Our Team of Experts
---
---
Questions & Answers
22 Customer Questions
---
Is one bottle enough for to seal a 55 gallon tank
Answer by • Apr 03, 2018
The amount you'll need depends on how thick you apply the sealant. According to customer reviews, the 10.3 ounce tube worked well for a 55 gallon tank.
---
Would this work on a 225 gallon fish tank
Answer by • Aug 21, 2018
This is suitable for any sized fish tank and is made with same grade of silicone used to seal new aquariums.
---
How long does it take to dry and does the tank need to be dry?
Answer by • Oct 18, 2017
The tank should be completely before use. It takes up to 48 hours for the sealant to dry.
---
Does it just squeeze out or what
Answer by • Jul 26, 2021
The sealant may be pushed out by squeezing from the bottom of the small tube. For the larger tube the bottom may be pushed up or a caulking gun may be used.
---
---
---
By chuckles on Apr 10, 2022
sticky sticky
I always like to keep a tube of this on hand for those just in case moments
---
By pedalaway75 on Sep 26, 2021
Works perfectly
We repaired a 55 gallon tank that had a horrible leak. We removed the old sealant and used this product. It is holding well and looks good. We haven't populated it with fish yet so can't comment on non-toxicity.
---
By LibLib on Aug 10, 2021
Silicone Sealant
The contents must have been defective. It was like there was a blockage in the top portion because when we tried to push out the silicone sealant, the bottom popped off and the sealant was all over the "gun" and the counter. I was able to use my finger to put the sealant in the aquarium, but it wasn't a very neat job.
---
By zoey on May 28, 2021
Awesome Service, Keep Up the Great Job.
You Guys are Awesome Deliver Time, Choice of Different Items, AND Your Prices........Tell All YOUR FRIENDS and Tell Them I Said So.
---
By Pops on Jun 22, 2021
Aqueous aquarium silicone sealant, clear
The order was received without delay. Product is easy to work with and did the job it was used for.
---
By Cristian on Jun 21, 2021
don't buy this
This smells horrible and is hard to take off fingers and didn't help with my 5 gallon tank leakage
---
By Maddy on Sep 7, 2019
More than half the tube was solid.
Only a third of my tube was useable. More than half of it was solid. Didn't have enough to seal my five gallon tank. The seal on the tube wasn't broken and it was my first time using it the day after it was delivered. Very disappointed!!
---
By KJohnson on Apr 15, 2019
Excellent!
Great piece of advice: Always buy more silicone than you think you'll need -- you don't want to run out in the middle of your project! So I bought the big one. This is high quality stuff and I'm so glad I bought the big one. I used it twice to finish a project I had -- resealing a 46 gal tank and then using it a week later to fix the brace of said tank when it broke. The tube seals well if you stick a long screw into the cut top -- that's how I was able to use it twice at two separate times (and I've sealed it again for use later when I need it).
---
By Michelle on Mar 11, 2019
Very Messy
When I tried to use this product, the back of the tube came out and silicone went everywhere. I wound up scraping it out of the tube and putting it in a pastry bag to seal my aquarium. On the upside, it doesn't leak!
---
By Splash on Nov 12, 2018
New silicone, best one to get!
My dad and I have redone his 250 gallon aquarium twice now! This second time worked like a charm, the speedy service of getting our product from Chewy was amazing, not to mention the color of the silicone was so crystal clear and has worked excellent! The first time we bought a regular brand from a local pet store and it started to leak within a month of us redoing it, keeping our fingers crossed this continues to hold up!
---