Banamine (flunixin meglumine) Paste for Horses
This item requires prescription approval.
---
Medications ship separately. Delivery times may vary.
---
---
---
We'll collect your pet's prescription information at Checkout.
---
---
About This Item
Banamine Paste for Horses is a non-steroidal anti-inflammatory drug (NSAID) recommended for the alleviation of inflammation and pain associated with musculoskeletal disorders. It quickly controls inflammatory responses with an onset of activity within two hours of administration and lasts up to 36 hours. Along with controlling inflammation and pain, Banamine Paste also helps reduce fever in your horse.
Proudly sourced directly from the manufacturer or their approved distributor. Guaranteed genuine and backed by the manufacturer.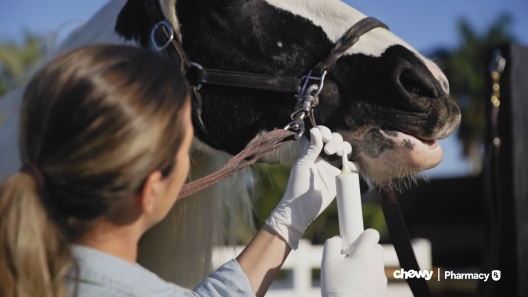 Learn More About Banamine From Our Team of Experts
---
---
---
By Sharonimo on Apr 4, 2022
Easy to order
Great service. They quickly checked the order with my vet.
---
Great stuff!
This paste is a miracle when you have a pet (Mini-Horse) that's in pain but they can't tell you where it hurts. We've been using Banamine one for over 45 years, it's that good!
---
By Jenny on Aug 21, 2021
Best product
So glad to be able to order this product on a paste rather then an injectable. Been able to administer myself in emergencies. I recommend to everyone to keep a tube on hand. 1 tube is 3 doses
---
By RobM on Jul 28, 2021
Wonder Drug
If you have horses, you need Banamine! Horses colic, it's a matter of fact. Banamine will have your barn baby feeling great within 20 minutes. Absolutely amazing!
---
By CMoore on May 10, 2021
Extremely happy that I can get this at Chewy.
I had no idea, until I googled that Chewy carried this. Chewy did have to contact my horses vet and get approval but they did and it did not hold up the time to get me the product. This is so important to have on hand because one of my horses is prone to colic. Very happy with the service I got, price and quality of product.
---
By Dana on Jan 28, 2021
Banamine paste
Vet recommended that we have some of this on hand at our barn. Worked great when we needed it.
---
By horsround on May 4, 2020
On-Hand for Emergencies
I like to keep this med available in my Tack Room for my horse when she has a gut issue. The Vet will always ask, "Do you have any Banamine to give her?" When you NEED it, it must be RIGHT THERE. It has saved me a Farm Call on several occasions. And Chewy has Faster Service than many of the other online options!
---
By Karen on May 8, 2020
Fair price
Price was fair. Slow communication with my vet to get script filled though.
---
By Rusty on Oct 28, 2019
Lifesaver for horses.
It's a blessing that I can purchase such a beneficial product from Chewy. This product has saved my horses time and time again. Please keep this product available.
---