Booster Bath Elevated Dog Bathing & Grooming Center Steps
By Booster Bath
---
About This Item
Non-slip, rubberized cushioned mats are 3/8 of an inch thick to ensure comfortable and stable footing.
Designed to connect securely into the Booster Bath Elevated Dog Bathing and Grooming Center.
Also perfect for helping your furry friend get into the truck bed, SUV, car, or onto your couch or bed.
Made in the USA from UV stabilized virgin polyethylene, these steps hold up to 150 pounds.
Lightweight and portable—at only 4.5 pounds these steps are easy to set up or put away when not in use.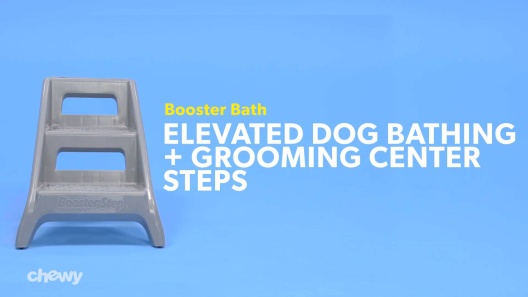 Learn More About Booster Bath From Our Team of Experts
Accessories
Click here for Booster Bath Elevated Dog Bathing and Grooming Center.
Shop Prescription Medications from Chewy Pharmacy
---
---
Questions & Answers
8 Customer Questions
---
What is the total length of the large dog bath plus the stairs. I need the total length of the foot print (outside front leg of the bath to the bottom outside of the step on the ground length-wise.
Answer by • Jan 23, 2020
The ground footprint for the Large Booster Bath with Steps, measures 70 inches in total from the feet of the "A" legs to the feet of the steps.
---
What's the width of the top step?
Answer by • Nov 06, 2018
The Booster Steps be a width of 12 inches for the bottom step and 11 inches on the middle and top step.
---
What is the height of these stairs?
Answer by • Mar 25, 2018
These stairs are 34 inches tall from top to bottom.
---
Do the steps work on the extra large booster bath version?
Answer by • Apr 03, 2022
The Booster Bath Elevated Dog Bathing and Grooming Center Steps are designed to lock in holes in the Medium and Large size station. The steps may rest on the rear lip of the X-Large bath however, it does not have holes for full attachment.
---
---
---
By BGross on Apr 20, 2022
Outstanding!
A friend gifted us her old (large) tub. Since our dogs are 85# & 100#, we needed steps. Having read the product description & reviews, we knew the steps would need to be attached to our large tub. No problem! I went through my drawer of assorted bolts, nuts and washers and lined the stairs up behind the tub, drilled a couple holes, and - presto! Steps are strong & stable. The dogs had no problem going up and down, and our septuagenarian bodies really love the setup. Delivery was speedy and steps arrived in perfect condition.
---
By Sienna on Nov 27, 2021
I love it!!!
My dog is 13 and it was time for him to stop jumping up into the Booster Bath. It is very sturdy and easy for the dog to use. Now to get him to go back down the steps! He has one eye so it looks scary to him. I plan to use it for getting in the car too. Happy I bought it. : )
---
By Sharian on Jul 25, 2021
Love these steps
At first I wasn't going to add these steps to my bath tub purchase but I'm so glad I did. My dogs have no problem walking into the tub and the quality is excellent.
---
By Wesson on Apr 23, 2021
Steps for older dogs
As my dog has aged, he has difficulty jumping into my truck and getting into the bathtub. I originally bought the Booster Bath step for his bathtub, but used it more for the truck allowing my dog to easily get in and out when we drive out to fields and pastures for our daily walks. I usually take it out, put my foot at the bottom, and my dog quickly enters for exits. The step is easy to store on the floor of the back seat of my truck. It also works great with the bathtub and it hooks into the tub I also bought.
---
By STINKY on May 1, 2021
getting into suv with ease.
My 70lb 7 year old retriever mix had trouble jumping into back of SUV. I put a piece of non-skid material under top of booster bath and she goes right up the steps. No slipping, or sliding. I stand along side of her but she has no difficulty. It is very light, no assembly required, easy to clean. She does not need it to get out of car. Makes life easier for both of us.
---
By melma on May 19, 2021
stairs for bath
a must to get with the bath. dogs go right up and aren't scared at all
---
By Megg on Apr 1, 2021
Great Product
I purchased the Elevated Steps for the large Booster Bath Tub, and I am very pleased with both products.
---
By jwbulldogs on Jan 3, 2021
Elevated steps
Perfect compliment to the dog bath. In my opinion it should be a package deal. You need the steps if you get the bath. No one want to pick up a 70-100 lbs dog. My dogs are over 100 lbs.
---
By Jasper on Oct 5, 2020
Doesn't Attach to XL
Others have said and I'm confirming to all. These steps are not compatible with the XL Tub. But, in saying that. If you do need an XL, then your dog should be able to jump in and out depending on age and ability. My 100lbs Bernese's have no problems.
---
By Delano on Sep 6, 2020
Delano1234
Amazing product that every dog owner needs in their life. This makes you life easier.
---