Doggie Dooley Septic Style Dog Waste Disposal System, Steel
See 'Details' tab for instructions to redeem.
Frequently Bought Together
---
About This Item
Offers an efficient and hands-free way to clean up pet messes in the yard. This system works like a miniature septic tank. Waste Terminator Digester is safe for the environment and non-toxic when used as directed, but should be kept away from children and pets
An enclosed galvanized steel tank with a large, built-in overflow tube is easily opened when the polyethylene plastic lid is pressed with your foot
This system comes fully assembled; just place in an area with good draining soil. It's ideal for most soil conditions except heavy clay
Shovel stool into the system and add water along with Doggie Dooley Waste Terminator Tablet once a week to break down the dog waste. It can hold the waste of up to two large dogs or four small dogs
The Waste Terminator Digester is a specially-designed blend of bacillus subtillis bacteria and protein enzymes which work to break down dog waste. These natural-acting bacteria are "mother nature's housekeepers" and work to break down organic waste in the environment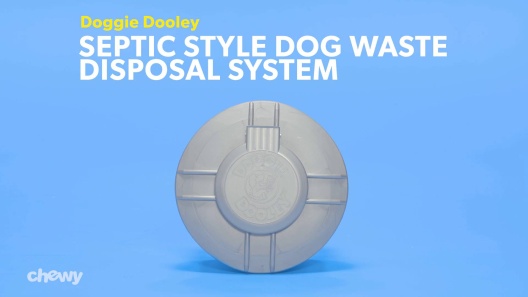 Learn More About Doggie Dooley From Our Team of Experts
---
Compare Similar Items
| | | | | | |
| --- | --- | --- | --- | --- | --- |
| | | | | | |
| Customer Rating | | | | | |
| Price | | | | | |
| Material | Galvanized Steel, Metal | Plastic | Plastic | Steel, Metal | Stainless Steel, Metal |
| Lifestage | Adult | Adult | Adult | Adult | Adult |
| Breed Size | — | — | Small Breeds, Medium Breeds, Large Breeds | — | — |
---
Questions & Answers
47 Customer Questions
---
I live in the Northeast so I am thinking this can only be used in the spring/summer/fall...not in the winter. Correct?
Answer by • Jul 07, 2017
The Digester will not work well in temperatures below 40 degrees. The Doggie Dooley will be dormant during the Winter months and then can be used once the weather has warmed up again.
---
We live in Florida where the soil is very sandy. Would this effective here? Thank You.
Answer by • Aug 14, 2019
The Doggie Dooley can be used in all 48 continental united states, as long as your yard is eligible for this item's installation. To see if a Doggie Dooley will be effective in your yard, dig a hole approximately 1 foot wide by 2 feet deep. Pour approximately 5 gallons of water in the hole, and then check the hole in 24 hours. If water is completely drained, you have fairly sandy soil and a pyramid style Doggie Dooley is recommended. If there is still standing water, check again after 48 hours. If the water is gone, you can use either the tank or pyramid styles of Doggie Dooley. If after 48 total hours there is still standing water in the hole, a Doggie Dooley will not be an effective waste management system in that location of your yard.
---
I live in South Carolina, can I use this system with our red clay dirt we have down here.
Answer by • Jul 14, 2018
This unit does not work as effectively in soils with heavy clay content.
---
I have six Coker spaniels would this work or is there a larger septic tank available
Answer by • Aug 28, 2017
It can hold the waste of up to two large dogs or four small dogs.
---
---
---
By Karen on Mar 11, 2022
I'm sure it works
I guess I just don't understand how that's more efficient. Like, once my dog craps in my neighbors yard it's no longer my problem. Who am I to tell him to buy this thing and install it? He doesn't even own a dog. Idk, I like to think I'm pretty easy going, compromise when I'm at an impasse, but my neighbor didn't seem to like the idea at all.
---
By Danemomx2 on Nov 4, 2021
Great Dane owner
First let me say, yes this thing is disgusting, but anything that deals with feces is disgusting. I have two fully grown Great Danes (anyone who knows the breed knows how big and how much they poop), and this thing works pretty good. I ordered 3 and have only put 1 in the ground (digging the hole sucks but it's worth it in the end) our soil is pretty gritty/sandy so the water drains really well so I only dug a 3.5 ft hole (a little closer to 4ft maybe). I use 2tbs digester powder and use half in the container and half down the hole in the container (to help break down the poop that goes down the hole) and use a hose to add more water. I probably use more water than necessary but I use a sprayer to help break stuff down as well. I also have a large branch that I use as a "stir stick" to make sure everything is working.
---
By boid12003 on Sep 26, 2021
Worked for me
This is a good system IF: your soil drains and: IF you have the determination to dig a four-foot deep hole and IF: you follow the directions!!!! I not only have read the negative reviews, but I contacted a friend of mine who was not pleased with the doggie dooley system. My thoughts? It has worked so far for me. Here is the review: You have to follow the directions to the letter!!! If you don't dig the hole to four feet deep, guess what? It won't work. If your soil doesn't drain, guess what? It won't work. If you don't add the water and digester per the directions, oh, guess what??? IT WON"T WORK. Why is this so important? I learned that if most products' directions aren't followed, you will be disappointed. The reason for the four feet is simple, volume vs drainage. The reason for following the digestive and water directions? It must dilute to drain into the soil, simple as that. Most important thing to remember is the amount of waste per capacity of the Dooley. Here's the thing, this is a five-gallon capacity unit. If you feed cheap and non-absorbing types of food; the types that have your pup pooping repeatedly and in large quantities, this unit will only work for one dog, if that. My boys are fed a quality food that they absorb well. They eliminate maybe twice a day and for two large dogs, this unit is working fine. I use the powder waste eliminator, not the tabs, so I can't speak to that. I religiously add the gallon of water each time I add waste, and try to pick up only twice a day to allow the digester to break down the waste. If you add too often and more water as the directions state, you will not have allowed the waste to break down. IT WON"T WORK! If you try to use this unit for three or four medium size dogs: "IT WON'T WORK!". Follow the directions to the tee. Don't side-step or think that a three-foot hole will work, a single unit will work for two St. Bernards, etc. I am glad I took the time to dig to four feet. I was lucky my soil will drain. One bit of advice: the 14 inch diameter hole should possibly be started out narrower at the top. Why? Post hole diggers expand wider than 14 inches at four feet of depth. You will find yourself enlarging the hole at the top without realizing it. Also, stop use at 40 degrees or below. I have winters here and during that time I will go back to buckets and no-frills kitty litter for waste disposal.
---
By MrAndrew on Sep 30, 2021
A good alternative disposal method.
We installed this in a cut out olive barrel over a stone filled sump,so far it has worked as advertised.The provided installation instructions are somewhat vague and call for placement over a 4' by 14" hole and that's it,I didn't think this was the best option for long term use which is why we used a durable barrel and stone back fill.The lid is plastic so care must be taken not to step on it.How it will stand the test of time remains to be seen.
---
By Aggie on Jun 21, 2021
It works, but follow directions!
I've had this for 4 years. I'm buying a 2nd one because, unfortunately, I didn't follow the directions and I over-loaded it this winter. The directions say that you can't add more 'stuff' if the temperature drops below 40 F. I guess the helpful bacteria stop dissolving the stuff when it's too cold. I think I added too much when it was too cold, so now, it's full and not draining. I cleared up weeds in another part of my yard, so I'll add a new Doggie Dooley in the new spot. I will add a gallon of water every time I add stuff, I will add a bacteria tablet EVERY time I add stuff (not just once a week, you have to do it EVERY time!), and I will give it a rest in the winter. Hopefully that will get me another 4 years of use out of it.
---
By Customer0 on Feb 21, 2021
Doesn't work at all
Never worked. I followed the instructions and it just filled up with poop and quit draining. I quit putting waste in it and just added enzymes and water for a month hoping it would clean itself out. It never dissolved the waste. Worthless product.
---
By TerryD on Jan 20, 2021
Not good for big dogs
According to the product description, this is supposed to be good for 2 big dogs. I followed the recommended directions of 2 tablets, once per week. It was a mess. The collection turned into sludge even with adding the gallon of water daily. Not useful for me. I pulled it up after flushing with water for several weeks.
---
By Msleeway65 on Mar 13, 2021
Don't Work
It doesn't work don't waste your money just a big mess
---
By Rhema on Aug 7, 2020
Doggie Dooley
It did not work properly from the very beginning. We followed installation instructions exactly. I used one tablet every week religiously and it never dissolved the dog waste and did not drain properly, even after adding the gallon of water.
---
By LeeLee on Jan 4, 2020
Great device. Easy to install. Gets rid of pet waste.
No more picking up doggie doo doo, bagging it and throwing it into the trash can to stink it up until trash day anymore. This device was easy to install and keeps you from having to stink up your garbage can. I have two dogs and so far, it works great! Just add a gallon of water once a week and a couple of tablets!
---