Ecovet Fly Repellent Horse Spray
Frequently Bought Together
---
About This Item
Effectively repels flies, biting midges, mosquitoes, ticks, no-see-ums, and even lice and cockroaches, with naturally derived fatty acids and silicone oil.
Forms a repelling barrier that prevents pests from landing on your equine pal with just one application every two to three days.
Non-sensitizing, EPA-approved formula contains no harmful chemicals, toxins, or pesticides so it's safe for horses, humans, and honeybees.
Easy-to-hold application system for easy, no-mess, spray-on protection that also smells great with sage and lavender.
Made by a veterinarian-owned company so it's tested and endorsed by experts.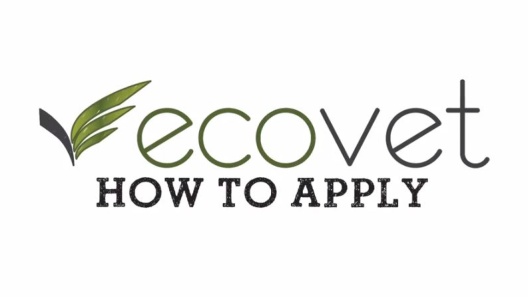 Learn More About Ecovet From Our Team of Experts
---
Compare Similar Items
| | | | | | |
| --- | --- | --- | --- | --- | --- |
| | | | | | |
| Customer Rating | | | | | |
| Price | | | | | |
| Autoship | — | | | | |
| Top Ingredients | Octanoic Acid: 5.0% , Nonanoic Acid: 5.0% , Decanoic Acid: 5.0% ... | Active Ingredients: Thyme Oil 0.01%, Cedar Oil 0.05%, Lemongrass Oil 0.05%... | Lemongrass Oil Cedar Oil Peppermint Oil Geranium Oil Water Soap Citric Acid Sodium Benzoate Potassium Sorbate... | Cypermethrin, Pyrethrins, Piperonyl Butoxide Technical... | Cypermethrin, Pyrethrins, Piperonyl Butoxide... |
| Health Feature | Pest Control | Pest Control | Pest Control | Skin & Coat Health | Pest Control |
| Lifestage | — | — | — | — | Adult |
---
Questions & Answers
7 Customer Questions
---
Can this be used on dogs?
Answer by • Sep 10, 2019
At this time, as an EPA registered pesticide, Ecovet only has authorization for use on horses and cattle. They cannot approve its use on other animals. We have heard reports, however, that when used on other animals there has not been any adverse reaction.
---
There seems to be some confusion about is this new scent or old scent. What scent is the 18 oz and the gallon?
Answer by • May 21, 2019
This spray has a natural fragrance of sage and lavender.
---
By livestock,can I use this on my goats?thx:)!
Answer by • Jun 30, 2017
Ecovet is currently only approved for use on horses and cattle and has not been tested on goats.
---
Does this spray work well in a Flairosol type spray bottle?
Answer by • Jun 06, 2019
This repellent can be applied using any commercially available small sprayer suitable for oil application.
---
---
---
Not your average fly spray!
This is NOT your average a pesticide based fly spray. This is nature based fly repellent. The ingredients in this product are probably some you have never read before on a bottle of fly spray. Instead of using pesticides, this product uses naturally occurring fatty acids made by animals and humans that messes with flies chemical cues to locate us. To flies it makes your horse appear to have an invisibility cloak. This stuff is extremely effective and lasts way longer than a traditional water/pesticide based fly spray and it even beats out oil/pesticide based fly sprays. Now that being said overall - 5 stars. In the pleasant smelling category more like a 1.5 stars. Once you get used to it it's not so bad; but get a good blast of this in your face and you're gona be hacking for a minute. It's not that it smells "bad" (like garbage or sewage) but it's good at taking your breath away and blocking out you sense of smell for a bit. Once you try it you'll understand the sensation and you can understand why it's so good and messing with flies chemical cues! I recommend this for its duration of effectiveness, overall effectiveness and the fact that it's not a pesticide. A great addition to a more natural horse care routine.
---
By Debra on Jul 28, 2022
Smells horrible, works great
Despite the truly repulsive smell, this is the only product that kept the flies off my horse's summer sore so it could heal. This is an indispensable item to combat flies.
---
By Heidi729 on May 5, 2022
Great Product
I have used multiple fly sprays every summer, we have really bad gnats this time of year and nothing I have tried repels those annoying bugs. I saw this fly spray and the reviews were great so I bought one and it works better than any product I have used before.
---
By Ecovet on Aug 4, 2022
False marketing claims
They claim the product does not contain pesticides, but it IS AN EPA REGISTERED PESTICIDE.
---
By Sherry on May 21, 2022
Horrible product
This is NOT a product I would recommend or EVER use again. My horse and myself had a HORRIBLE reaction to the smell even though we used it as directed and outside. Need to return my 2 bottles.
---
By peggy on Apr 3, 2022
fly spray forr horses
this is fabulous for no-seeuns and biting flies and lasts at least two days on the horse
---
By chipperdoodle on Jul 16, 2021
Works the best
I moved from AZ to IL this year and encountered flies like never before, including the large black biting flies referred to as "B-52's". I've used ecovet before and had good results but would switch back and forth between this and a natural spray. However the B-52's are vicious and relentless and nothing worked against them except ecovet. When I want to clear the barn of flies, I spritz in front of the aisle fan and the flies disappear. I wish Ecovet would make a barn spritzer! Long story, I'm not crazy about the ingredients in this, but my horses have to come first. I use fly sheets, but here they just get too hot to keep them on all day, sweating profusely. So I have to rely on spray more than I'd like. This works--not as well as they claim. I have to reapply daily, and in the evening, when B-52s are particularly bad, I spritz again. Still it's better than constantly applying pesticides. But, you do have to follow directions. Start with a CLEAN horse. I bathe my horses every 1-2 weeks to start fresh again, depending how much rolling etc they've done. If you put this on over other products, it's effectiveness is diminished. Same thing if you use other products in addition. It takes a little extra effort, but it's worth it.
---
By BarrelRaycer on Jul 30, 2021
Hands down best fly spray
I have tried just about every fly spray known to man this is the only one that gets rid of all different flies including gnats. The smell is very pungent and chemical like but it is the only thing that will keep the gnats and flies off your horse. Hands down recommend a thousand percent I will not buy any other brand. I've been using this for 3+ years now
---
By equichick on Aug 2, 2021
Effective new bugspray
My mare is very sensitive to bugs, tried this new product and have been very happy so far, has a strong soapy smell but seem more effective. Expensive but if it works it's worth it! I like that its safe for people and animals and alternative to toxic pesticides.
---
By Angie on Sep 11, 2021
Works well
Works well but it makes me cough and my horse hates it. She actually tries to get away from me when she sees the bottle. But it works very well.
---