Frisco 80-in Faux Fur Cat Tree & Condo
Temporarily Out of Stock
Get notified when this item is back in stock.
Compare Similar Items
| | | | | | |
| --- | --- | --- | --- | --- | --- |
| | | | | | |
| Customer Rating | | | | | |
| Price | | | | | |
| Cover Material | Faux Fur, Synthetic Fabric | Faux Fur, Sisal, Plant Material, Synthetic Fabric | Faux Fur, Synthetic Fabric | Faux Fur, Sisal, Plant Material, Synthetic Fabric | Faux Fur, Sisal, Plant Material, Synthetic Fabric |
| Furniture Features | Condo, Hanging Toys | Condo, Hanging Toys, Anchoring Kit Included | Condo, Hanging Toys | Condo, Hanging Toys, Removable Bed, Hammock, Anchoring Kit Included | Condo, Hanging Toys |
| Furniture Frame Material | Engineered Wood, Wood | Engineered Wood, Wood | Engineered Wood, Wood | Engineered Wood, Wood | Engineered Wood, Wood |
| Height Range | 70 inches & above | 70 inches & above | 31 inches to 59 inches | 60 inches to 69 inches | 60 inches to 69 inches |
| Tools Included | No | Yes | No | Yes | Yes |
| Number Of Condos | 2 condos | 2 condos | 2 condos | 1 condo | 2 condos |
| Furniture Mount Type | Free Standing | Free Standing | Free Standing | Free Standing | Free Standing |
---
About This Item
Multi-tier 80-inch cat tree featuring a top perch with a bolstered perch cover, 6 partially wrapped sisal scratching posts, one regular condo and one extra roomy condo on the bottom.
Multiple platforms features space for your cat to play, climb, or nap.
Faux fur material cats love cuddling up against.
Two dangling toys encourage your cat's hunting instincts.
Removable, machine-washable bolstered perch cover.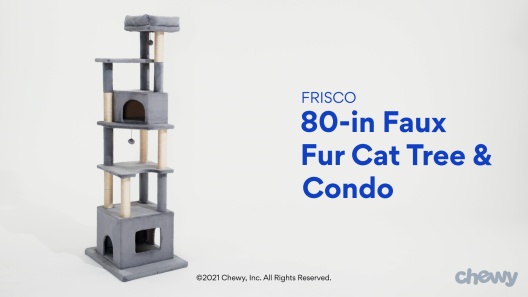 Learn More About Frisco From Our Team of Experts
---
---
Questions & Answers
1 Customer Questions
---
What are the dimensions of the perch bed at the top?
Answer by • Jan 07, 2022
The top perch has dimensions of 15.7 inches by 11.8 inches by 3.9 inches.
---
---
By David on Jul 2, 2022
Sturdy and Exciting
Our 2 kittens are approaching their 1st birthday and we decided to get them something bigger and sturdier than the small ~4ft tower we had. We've had this for about a week and it's been great! Assembly was straight forward and (if you know what you're doing) there's wiggle room to make changes to meet your needs. In our case, the full tower was slightly too tall and let the kittens get onto the rail for the blinds. So, I removed a level and now it's big enough to be new and exciting while keeping them from forming a new bad habit. Also, the bottom level is big and dark enough to be perfect for our 11 year old rescue who likes to get away from the crazy kittens, and doesn't have the mobility to scale the tree. Overall, this tree is a great option for both new and existing pet owners. The only downside I can think of is that there is limited area the cats use to get up and down the tree, so it will take some getting used to and probably a few nervous moments. But our cats have learned quickly and there have been no falls or accidents since they've starting using it.
---
By Kris on Aug 1, 2022
An oasis away from the dog
I initially got this car tree because we have 18' ceilings, and wanted something taller, but this has turned out to the best escape for our kitty from his pesky dog brothers! He goes all the way up to the top and sleeps for hours. It was super easy to put together, very very soft material and sturdy as heck!! I'll buy another if this one breaks
---
By Shadow on Mar 21, 2022
A little difficult for large cats, but very sturdy and well built
The tower is well built. It doesn't feel like it will fall over even without the wall restraint. My cat Shadow (because he shadows around the house), likes the tower after lots of treat placement to get him to explore it. His favorite spots are the bottom section where we put a blanket for him to curl up in. He goes in there when the sun gets too hot since it provides some shade. Shadow isn't the sharpest though...he gets psyched out trying to go from the 2nd level to the third. I think because there isn't much exposed lip on the 3rd level since it has the other cat hole on it. What he does to compensate is he jumps up to the 3rd level and goes into the hole, turns around, comes out, then goes up to the 4th hole. This also gives him a little trouble coming back down since the 2nd level extrusion is very narrow and limited. He tends to come down very quickly as a result which has caused him a few slips. All in all despite those issues I gave it a 4 out of 5 because He's a 17lb cat who mentally isn't always with it haha. If you have a normal 8-9 lb cat I'm sure it will be easier for them to navigate. He really likes being on the very top or very bottom these days so I would say it was a good purchase because Shadow doesn't have much verticality options in our house currently.
---
By Ketzl on Apr 9, 2022
Loving my condo
I was just adopted at 8 weeks old by a purrfect family. Within in 2 weeks of arrival they ordered my new super high condo. It was delivered so quickly I hardly had time to grow big and strong enough to climb to the top penthouse level. After my second attempt I made it to the top. It took a few tries to get down smoothly, but I did it. I am now able, at 12 weeks, to express both up and down. The exercise has made me strong and keeps me lean. I especially like the sisal posts to scratch on. The hanging toys are always an incentive to go higher up. I have a choice of 2 huts to hide in and snuggle up with some of my own toys that I have managed to carry up in my mouth. When I'm in need of a snooze in a plush bed with a birds eye view of all the goings on in the human's house, I go to the very top and take it all in. This condo is the best, and the association fees were included in the initial purchase. I am very spoiled. Highly recommend.
---
By ChefB on Jun 27, 2022
Well-built tall sturdy tree
This is your basic tall cat trees for those kitties who like to rest high above their realm. Simple to put together and very sturdy. My kitten has been living on the top perch coming down for only water and snacks and to use the litter box.
---
By Klee on Mar 22, 2022
Best cat tree ever!
My little darlings are hard on cat trees, but this one I have high hopes for. First it is made VERY solid. The boxes are wood, not just fabric. The whole structure is really tall, over 6'6'. So the cats can climb it like a tree (my cats still have their claws). One of my cats is very tall and this scratching posts lets her get a nice scratch in. The base is heavy and stable. Other cat trees became wobbly. This one is the best one I have seen.
---
By Toby on Mar 6, 2022
If your cat loves to climb
My cat loved it, even as I was putting it together. Right to the top nest as soon as it was done. A little tricky to assemble. Those who complained of holes not matching, this was a problem right away at the base. Apparently, there is only one combination of parts that will properly align. A little experimenting with various layout, plus lots of frustration and swearing, and it all worked out. The tower is sturdy and strong, and my 20-lb. feline couldn't be happier.
---
By Mary on Apr 6, 2022
No assembly instructions
My sister is putting this together with no assembly instructions. Where the instructions should be, the website says to vacuum and spot clean (!). HELP.
---
By Breanna2 on Mar 5, 2022
they love it
I couldn't get my cats to stay off of it even as I built it. My male cat Sage knew it was for him before it came out of the box. I truly couldn't be happier with this purchase. It's heavy duty and really soft too.
---
By Craige on Jan 5, 2022
Almost perfect!
My only complaint about this cat tree is that most of it is covered with very soft fabric that my older cats have a hard time gripping when they climb. I wish more of it were covered in sisal, enabling them to climb more easily. But they have figured it out and my biggest boy loves to spend time napping in the very top and being a gargoyle looking down at us. I also wish all the pillars were covered in sisal to encourage them to scratch the tree and not our furniture! Only some of them are sisal, for some reason.
---