Frisco Elevated Art Deco Dog & Cat Sofa Bed with Removable Cover
---
About This Item
This stylish sofa bed doubles as both a cozy bed and a statement piece in your home.
Features a velvety soft surface, padded rolled arms, soft back support and golden metal legs.
Sofa cushions can be removed, making spot cleaning that much easier.
Available in various sizes to fit small, medium and larger pets.
Elevate the way that your pet relaxes throughout the day and at night.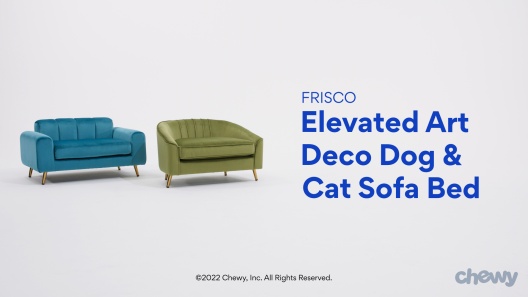 Learn More About Frisco From Our Team of Experts
---
Compare Similar Items
| | | | | | |
| --- | --- | --- | --- | --- | --- |
| | | | | | |
| Customer Rating | | | | | |
| Price | | | | | |
| Bed Feature | Machine-washable | Machine-washable | Machine-washable | Machine-washable | Removable Cover, Machine-washable |
| Cover Material | Polyester | Polyester | Plush, Faux Leather, Synthetic Fabric | Plush, Synthetic Fabric | Polyester, Synthetic Fabric |
| Lifestage | Adult | Adult | Adult, Kitten | Adult | Adult |
| Fill And Frame Material | Foam | Foam | Foam | Foam | — |
| Breed Size | Small Breeds, Medium Breeds | Small Breeds, Medium Breeds | Large Breeds | Small Breeds, Medium Breeds | Large Breeds |
| Bed Type | Sofa | Sofa | Sofa | Sofa | Sofa |
| Pattern | Solid | Solid | Solid | Solid | Solid |
---
Questions & Answers
Be the first to ask a question.
---
---
---
By ZGZSW on Nov 25, 2022
Art deco pet sofa bed
The sofa is gorgeous. Had read a few reviews upon the item. One review speak upon the legs. Given the item and the fact that there has already been a review on said problem you'd think that they would know not to make the same mistake. Got three legs half moon with 3 holes for the nails. However the fourth leg was square with 4 hole entries. The saddest part although customer service handled the matter approximately is the fact that the company that provided the sofa via chewy is unable to send one leg. One must send the full item back to correct the mistake. That was very disappointing.
---
By Emma on Nov 3, 2022
My dogs love this!
I fully admit I purchased this more because it went with my room design, than because my dogs needed a bed. However, I'm happy to report that my dogs are obsessed with it! I was a little nervous to see if it would be as good in person and it's stunning. From the gold legs to the quality of the cushions...Even the bottom leg protectors to save your floors, elevate the style. I also was glad I checked measurements. Usually these types of fancy or more novelty items are small, these are a great size. I ended up checking it and ordering smaller than I expected. We love it!
---
By Chance7390 on Sep 10, 2022
My dog LOVES this!
#ReceivedFreeProduct Assembly was easy, I just had to attach the legs. However, once I was done, my dog immediately climbed right on the sofa like he knew it was for him. I didn't even get a chance to move it. Hahaha. It's definitely a fun way to spoil your good doggos! There are a few important things to note. First, the legs are gold. I didn't notice that in the images, and they don't match anything else in my apartment. It would be easy to paint them silver or black. Second, the description says it could hold up to a 200lb dog. My 60lb Aussie fits on it pretty well, but I think it would be far too small for an Irish Wolfhound. Be sure to check the dimensions. Third, the "removable cover" refers to the cushion only. I don't think the fabric on the arms or backrest are removable. With all of that said, this is an amazing high quality product that my dog will enjoy for years!
---
By siella01 on Sep 1, 2022
Wonderful! My dog will love it!
#ReceivedFreeProduct I was very happy to receive this because my dog is currently with my parents and will go and pick him up very soon. I thought that he would absolutely love this! This sofa was very easy to put together. The sofa almost comes completely assembled minus the legs which need to be installed using the included hardware. The construction of this sofa took me roughly 10 minutes to complete, which was really nice because I assumed it would take me a lot longer. The sofa is a lot bigger than I thought it was going to be and it is very soft. My toddler absolutely loves it and I can't wait for her to share it with our doggy. He's about 60 pounds so I suppose they can both share it. I'm thinking about putting this in her bedroom or maybe even the hallway so they can both lounge about. I cannot wait for him to use this! I added photos of my 2 1/2-year-old daughter for size reference.
---
By Restinginstyle on Aug 31, 2022
The Emerald Throne
#ReceivedFreeProduct What a great addition to our home and our puppies lives! They couldn't wait to have a new place to chill out. The outer fabric is a velour type polyester that catches the hair (I love it because I would rather vacuum it off the doggie sofa rather than see it flying in the air). It is sturdy and balanced. My Bulldog has already thrown up on it. It did not seep through to the cushion. It was easy to wipe up and throw in the washer. The cushion cover came out looking beautiful. The foam in the cushion is sturdy and wrapped in polyester fiberfill. The sofa was easy to assemble and the tools were included. What a great addition for our fur babies!
---
Wonderful Dog Sofa!
#ReceivedFreeProduct I love this dog sofa and more importantly, my dog loves it too! I have been wanting to get new couches in my family room, but my dog always sleeps on my couch when I am not home. I thought if she has her own sofa maybe she would stay on it even when I am gone. So, using some treats, I got her used to this dog sofa and now she really likes it! Since it is elevated and higher than a typical dog pillow, she can look out the window when she is on it. It is very soft and stylish, and it looks great with the decor in my family room! The pillow cover unzips so it can easily be washed and the sofa can be vacuumed! I am very satisfied with the quality of this dog sofa. But the best part about it is my dog has learned to stay on it when I am not home, so now I can purchase new couches! I highly recommend it!
---
By Sgriffin on Sep 13, 2022
So stinking adorable!!!
#ReceivedFreeProduct I am in love with this dog bed. It's super cute and fits in anywhere. It was super easy assembly. Came with the legs and screws to put on and that's all the assembly that was required. My dog didn't get on it for 3 days but he isn't allowed on the couches or other furniture and I wonder if he thought it was another couch he shouldn't get on . Once he finally did though, I can tell he loves it. He is a Short hair pointer/ lab mix and I got the size large bed and it is the perfect size for him. He can't sprawl out as well on his side as he likes to do but he doesn't seem to mind. I can tell this is going to last quite a while and with it being off the ground it's easier to move and sweep under. The color is vibrant and the hair wipes down easily. Overall a great dog bed! Now I need to get a smaller one for our little dog
---
By NautiHuman on Sep 19, 2022
Nautica Loves Her Sofa!
#ReceivedFreeProduct Our Nautica is a picky doggie, in the past, we have bought her beds, and she refused to sleep in them instead she would sleep under our bed. Well, when Frisco's Elevated Dog Sofa bed arrived this all changed. The sofa bed comes put together the only thing that has to be put on is the feet to the sofa, which is a cool gold color. The sofa itself has soft material ideal for relaxing, the sofa is elevated enough for the Nauti to jump on and off without hurting herself, and Nauti has been sleeping on the sofa ever since it arrived. Not only is the sofa comfortable, but the art deco style will fit any home while providing a stylish look. This sofa stands out so much that our friends have asked us how can they get their pets one. Great Product!!!
---
Best dog gone bed ever
I am super impressed with this large Elevated Art Deco Dog. I have a rottweiler puppy who is about 6 months old and she will be able to grow into this bed. She loves it and knows that it is her sofa. She is on it all the time. The fabric is soft and the cover is easy to remove for washing. The bed is very well made. Its strong and sturdy just like a real sofa. If you want a dog bed that is going to last and looks super cute wherever you put it you should really consider this one.
---
By NcLisa43 on Sep 14, 2022
Gorgeous dog bed!
#ReceivedFreeProduct This dog bed is just gorgeous! It fits our decor perfectly. I never knew they were dog beds made this way, its awesome! My dog loves it too. He was laying on it within minutes of setting it up for him. It is his new favorite napping spot. We have cold floors in the winter so I love that this will elevate out little guy off the floor and keep him much warmer. I couldn't believe the quality this was made with. It is really just like a mini couch, built in much the same way as a people couch, lol, only on a smaller scale. It is very sturdy and the upholstery feels really nice and thick. This will last my dog a very long time. It was very easy to set up as well. It was all put together right out of the box. The only thing I had to do was screw on the legs. It took less than ten minutes. If I ever need a new one I will definitely be getting another one of these.
---