Frisco Outdoor Waterproof Stinkproof PVC Rope Leash
---
About This Item
Rope-style leash with polyester material coated in matte PVC, ideal for everyday wear and outdoor adventures.
Coating resists water and odor-causing bacteria so it's great for every outdoor adventure.
Secure lobster clasp at the end helps ensure your pup will stay on-leash.
Features a convenient, heavy-duty D-ring to attach a waste bag dispenser.
Available in three colors to help you find the perfect fit for your pet's style.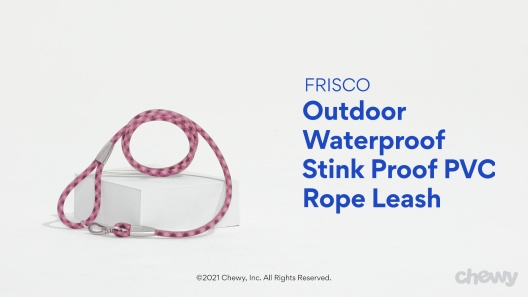 Learn More About Frisco From Our Team of Experts
---
---
Frisco Outdoor Leashes, Collars, and Harnesses
Gear Up for Adventure
Frisco's outdoor collars, leashes and harnesses are designed for the most adventurous dogs and their people. Wherever your dog's nose for adventure takes you—long hikes, lake days, camping trips or even your own backyard—Frisco has a collar, leash or harness that can keep up.
Made for Buoyancy, Safety & Comfort
The Frisco Dog Life Jacket provides buoyancy for dogs up to the recommended weight, so they'll be ready to dive into playtime at the pool, lake or beach! Created with canine comfort in mind, the front panel features a supportive flap that rests under your pup's chin to help him hold his head above the water with less effort. That means your pooch can hang out in the water with more confidence and ease, whether he's all about the doggy paddle or just gently floating and soaking up the sun.
The Right Fit for Water-Loving Dogs
Because dogs come in all shapes and sizes, the Frisco Dog Life Jacket is designed with adjustable straps and side-release buckles for a snug, comfy and secure fit for all breeds. And no matter your dog's favorite swim style, he can enjoy plenty of freedom to move with the non-restricting design that allows for a comfortable range of motion—in and out of the water. Plus, it's available in various sizes for splashing fun of all proportions.
Pup Approved Boredom Busters
These fillable toys provide dogs with the mental stimulation they need on the daily. They'll need to use their minds, paws and noses to get to the tasty treats inside. Fill the toy with smaller treats to make it easy, or bigger treats for more challenging fun.
Have Your Fill
When choosing a treat to fill your toy, consider the size of the treat and the level of challenge you want for your pup. Make getting the treats less work with smaller treats that fall out easily, or make it more of a challenge with treats that fit more snugly. Check out the Fill-o-Meter to help you choose the right treat and experience for your dog.
About Frisco
Frisco's quality products are made for and by a family of pet lovers. And they're more than just everyday pet supplies. Crates become comforting kingdoms, potty pads transform into a favorite patch of grass, and potty bags give the signal that it's time to take care of business. From comfy mats and cat trees to potty time essentials, Frisco provides practical solutions for today's devoted pet parents. The entire Frisco line is available exclusively at Chewy.com!
Shop Frisco
Compare Similar Items
| | | | | | |
| --- | --- | --- | --- | --- | --- |
| | | | | | |
| Customer Rating | | | | | |
| Price | | | | | |
| Material | Vinyl / PVC, Plastic | Vinyl / PVC, Plastic | Polyester, Synthetic Fabric | Polypropylene, Rope, Plastic | Polypropylene, Rope, Plastic |
| Breed Size | Medium Breeds, Large Breeds | Large Breeds, Giant Breeds | Medium Breeds, Large Breeds | Extra Small Breeds, Small Breeds, Medium Breeds | Large Breeds, Giant Breeds |
| Leash & Collar Feature | Outdoor Use | Outdoor Use | Outdoor Use, Padded | Waterproof | Waterproof |
| Pattern | Chevron | Solid | Chevron | Geometric | Geometric |
| Closure Type | Snap | Snap | Snap | Bolt Snap | Bolt Snap |
| Leash Length | 6 feet | 6 feet | 6 feet | 4 feet | 4 feet |
| Lifestage | Adult | Adult | Adult | Adult | Adult |
---
Questions & Answers
Be the first to ask a question.
---
---
---
Great for adventure
#ReceivedFreeProduct I love to take our dog on adventures like hiking and camping. This leash is amazing for these destinations. The leash can get wet or dirty and dries very quickly with out any odor. It can also be clean very easily and especially quickly. It's quality is amazing it's very resistant and it has been the perfect leach for our adventures.
---
By Andyash on Feb 5, 2022
Excellent quality and darling style!
#ReceivedFreeProduct I am more than impressed with the quality of my new Frisco Outdoor Waterproof Stinkproof PVC Rope Leash, River Blue, 6 Ft. I love the fact that it is made from materials that prevent it from becoming stinky since our dog loves to walk through mud puddles or roll in dirt while we are out walking/hiking. I also love the 6 ft. length of the leash... It's the perfect length for us. Overall, I would highly recommend this leash. You won't be disappointed.
---
By Jbubman on Jan 14, 2022
Great for rainy walks
#ReceivedFreeProduct Where I live spring is very muddy for multiple months. I got this leash hoping that we could still go on our hikes in slightly muddy weather and clean-up would be easier. It's nice that this leash can be wiped off easily with a wet cloth/paper towel. The PVC coating is durable but yet somehow silky to the touch. I was pleasantly surprised. The loop handle is easy to hold and the color is nice and looks identical to the photo.
---
By Thinkman on Jan 10, 2022
Tough Leash
#ReceivedFreeProduct Plain and simple, this is the best leash I've ever had. It is comfortable to hold, doesn't cut when my dog suddenly tugs, is super durable, looks great, very well made, and is easy to clean. Other fabric type leashes I've had always seem to get filthy and stuck with that dog smell. This cleans up quickly and easily to make it good as new over and over. There is also very little twisting and tangling.
---
By Charlie on Jan 25, 2022
Unhooked with head shake
I've had this leash for my German Shorthaired Pointer for a few months now and always loved it. But this morning we were on a 3 mile walk by a main road and she shook her neck/head pretty hard and the clasp unhooked. GSP's are RUNNERS and if i didn't see it happening at that very moment I may have never seen her again.
---
By krisseyv92 on Jan 5, 2022
Finally a leash that doesn't get dirty!
#ReceivedFreeProduct This is our new favorite leash for dog park and frisbee golf adventures. We like to use woven rope leashes for runs and walks in the neighborhood, but for going anyplace where the pups might get into some mud or puddles/rivers, etc., this is our go-to. It's fantastic that it doesn't get wet, and if any mud or dirt gets on it, we just simply wipe it away later with a cloth. The leash is sturdy and does exactly what we need.
---
By KateLeigh on Jan 7, 2022
Perfect to use in our Kayak
#ReceivedFreeProduct This is the best leash I've had to use while in my kayak on the rivers. I no longer have to worry about the rope being wet and coming apart as well as worrying about the rope rotting or smelling awful. I've used it for all kinds of things besides a leash. I've attached it to my kayak to make a pull rope, I've attached it to the floating tube to not loose it on the lake.
---
By Purple5@ on Dec 28, 2021
Clean up nice
#ReceivedFreeProduct The Frisco Outdoor Waterproof Stinkproof PVC Rope Leash,6 Ft. this is an excellent leash to take your dog for a walk it give the dog 6 feet of room to movie around And explore things as you walk them. Even on the most creepiest days the leash Does not get buried under all the stuff that covers the ground. All you had to do is take it off wipe it down with a paper towel and you're ready to go good as new.
---
By peyton_oak on Jan 8, 2022
Lifetime leash
#ReceivedFreeProduct Most leashes I end up loosing over time. I am going to try my hardest not to lose this gem! The leash itself is a rope leash that is very strong. Quick and easy connect and disconnect for going on walks. The waterproof/ stink proof is an awesome feature as well since I forget the leash in the back of my truck sometimes.
---
By LMom129 on Jan 10, 2022
PVC texture is new
#ReceivedFreeProduct The texture of the leash takes a bit of getting used too. I have really come to like it and it easily wipes down. It did not absorb any weird smells or smell like a plastics manufacturing plant when opening it. I plan on getting one for our puppy kit!
---