Frisco Ripstop Dog Life Jacket
Frequently Bought Together
---
About This Item
Sleek design allows your pet to move comfortably in the water. Four reflective accents and bright color offer increased visibility so you can always spot your pet in and out of the water.
Designed with 20mm thick foam panels for buoyancy. Front panel has a flotation flap that helps support your dog's head and keep it above water.
Three adjustable straps with side-release buckles help you get the perfect fit for comfort and safety.
Grab handle on top lets you quickly and easily pull your pet out of the water in the case of an emergency. A D-ring on the back allows you to attach a leash when necessary.
To find the right jacket for your pup, measure their chest, neck and weight. Then, compare their measurements to the size chart and the Maximum Buoyant Weight listed.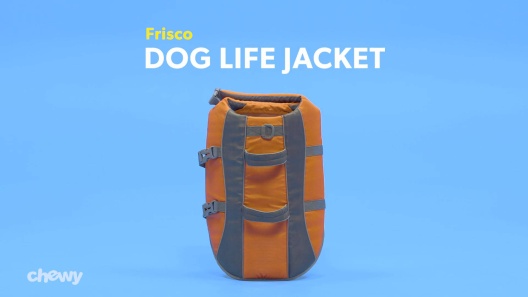 Learn More About Frisco From Our Team of Experts
---
Compare Similar Items
| | | | | |
| --- | --- | --- | --- | --- |
| | | | | |
| Customer Rating | | | | |
| Price | | | | |
| Material | Polyester, Synthetic Fabric | Nylon, Synthetic Fabric | Polyester, Synthetic Fabric | Polyester, Synthetic Fabric |
| Breed Size | Small Breeds | Medium Breeds | Small Breeds | Small Breeds, Medium Breeds, Large Breeds |
| Closure Type | Hook & Loop | — | Hook & Loop | — |
| Pattern | Solid | Solid | — | — |
| Lifestage | — | — | — | Adult |
---
Questions & Answers
22 Customer Questions
---
Will this keep your dog above water even if they don't paddle or does it just make it easier to stay above water?
Answer by • Jul 02, 2018
The sleek design allows your pet to move comfortably in the water. The front panel has a flotation flap that helps support your dog's head and keep it above water.
---
How much weight can an xl jackets carry
Answer by • Mar 06, 2019
The X-Small life jacket fits dogs 5-15 pounds, the Small life jacket fits dogs 15-30 pounds, the Medium life jacket fits dogs 30-55 pounds, the Large life jacket fits dogs 55-85 pounds, and the X-Large life jacket fits dogs 85-100 pounds.
---
Do you take the collar off the dog when the wear the life jacket?
Answer by • Dec 18, 2018
You don't have to remove your pet's collar when you put the Frisco Dog Life Jacket on.
---
Is there mesh on this? Last time we had a dog life jacket my dog couldn't swim the one time she fell in because her claw got caught up in the mesh on her chest.
Answer by • Mar 12, 2020
This Life Jacket does not feature any mesh material.
---
---
---
By suzanne307 on Aug 16, 2022
Nice but size not optimal
This is a really nicely made life jacket for a reasonable price. I really like that it has an extra little float pad for under the chin. Unfortunately it didn't work that great for us for a couple reasons. One reason is the sizing. We have an average size Pug(17 pounds) and the medium fit but is a bit long and bulky but according to the measurements the small would be too small. The other issue is not a flaw but just something that didn't work for us. The jacket has a lot of flotation material, which for most circumstances is a great thing. We have been using a jacket for our dog when we do his physical therapy in the pool. So our old jacket that has less flotation material is actually better because he has to work a little harder but still won't sink. That part of the jacket not working out is on me-I didn't think about what purpose it was serving for us. And the sizing is just one of those things that is sometimes awkward when you have small dogs that aren't small. Overall I thought was well made just not what we needed.
---
By Miguel on Aug 17, 2022
Look, I can swim!
I have a 100-lb bullmastiff. She loves to get in the water but she is afraid of getting in deeper water because she has problems floating, so until now she was limited to the water near the beach. After using this life jacket 2 or 3 times, she now feels more comfortable going out to where I'm swimming. I doubt the life jacket would keep her afloat if she got tired, but as long as she is actively swimming, it helps her keep her butt up. To me, it was worth the money. The jacket fits well and it feels durable. Very easy to put on and take off, and I can keep it on even if she is out of the water
---
By good on Jun 28, 2022
Great but made for female dogs
This life vest is amazing quality. I purchased 3, 2 for my Chihuahuas that are about 6 lbs each and 1 medium for my dachshund who is 16 lbs. They fit, and I believe the vests would definitely keep them afloat without any effort or risk of their heads dropping into the water. However, they cannot move easily since it's so bulky and the belly strap is extremely wide. On my Chihuahuas the straps are so wide it not only covers they're weeners but hits their hind legs so they can't walk properly... It's so odd. Why would they design this with such a I'll fitting cut for male dogs. On my dachshund I purchased a medium going by the sizing chart however again it's just I'll fitting. The neck fits perfectly, but the body fits loose, the length hits him right at the base of his tail so it's the correct length however the belly strap being too wide covered his weener and again it's so bulky he wouldn't be able to walk around with it. The vests seem like great quality but the fit/cut is just not for male dogs and I'm surprised I didn't read any reviews mentioning the belly strap.
---
By Jena on Jul 28, 2022
Great price& great quality!
I will start by saying we have not tested in water yet, just received today. We are impressed with the quality for a great price. Our 70lbs 1 1/2 year old was measuring at the top of the large measurement chart so we bought the extra large to be safe. It fits great with room to grow. We are excited to take him for his first swim in the lake. Based on all the other reviews we feel it will do just great in the water.
---
By Waterdog on Aug 29, 2022
Great lifecoat
This is the second life jacket we have gotten our pitbull mix. He loves water but hates getting his head wet. This jacket has a flap at the neck to help remind him to keep his head up. Love that the velcro underneath is not mesh, and the bright color makes him very visible.
---
By kristen on Jul 23, 2022
Great product
I bought this for my 55 lb lab pit mix last year for summer. It worked great, she's a great swimmer but it's always good to keep the puppers safe. She likes to jump and swim from paddle board to paddle board, so the handle on top was helpful to pull her up to the board. We also attach a long leash to the clip at the top as well if we are walking to an area or playing ball in a shallow area. 10/10 would recommend.
---
By RhodieDaddy on Jul 31, 2022
Great Product
The life jacket works exactly as advertised. Our puppy used it our first time kayaking and of course she fell right in. It kept her afloat and she was able to easily swim back to the kayak. It fit well and the handles are great for retrieving her out of the water. Will definitely get the next size up when she outgrows this one.
---
By MissJessie on Jun 10, 2022
Doggie Life Vest
We were planning our dogs first family boat outing and didn't know how she would act. We know all dogs can swim, but we got this vest in case she jumped out and we needed to use the handles to haul her back in the boat. She was a little fidgety when we first put in on at home, but she got used to it and wore it without complaint on the boat outing. Easy to put on with lots of Velcro, and it worked like a harness to keep her from running off when we stopped at a beach down in the land of pleasant living along the shores of the Chesapeake Bay.
---
By Sally on Aug 14, 2022
Way too small
I ordered a large and it was way to small for my lab. I tried to return it, but go no response from Chewy. I would not recomment buying anything that needs to be a good fit, since returns are such a problem for them.
---
By Bull on Jun 30, 2022
Does the job
The life jacket worked for my 3 year old bull terrier like it was supposed too. but he still hates being in the pool. As soon as I put him in the pool, he panics to get back to the stairs to get back out asap. I guess some dogs just don't like to swim. Before I got the life jacket he would do the exact same thing. but it is much easier to control and handle him in the water with the life jacket.
---