Frisco Small Animal Habitat
---
About This Item
Wire and plastic small pet habitat perfect for rabbits, guinea pigs, chinchillas and more.
Large front and top openings allow you to easily access your pet and their habitat.
Includes a hay guard, water bottle, tip-proof food dish and a balcony with a ramp.
Second-level balcony gives pets a place to perch on top and privacy underneath.
Available in medium (47.5x23.6x20-inch) and large (55x27.5x21-inch) sizes that are easy to assemble with no tools required.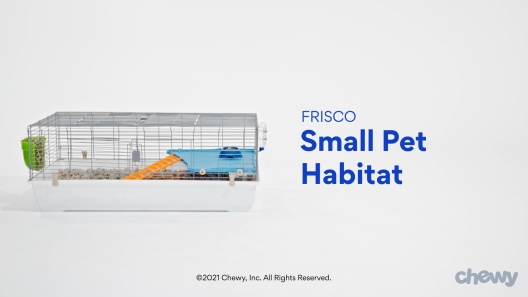 Learn More About Frisco From Our Team of Experts
---
Compare Similar Items
| | | | | | |
| --- | --- | --- | --- | --- | --- |
| | | | | | |
| Customer Rating | | | | | |
| Price | | | | | |
| Small Pet Type | Rabbit, Guinea Pig, Ferret, Chinchilla | Chinchilla, Rat, Degu, Sugar Glider | Rabbit, Guinea Pig | Rabbit, Guinea Pig | Rabbit |
| Material | Plastic | Plastic | Coated Metal, Metal | Coated Metal, Metal | Plastic |
| Features | N/A | Chew-resistant | Outdoor | Feeder Included | Feeder Included |
---
Questions & Answers
4 Customer Questions
---
Is the medium size cage big enough for two guinea pigs?
Answer by • Jan 19, 2022
The Medium and Large habitats are best suited for a single Guinea pig.
---
would this work for full grown rats ?
Answer by • Mar 26, 2022
This habitat is recommended for guinea pigs, ferrets, rabbits, and chinchillas.
---
What's the bar space
Answer by • Apr 12, 2022
The medium habitat has a wire spacing of 0.8 inches. The large habitat has a wire spacing of 0.85 inches.
---
is the bar spacing small enough for a hamster?
Answer by • Feb 16, 2022
This habitat is not designed for hamsters.
---
---
By Kris on Mar 19, 2022
I LOVE this cage!
I just got the large Frisco cage today and couldnt be happier! Its HUGE! My 2 piggies love it! They've been popcorning and chasing each other around since we put them in it. The wire is thick and strong and the base is deep and smooth. It will be very easy for cleaning. I like the easy access top and front doors, which are easily latched. I decided not to use the plastic platform. It gives the cage a lot more room and I wont have to fight it for cleaning. It's cute, but felt a bit flimsy to me. I'm still very happy I bought this. Its exactly what I was looking for. It has more then enough room for guinea pigs to run around and play in. I definitely reccomend this to anyone looking for a sturdy well built cage that has tons of room for their pets.
---
By Doug on Mar 16, 2022
A well built and surprisingly roomy Guinea Pig home
I spent a lot of time researching the needs of Guinea Pigs and then spent a lot more time trying to figure out what cage would work best for one or two guinea pigs. I personally wanted a bottom plastic try pan with wire caging sitting on top of the deep tray. We also needed a top on it because we do not trust our cat. After being dissapointed in the small size of most of these types of cages I setteld on the Frisco extra large cage. The actual inner bottom of the cage is 24" x 52" and the outer top part of the tray is larger but the guinea pig's base is the 24" x 52". A lot of cages really loose a lot of space due to the fact that their trays taper inward. I was close to buying the much cheaper MidWest cage that gets touted so highly, but was put off by the fact that it was not as sturdy as the Frisco and also harder to slide around on the floor as an intact unit. Currently I am using bedding, thus my decision for a deep base, but after realizing the cost of bedding I now think I will switch to the fleece lined GuineaDad liner if my wife agrees to doing the laundry for it. The Frisco is extremely well build and like another person wrote there are a lot of little niceties in the construction liked curved edges and great access doors that really impress me. Also the unit comes with a top shelf tray for extra room. I took ours out at first as our Guinea Pig did not seem to like the plastic ladder but now she uses it all the time. The other downside with the shelf is that she used to run under it when we were trying to pick her up. About the only con I can give this wonderfully built and relatively large cage is the super cheap water bottle that it comes with. Piece of leaking junk, but then you are not buying this cage for the bottle. Lastly I must say, the Frisco Small Animal Habitat cage just looks nice compared to everything else that is sold mainstream. It really looks to end and is super easy to slide around anywhere. I also like the height of it for Guinea Pigs too as some cages are much taller and it just seems like wasted space for Guinea Pig applications.
---
By abwhitty on Jan 24, 2022
Home for Sushi bunny
Frisco has become my to-go-to brand for pet products. This one is just another well made, simple to assemble, good value for the money product. I owned a slightly smaller and less expensive version of this cage from another company but it did not have the features that make a difference. The bars on the doors have a slight bend on the ends that allows you to open and close them easily with one hand. It might be a small thing but it makes a huge difference. The tray is bigger and more sturdy and the size is perfect. This will likely be the only cage I purchase in the future when Sushi digs through the corners as she usually does in 2 years. If only the corners were reinforced then this would be the perfect habitat.
---
By ThePFamily on Dec 27, 2021
HUGE gap where the edges meet at the top
This cage is massive for our purposes and we were super excited about it as it was a Christmas present for my son and amazing at this price. Unfortunately the gaps where the edges meet at the top are WAY too big. The edge gaps absolutely are not 3/4" as the rest of the bars. They are MUCH wider. If you are looking for a rabbit or guinea pig cage I don't think you could do any better, as it is VERY sturdy and great quality, especially for the price. However, if you're planning to put a petite female ferret or adult male rats in this thing forget it. Perhaps a full grown male ferret would be safe, but for dainty females I'd be concerned they would poke their heads out the top gaps and get stuck. Babies could easily escape. VERY disappointed as this cage fit our needs so well other than the large gaps at the top.
---
By Crystal19 on Dec 22, 2021
So spacious! My ferret loves her new habitat!
#ReceivedFreeProduct I have been looking for a new cage for my ferret and this one by Frisco was the perfect choice! Along with the cage, you also get a hay guard, a water bottle, a tip-proof food dish, and a balcony with a ramp. Everything you need for your furry little friends new home is included in this box! Setting up this cage was super simple and within a few minutes my ferret was ready for her new home! I was pleasantly surprised with how big this cage is! This cage is so spacious! I love that my ferret has so much room to roam around now! She loves her new home! My ferret likes to go up the ramp onto the balcony to see what's going on around her. She also likes that she can hide out under the balcony where she likes to take her naps. The cage itself is very sturdy and appears well made. There are large openings on the front of the cage and on the top which makes it so much easier to change her food and water. These openings also make cleaning the cage so much less time consuming! If you have a furry little friend and want to get them a new cage that has it all, I definitely recommend this one by Frisco.
---
By trenaok on Jan 17, 2022
Awesome!
#ReceivedFreeProduct I had no idea the cage would be so big. It is easily big enough for 2 guinea pigs. They have so much room to play, sleep, and be together but have their own levels if alone time is needed. The materials are quality and so easy to set up and 2 very large openings. Very easy to get into the cage and clean and to attend to the piggies. I totally recommend this cage.
---
By Ms.Mashell on Dec 27, 2021
MUCH BIGGER THAN I IMAGINED!
#ReceivedFreeProduct We got this with our teddy bear hamster in mind. When I had a LARGE package at my front door almost as tall as me, not for one second did I think it was her new cage. When I stated opening the box I was in shock. I thought where am I going to put this thing?! I should have read the dimensions more closely, that said, this is really the perfect cage for any small critter. They really need move to get around and spread their legs. She was constantly trying to get out of her last cage and she seems Soo much happier now!
---
By Hperkins on Feb 7, 2022
This is HUGE!
#ReceivedFreeProduct This Frisco brand small animal habitat in size large is ENORMOUS. I read the specs on it when it was ordered, and when I arrived I was pleasantly surprised how large it was. It fits perfectly where I wanted to put it. Highly recommen d.
---
By kiahnbentsmom on Jan 7, 2022
Great quality
#ReceivedFreeProduct We recently rescued a guinea pig and has him in a little cage, He was comfortable but didn't have enough room to jump which is his favorite thing to do. This cage is perfect! He has so much room for his bed,food dishes and room for home to act crazy! Super easy to put together and wonderful quality. We are debating on getting another little guy and will be getting another cage just like this.
---
By Cameron on Jan 22, 2022
Guinea mom of 5 years, who's tried lots of different cages. I would buy again.
Easy to assemble and the hard plastic bottom makes it so easy to wipe down and clean. The ramp does feel a little flimsy and flexs with the weight of your piggie. So it took my girls a little while to trust it enough to walk up it. But since then, they have figured it out, and I've had zero issues!
---