FurHaven House Footstool & Ottoman Dog & Cat Bed
---
About This Item
Watch your furry friend comfortably nap away on the washable soft fleece base.
A detachable hanging ball encourages playtime fun.
Keep your girl toasty warm with the padded top that provides insulated comfort.
The ottoman can withstand 130 pounds of static weight.
Easily transport the accessory for traveling and on-the-go use.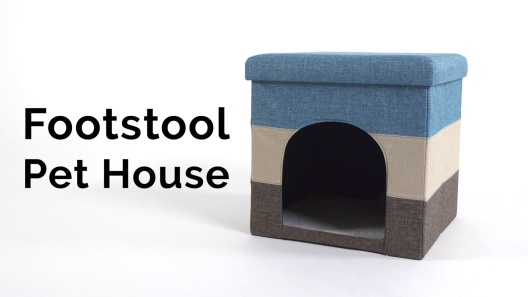 Learn More About FurHaven From Our Team of Experts
---
---
Questions & Answers
8 Customer Questions
---
Is there any sort of soft bed pad inside? The picture looks like it is a hard floor.
Answer by • May 21, 2020
The inside does have some soft padding for the pet. To be specific, there's a soft fleece-covered base which is removeable for washing.
---
How much weight can it support? Would it work as a bench?
Answer by • Oct 05, 2022
Both the Small and Large ottomans are a great spot to rest your feet and are sturdy enough to support 130 pounds of static weight.
---
So the larger bed is longer but actually smaller inside than the small size?
Answer by • Jan 23, 2022
The Small has exterior dimensions of approximately 15.75 x 15.75 x 15.75 inches and interior dimensions of approximately 14.5 x 14.5 x 14.25 inches. The Large has exterior dimensions of approximately 25.5 x 15 x 15 inches and interior dimensions of approximately 24.25 x 13.25 x 13.5 inches.
---
What is the height of the opening? How many inches are there between the bottom of the house (where it meets the floor) and the bottom of the opening?
Answer by • May 22, 2020
The opening of the Small is approximately 8.75 x 9.5 inches. The opening of the Large is approximately 8 x 9 inches.
---
---
---
By Jules on Oct 2, 2022
Good Idea but....
This cat ottoman was a good idea but it was poorly executed. The fabric is not tough enough to stand up to even cats jumping on it. The material snagged instantly and even tore. The fabric needs to be more durable and stand up to wear and tear better. My cats loved it but after just 3 days it was a mess. Please use better material and it would be a winner. I would not recommend this until the fabric is changed to a more durable one.
---
By FerretPassion on Oct 30, 2022
Pawsome / Awesome...except for 1 issue
Purchased for my ferret-kids & they love it ! The only problem I have with this product is the fact it came defective. There's a rather large area on the top that is clearly missing the stuffing material. I tried taking photos, but unable to get it to show the defect.
---
By karenchimom on Sep 21, 2022
FurHaven House Footstool &Ottoman Dog &Cat Bed
I bought this for my small Chihuahua because she loves to be in a covered bed. It's nice and sturdy but it doesn't have a good pad or coushion. It has a thin piece of fabric that goes over a vinyl bottom. She goes in the bed and comes right back out!!! I'm trying to find a coushion or pillow to make it more comfortable for her!
---
By annie on Oct 20, 2022
great product
Very reasonable price for the size; easy to set up; good quality! I put a heating mat in the bottom for my cat and she loves it.
---
By Stephanie on Aug 9, 2022
Works for Dog and Cat
Our cat likes this hideout and our dog uses it as a perch to look out the window or nap in the sun. The attached picture captures their relationship perfectly - the cat barely tolerates the dog. :)
---
By Odin on Jun 15, 2022
cat loves it
I got the large version and it fit my big cat pretty well. Unfortunately the only color option I had was the bright blue, which looks a little goofy, but my cat didn't mind. I can also sit on top easily (I'm ~110 lbs). For the price it's a great little cat house, collapses neatly for storage, and it's perfect for cats that don't like to jump much. As the other reviewers said, the bottom isn't very soft so a nice blanket or cushion inside makes it even more comfy.
---
By Angiej on Oct 1, 2022
Finley's mom
My Westie Finley loves this to sit on and watch the world go by at his window.
---
By newbettamom on Jun 27, 2022
Cats fav hiding spot
When I got a new bed and there was no more "under the bed" for my cat to hide I felt so bad. Then I found this and set it up next to my bed. She now hides in here and she loves it!
---
By Churufan on Jun 5, 2022
Better than a cooler
We had a cooler in our living room after a trip and my cat wouldn't leave it alone. I found this on Chewy and she switched to perching on this instead of the cooler. Much better aesthetically for our living room
---
By Alina999 on May 20, 2022
amazing product
My bunny loved it, she literally would spend most of the time there. Inly minus you'll need to add blanket or smth to make it softer inside. Its also very strong. I', 120lb and can sit on it and its hold my weight like a real furniture piece.
---