Gamma2 Vittles Vault Plus Pet Food Storage
---
About This Item
Heavy duty, BPA free food grade plastic for those who care about the safety and storage of their furry friend's food.
Easy opening screw lid helps to ensure freshness without much effort.
Airtight seal keeps pests out and food fresh. Your furbaby never has to settle for stale kibble again.
Keeps pet food odor contained in vault. No more pet food smells emitting from your cabinet or attracting other animals!
Includes a free measuring cup for precision feeding.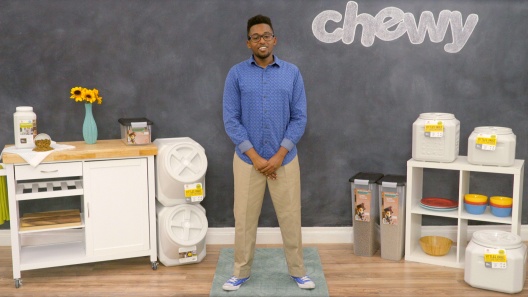 Learn More About Gamma2 From Our Team of Experts
---
Compare Similar Items
| | | | | | |
| --- | --- | --- | --- | --- | --- |
| | | | | | |
| Customer Rating | | | | | |
| Price | | | | | |
| Lifestage | Adult, Puppy, Senior | Adult, Puppy, Senior | Adult, Puppy, Senior | Adult, Puppy, Senior | Adult, Puppy, Senior |
| Material | Plastic | Plastic | Plastic | Plastic | Plastic |
| Bowl & Storage Feature | Airtight, Food Storage | Airtight, Food Storage | Airtight, Food Storage | Airtight, Food Storage | Airtight, Food Storage |
| Breed Size | N/A | N/A | N/A | N/A | N/A |
| Capacity (Max) | 15-Ib | 10-Ib | 12 1/2-Ib | 12 1/2-Ib | 10-Ib |
| Small Pet Type | N/A | N/A | N/A | N/A | N/A |
| Pattern | N/A | N/A | N/A | N/A | N/A |
---
Questions & Answers
35 Customer Questions
---
Is this ant resistant?
Answer by • Jun 15, 2017
Since the product does have an airtight seal it'll help keep pesky critters out as well.
---
Can raccoons tear into these containers?
Answer by • Jun 08, 2018
There isn't a guarantee that this container can be held up against mice, rats, raccoons, possums, squirrels, bears, etc. Most animals will chew through the plastic if they have reason to think there is food to be had. However, we do make it difficult for these pest to chew through the rounded angle corners. It's tough for them to get their mouths around these corners. We suggest that if you have a problem, place a piece of wood (13 inch x 13 inch) over the top, or store the Vittles Vault upside down. Customers have also had success covering their container with a milk crate or putting a couple of drops of peppermint essential oil on the container to act as a natural repellent.​
---
Does the scoop that comes with the vault measure one cup of food?
Answer by • Nov 12, 2017
The scoop has a 1 cup measurement mark on it.
---
How many pounds of dog kibble will this hold?
Answer by • Nov 06, 2017
The name of the product is the overall capacity of the container. For example, the Vittles Vault Outback 25 is made to hold approximately 25 pounds of dog food. However, please note that the food storage capacity will vary depending on the size and density of your pet's kibble. When in doubt, round up to the next size.
---
---
---
By Hellohideme on May 21, 2022
Good price and quality
We now have 3 vittle vaults and they are, by far, the best at keeping food fresh and keeping ick out. We've tried others, many more expensive, and these always are the best option. The ONLY complaint is that a 15# size allows only inches of space on top when I pour the 15# bag of food in. We don't have this issue with the 30# vault, but I've noticed most bags are actually slightly less than 30# at that next size bad option.
---
By maya15634 on Apr 13, 2022
Hard to open/close 15lbs vault
I have the 35 lbs vittles vault and have never struggled this hard to open my new 15lbs vault. I'm not sure if mine was a manufacturer error or shipping, but I immediately noticed this separation by the opening and dismissed it. A little cosmetic damage isnt a problem for me. It was immediately difficult to put the lid on correctly (as if the threads don't line up) and difficult to twist the lid off. I was hoping with a couple weeks of use it was wear a little and become easier, but hasn't yet. Compared to the much larger vittles vault I struggle every time to get the lid on and off. I noticed that it looks like the opening isn't completely fit with the lid as there is a little gap on one side.
---
By PittieMom847 on Mar 31, 2022
25 lb Capacity, holds 20 lb of Cat Food
I have two larger containers and needed a smaller one for my cat food. I got the 25lb capacity, for a 20lb bag of cat food. It fit well, but would not fit much more. I just wish this size container would come with a smaller scoop. Always remember that the capacity does not reflect bag size of pet food. I always try to go up 10+ pounds. For example, I normally get a 13 pound bag of cat food, so I went with a 25 pound capacity. I was surprised the 20 pound bag fit.
---
By Sandy on May 20, 2022
Perfect! This is our second one.
We bought one of these 8 years ago when we adopted our 3 kittens. Now they are older and one needs different food than the other two so we purchased a second Vittle Vault! Great quality, perfect size ( multiple sizes offered). Recommend
---
By Wheelinmama on Mar 24, 2022
Fresh vittles
Fresh Dog food is what you will find using the Gamma 2 Vittles Vault. A 25 pound bag of food fits perfectly in the 25 pound vault. It does come in a smaller size if 25 pounds is too big. This container has a screw on lid to keep food air tight. It even comes with a coordinating scoop that is perfect to to get your pets food out of the Vittles container and Into their bowls. I loved this so much I bought one for my daughters dog.
---
By Alex on Apr 19, 2022
Fulfills it's purpose, BUT
It's smaller than you'd think. I have two of the "50lb" vaults and they can't hold a 44lb bag of dog food. This one, struggled to hold an 18lb bag of cat food. Still works as intended, just have to sit the almost empty bag aside to feed out of since they never quite fit.
---
By Casey on Mar 22, 2022
Doesn't deliver on its specs
I bought this to help keep ants from getting in my dogs' food..It does that really well..Seals up nice and tight..But it doesn't hold 25lbs of food..I got a 23lb bag of Nutrish dog food and had to throw almost 2 lbs away cause this thing was topped out..And the lid's threads make it a pain to screw the lid back on..But it's airtight and the design allows for great storage options..So it's a middle of the road product..
---
By kmfxdx on Mar 5, 2022
It was perfect
I had a 15 lb Vittles Vault and realized I would need to upsize for a 33 lb bag of dog food. I purchased the 35 lb size with the opening on the top. It just fits under my kitchen cabinet. Some reviews mention the food not fitting in the size container they bought. I have found if you add the food gradually and shake the container it helps the food to settle and fit in the container. I still had some room leftover. These also have a great air-tight seal that keeps insects out of your pet's food.
---
By Nettie on Feb 22, 2022
Fits perfectly in the corner
Im really happy I took my co-workers recommendation and bought the Vittles Vault Pet Food Storage. It fits perfectly in an unused corner in my kitchen and blends in nicely. It's definitely a much better looking option than the look of a dog food bag. The scoop that comes with it, is handy and makes it easy to measure out the right amount of food. Sometimes I have to turn the lid a few times before I find the spot where it sinks in and starts closing up. But once it's on, it seems very secure. I would recommend this to anyone who is looking for a storage system for their pet food, that is air and pest safe.
---
By Ella on May 25, 2022
Works great
Keeps ants out and keeps cat food fresh. I buy 2 brands of food and mix them so I use this container to combine and store food for months at a time.
---