Frequently Bought Together
---
About This Item
Keeps your dog cool for up to 6 hours.
Lightweight fabric makes the accessory comfortable and functional.
Adjustable band creates the perfect fit.
Anti-microbial fabric also protects from UV rays.
No fridge necessary—just wet it, wring it out, and you're ready to go!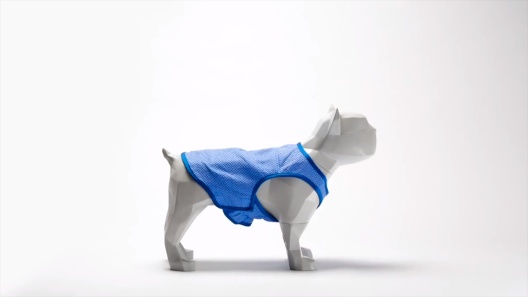 Learn More About GF Pet From Our Team of Experts
---
---
Questions & Answers
2 Customer Questions
---
how do you wash this?
Answer by • Jul 20, 2021
Hand wash with soap and air dry. Do not iron. Do not bleach. Do not dry clean. Store dry while not in use.
---
where is this made?
Answer by • May 03, 2021
This band is made in China.
---
---
By nonickname on Jun 15, 2022
Good accessory
My dog wears this for a walk on super hot days - not sure if it helps cools her during the walk (that's the reason for 4 stars instead of 5). When we get home, I rinse it in cool water again and put it back on. I think it helps her cool down and relax much more quickly.
---
By Keepingitcool on Jun 11, 2022
Still out on how much it helps
Dibbz does not do well in heat and humidity. I have only had a few days where we start out on our walks at 75 degrees. We have been able to do 3 miles with the scarf, so at least it is not a fail. Hopefully we can walk the entire summer with this aid
---
By Nico on Jun 27, 2022
Don't buy this
This is the worst thing I have bought from chewy. The coating flakes off and the fit is terrible
---
By Alexei on Jan 29, 2022
Didn't really work for us
Unfortunately this didn't work for my big guy. He's lab mix and has a very thick neck and it just didn't seem to stay flat enough and seemed too small. I didn't notice that it helped at all. I'll probably donate it.
---
By BeccaR on Jul 29, 2021
Keeps dogs cool on walks in the summer heat.
Although we try to stay out of the sun as much as possible, there are patches on our walks where there is no tree coverage. I used to wet a cotton bandana and put it in the freezer, then let it thaw a bit before tying it on my dogs. This product is an improvement. The Velcro keeps the bandana in place. I do believe it helps keep them cool in the heavy humid air. They do not mind wearing it as they are used to rainwear, harnesses, sweaters, and winter coats. It is not a good idea to keep dogs out nor to exercise them heavily in the heat, but walks must be managed. Also helpful to keep them cool in a car before AC kicks in.
---
By JRMom on Jul 10, 2021
Cool dog this summer
With an early occurence of hot weather, we decided to try this for one of our dogs. She isn't one to take to new stuff, but once she realized how much more comfortable she was with this bandana, it was a no brainer. We also invested in the cooling vest for our other dog and it has been a real hit. Our fur babies are mainly indoor dogs so when it gets really warm and humid out, this helps keep them comfortable when they have to go out.
---
By Catlady on Aug 1, 2021
Great idea to cool dogs
I think this works. The collar stays cool for several hours and my dog doesn't seem to mind wearing it. I just can't tell if he's actually cooler. He still pants some. I put it on every day when it's really hot so it's got to help some.
---
By Oliver on Jul 22, 2021
Dog Ice Band
I bought this for my bichon frise. I think it works quite well. We take a 30 minute walk in the morning and it is really hot here in Texas. He doesn't mind having it on. I do wet it with cold ice water from the fridge and I think that helps retain the coolness.
---
By ColoradoSun on May 31, 2021
What IS this sorcery!?
This thing is AMAZING! Looks exactly like the one in the picture, and once wet, it strangely becomes ICE cold. Like, hiking with the dog and the dog brushes my leg with it, crazy cold even after an hour. Dip it in a stream every so often and it's recharged. I have a doberman, and I think the fact he has short hair probably helps this keep him cool. If he had a ton of hair, I don't know if it would penetrate, but it certainly wouldn't hurt to try it out. I'm buying one for myself right now, because I can't seem to find anything for humans that is remotely like it.
---
By MsVic on Jul 11, 2021
Stayin Cool
This cooling bandana works great. We live in a high humidity southern state, and this item kept our very furry dogs neck and chest very cool while on our walk. He was panting a lot less and spent less time cooling back down when we got home. Easy to use.
---