GF Pet Elastofit Ice Dog Vest
Frequently Bought Together
---
About This Item
Keeps your dog cool and comfortable for hours.
Elastofit technology and two adjustable Velcro closures ensure a fit that's just right.
Fabric is lightweight and protects your pup from harmful UV rays.
Anti-microbial technology keeps invisible foes off the vest—and your pet.
No fridge necessary—just wet it, wring it out, and you're ready to go!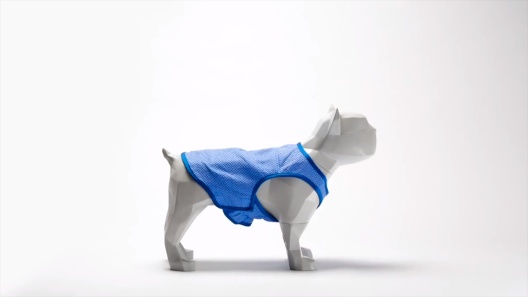 Learn More About GF Pet From Our Team of Experts
---
Compare Similar Items
| | | | | | |
| --- | --- | --- | --- | --- | --- |
| | | | | | |
| Customer Rating | | | | | |
| Price | | | | | |
| Material | Vinyl / PVC, Plastic | Polyester, Synthetic Fabric | Mesh, Polyester, Synthetic Fabric | Polyurethane, Polyester, Synthetic Fabric, Plastic | Mesh, Synthetic Fabric |
| Breed Size | Giant Breeds | Medium Breeds | Large Breeds, Giant Breeds | Large Breeds | Giant Breeds |
| Pattern | Solid | — | Solid | Solid | — |
| Lifestage | — | — | Puppy, Adult, Senior | — | — |
| Closure Type | — | — | — | Hook & Loop | Buckle |
---
Questions & Answers
7 Customer Questions
---
What keeps it cold? Water evaporation or chemical reaction? And what size for an 80!lb Olde English Bulldogge
Answer by • Jun 08, 2021
There are no chemicals whatsoever. There is a thin layer of resin, in between the two layers of PVA. When this is wet the resin is what cools the vest down. Once the water evaporates, simply re-wet and use. To find the best fit we recommend measuring your pet and comparing the measurements to the sizing chart that is available in the "Size" tab, next to the "Description" tab, just under the product. If your pet falls somewhere between two sizes, we advise ordering the larger of the two.
---
Can this vest be reactivated with salt water instead of regular water? And is it okay if my dog went swimming in salt water with this vest on, would it ruin the vest?
Answer by • Aug 05, 2021
A pet may swim in the ocean or salt water pool with this vest on but the manufacturer recommends to wash it with mild dish soap and regular water before letting it dry. The salt, if left on the material, may ruin the PVA fabric.
---
How long does the vest stay cool? I've seen other cooling vests that you have to wet first and they usually only stay cool for about 20min on really hot days.
Answer by • Jun 08, 2021
It all depends on the external temperature and the sun. It ranges from 4-6 hours. Once the vest starts to dry, simply re-wet for another 4-6 hours of cooling sensation.
---
what is the neck size on the medium
Answer by • May 17, 2022
The Elasto-fit Ice Vest does not require a neck measurement for sizing, only the girth and length measurements are needed.
---
---
---
By Snap on Sep 4, 2022
Better than expected
I have several of this vest, one for each of my dogs (only two of them in the photo). I soak the vests in cold tap water and put them in the freezer or fridge for a few minutes. The back and chest is cold to the touch after they have worn these for a little while. My dogs can wear these for a few hours at a time indoors, then it's time to soak again. We get the best result if we don't remove much of the water after soaking, just enough so it doesn't drip. My Frenchie (30 lbs, ~24 inch chest) is in between sizes, Large is slightly too loose and covers most of his back. Medium is tighter and shorter, but once wet it works fine as it does stretch a little (both fits fine around his neck). The medium is slightly better in the sense that it fits closer to his skin since it's so tight, we need these vests to be tight so they actually lay against the skin/coat with no air in between. Hank the Great Dane (158 lbs, ~39 inch chest) wears a size 4XL, also tight and great fit for him.
---
By Bugbug on Nov 9, 2022
Helped with overheating issue
My dog has anxiety and overheats easily because of it. I purchased this vest to help keep her cool and comfortable and it works! My only concern is the quality. I feel this could have been designed with better materials. I would recommend trying it!
---
By doggylover on Aug 14, 2022
Very pleased with this cooling vest
This product is basically a lightweight vest that stays wet to keep your dog cool, so the evaporative cooling effect will partly depend on humidity and your mileage may vary. But overall I am very pleased with it, especially because I got it on sale. I had the most trouble figuring out the correct size for my dog, who is a small-medium dog but a bit chubby: 29 lbs, about 23 inches around the chest barrel (with lots of fur), and 18 inches long from collar to base of tail. So I could have gone with the Large or the X-Large. I went with X-Large, figuring that having the vest be a little loose is better than too tight, and I'm glad I did. The photos I attached show the vest's actual dimensions: Circumference is a little over 24 inches; the width of the stretchy panel underneath when not stretched is about 7 inches; the length of the vest underside is about 12.5 inches long; and the length of the vest top is almost 15 inches long. I didn't take a photo of the stretchy panel underneath because it took both hands to do that, so you'll have to just trust me that stretching that part to the maximum makes the width about 9 inches wide -- i.e., fully stretching it out adds only 2 more inches. I went with the X-Large so that my dog had room to breathe easily, without the vest feeling tight on him. It was the right call. Also, the part underneath doesn't extend all the way down the tummy, so it doesn't get in the way of my boy peeing. Great vest!
---
By Sadie on Nov 2, 2022
It's just ok.
This vest did it's job and cooled our boy down but he HATES it. The vest has a bit of an odd smell initially and stains easily. It feels a bit like a dish sponge, very hard when dry, but then squishy when wet. We kept it but wouldn't buy it again.
---
By cooperdooperdoo on Sep 10, 2022
Works very well
Our +14 year old lab suffers from LarPar & hot humid days are awful for him. This jacket really helps to cool him down. And it doesn't get his bed terribly wet (a concern i had). It works well as instructed (just wet with cold water) but it works faster if I put it in the fridge for a few mins (wet). We had the neck/scarf version - but this obviously cools the majority of his body vs just a small area. Definitely recommend.
---
By lovelabs on Aug 3, 2022
A must for working dogs
I purchased this cooling vest for my Labrador guide dog. The humidity bothers her more than the heat. The vest is extremely easy to use and put on her. simply run the material under cool water ring it out and it is ready for use. The Velcro sides are easy to adjust and hold secure. The material is thin enough to fit nicely under her guide dog harness. as we are out walking the water evaporates from the vest helping to keep her cool. I have noticed since she is wearing the vest she can work much longer in the heat and humidity versus not wearing the vest. after wearing the vest I simply hang it up to dry and it is ready for the next day and our adventure together.
---
By Ludy on Sep 10, 2022
Best Cooling Vest
I bought different kinds of cooling vests over the years and I have been disappointed with most of them. I am glad I finally found this. It is the best cooling vest I have ever bought. It is very light but it keeps my dogs cool during warm weather.
---
By Ziggy on Aug 3, 2022
Didn't work for me
This didn't work too well for my dog. It didn't feel significantly cool, and that lasted only about 30 minutes. I wonder why so many people raved about it. My dog has a lot of fur. Maybe it works for shorthaired? Also, I didn't like how it had to fit under a harness, so I'd have to "undress" the dog to take it off. I would want to take off the cooling vest easily, once it looses effectiveness.
---
By Bayli on Jul 22, 2022
Love this cooling vest....except it doesn't clean well
Love this cooling vest for my Soft Coated Wheaten Terrier. She is 14+ years and has a hard time regulating her temperature as she ages. Although she has never been a fan of the heat. This vest cools her right down and she is completely content the problem is when I tried to clean it the blue faded a lot and it still looked dirty. I don't know if it has lost it's effectiveness but I'm disappointed it didn't hold up.
---
By Frito on Nov 1, 2022
Perfect for the Beach
On our vacation to the beach the cool vest was amazing. Not only cooling, kept the sun off of her back.
---