Must enter code FALL2022 at checkout to redeem
---
About This Item
Glowing "luminescence" effect stands out under a blue LED light for a stunning aquarium look.
Made of plastic so it won't affect water quality, and sways naturally with water current.
Includes a built-in "rock substrate" that can be easily buried under aquarium gravel to keep it in place.
Available in a wide variety of colors and styles so you can customize your aquarium look.
Collect them all to build a neon aquatic landscape to complement your fish.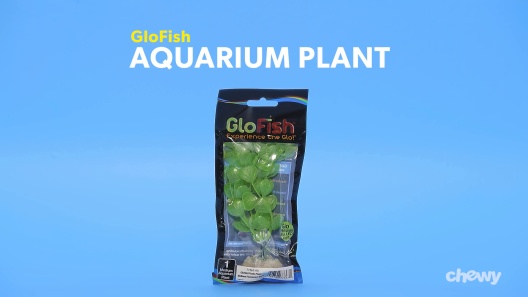 Learn More About GloFish From Our Team of Experts
---
---
Questions & Answers
3 Customer Questions
---
How tall is the small, medium, large?
Answer by • Oct 23, 2017
The Small averages between 4 -5.5 inches tall. The Medium averages between 5-7 inches tall. The Large averages between 7-8.5 inches tall.
---
Would this be ok for a Betta Fish's fins?
Answer by • Nov 09, 2019
Adding GloFish plants to your aquarium will provide your fish with places to hide, which helps reduce stress for your fish.
---
Can this be used in a regular fish tank and does it make a difference if I do?
Answer by • May 06, 2018
This plant can be used in any aquarium.
---
---
By jlynn on Apr 19, 2022
My dog demands these
I don't know what it is about these, but my senior dog LOVES them. If he sees the package out he will paw and whine and demand them. Otherwise, he will paw the treat bin until we give him one. All of my dogs like them, but like I said Zeke will do anything for them.
---
By JamieB on Feb 22, 2022
Lightest thing in my chewy box
I love this company and their commitment to efficient packaging. Unfortunately, the tiny plant wasn't connected to its base upon arrival at my house. My box also contained a huge bag of cat food and 2 jugs of cat litter. Maybe, I can use a hot glue gun to reattach it?
---
By DOMNATJO on Feb 7, 2022
Fish tank decor
Gave 4 stars instead of 5 because one of the branches came off while in the tank.
---
By Betta34523 on Feb 9, 2022
Cute and Bright
I ordered the orange and it's honestly more of a coral color. No complaints.
---
By Becky on Dec 12, 2021
Cute, but very , very small
As I said cute but very small. It is a bright orange nice color
---
By Bettaboo on May 27, 2021
This product is Terrible!
The plant just sags over when you remove it from its packaging.
---
By DyingCat on Dec 23, 2020
Itsy Bitsy
Wow, I should have researched it better, this is TINY. I needed a new plant for my 3 very large goldfish in a 55 gallon tank. My fish are twice the size of this plant. I'm sure it's fine in a tiny fish tank but it's like 3 inches if you don't count the bottom thing that you have to put the rocks on to keep it up. My bad
---
By chloe on Sep 11, 2020
MY BETTA LOVES IT
LOVE! A perfect fit! My betta loves to hide as fish do! They also prefer a tank where they have multiple hideouts and this is perfect for him! Melvin is a shy one! If you are looking for a decoration or something to help your fish feel comfortable get this! However remember there needs to be space behind and informs of the plant so they can swim behind and in front of it to hide! They do not like feeling vulnerable! To them it's the same as if you were in a room with all windows (there tank it 100% see through!) and no furniture! PLEASE consider their happiness! AND ALSO GET A WATER CONDITIONER. One more thing lol...get a tank that's ATLEAST 10 gallons, you wouldn't wanna be cramped would you?
---
By Beau on Dec 5, 2020
Does not glow
It said it would glow in the dark. It does work as expected
---
By MixMom22 on Aug 15, 2020
Not only fish
Awesome Shelly likes it. Fish and turtle toy. Hasn't ate any of it! No glow because of wrong light if you want it to glow need LED.
---