Harry Barker Classic Dog Food Storage Canister
By Harry Barker
---
About This Item
Food-seal vacuum locking lid keeps kibble fresh and tasty for your pooch.
Classic and elegant design is a stylish and chic addition to your kitchen or home décor.
Doubles as pet food storage bin and beautifying accent, so you can store kibble out of the cupboards.
Eco-friendly construction made of FDA-approved, recycled steel that's also easy to hand wash so you can keep it clean.
Available in different sizes to suit your needs—small canister holds up to 10 lbs. of dry kibble, medium canister holds up to 22 lbs., and large canister holds up to 40 lbs.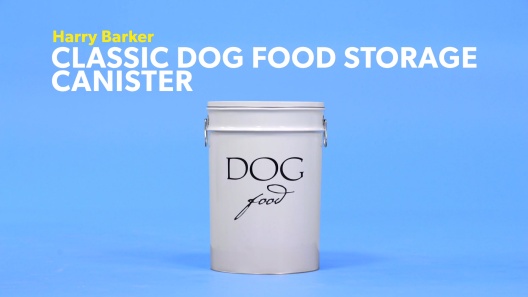 Learn More About Harry Barker From Our Team of Experts
---
---
Questions & Answers
9 Customer Questions
---
Is it safe to pour the food into the container or should you place the whole bag in it?
Answer by • Jul 30, 2018
Food can be stored directly in the canister. You can wash it with mild soap and water and then thoroughly dry it before replacing the airtight lid.
---
If my dogs were to knock this canister over would the lid come off? I am concerned with them having a feast!
Answer by • Mar 23, 2018
The Harry Barker Classic Dog Food Storage Canister has a vacuum locking lid with latches on the side to keep unwanted paws out. However, a very determined dog may be able to nudge open the latches, though it's not likely.
---
How many gallons is this container?
Answer by • Jan 11, 2020
The Small canister is 3.5 gallons and holds 10 pounds of dry food. It measures 10.25 inches (top) x 9.125 inches (bottom) x 11.5 inches high. The Medium canister is 6.5 gallons and holds 22 pounds of dry food. It measures 12.25 inches (top) x 11.5 inches (bottom) x 14 inches high. The Large canister is 11 gallons and holds 40 pounds of dry food. It measures 13.5 inches (top) x 13.5 inches (bottom) x 19 inches high.
---
How easily does the lid come off? Will I be struggling to open this canister each time I need to feed my dog?
Answer by • Oct 08, 2021
This lid easily pops on when your ready to feed your pup.
---
---
---
By KimT on May 10, 2022
Cute for my girls
This dog food storage is cute. The top is a little hard to remove, but I guess that keeps the food fresh. When I received mine it was dented. Rather then deal with the hassle of returning it, I kept it.
---
By Rottiemom on Feb 18, 2022
Great decor buy
Love this buy! It matches our kitchen decor nicely—looks much better than that huge bag of dog food on the floor.
---
By Catt on Nov 9, 2021
Not Worth The Money
Love the look but not what is advertised. Our first can came with a huge dent and no lid. Second can, another dent but has the lid. However it's not vacuum sealed as advertised which is why I bought it in the first place. My dogs can easily get in the can and food will not stay fresh.
---
By Karen on Jul 27, 2021
Don't waste your money
I was excited to receive the dog food container but disappointed that it was all dented. Not real bad but unacceptable to me. I wanted it for my kitchen and it looks to bad. Chewy was kind enough to either send me another or refund my money...I decided to try again because I really need something cute to keep the dog food in...if it comes dented again...I'm going to buy a trash can and paint it and then get a nice lable that says dog food. I'm sorry I didn't read the reviews first.
---
By Andrea on Aug 17, 2021
Do not recommend
I ordered one large container. I received 2 large containers stuck together unable to pull apart. I also did not receive even one lid. Do not recommend at all.
---
By None on Sep 8, 2021
Very stylish and looks great
I wish it was air tight, the lid isnt air tight, that would get food fresher im surprised its not
---
By Chills on Mar 25, 2021
$72 freaking dollars?!
I was hoping after reading all of the other reviews that I wouldn't be one that ended up with a smashed can. That is not the case. There are dents all over it although the box was in perfect condition, which leads me to believe it had to look like this at the warehouse and they just send them out anyway. I had to bend it back into shape for the lid to fit and it was covered in a greasy film. I would say this can is worth more like $20 but hey people keep buying it and I'm not sending it back because I need a dog food container that's somewhat cute and fits into my decor. Stupid on my part I know, the price should be drastically reduced.
---
By Onyx on Jul 7, 2021
Over $50 too much
Way too overpriced. Cannot figure out why it costs $72. Otherwise good can. Wish there were other options.
---
By Flimsy on Apr 1, 2021
Flimsy not worth the money!!!
When I went to put the bag of dog food in the container it bowed under slight pressure and was oval. The price is insane for this poor poor quality!!
---
By Susan on Apr 21, 2021
Cute but not as big
Doesn't hold 40 oz of food, I was disappointed in that aspect but it was cute
---