Hartz Delectables Bisque Tuna & Salmon Pack Lickable Cat Treats, 1.4-oz pouch, 12 count
---
---
Try This Similar Item By Chewy
---
---
About This Item
Lickable treats made with succulent fish in a savory sauce for the flavor and texture your cat craves.
The fish and sauce are purposely well combined to ensure your buddy won't just lap up the sauce and leave the protein-packed fish behind.
The moisture-rich cat treats help add healthy hydration to your cat's diet.
Serve these cat treats as a quick snack or as a tasty food topper to entice finicky felines.
Hartz Delectables Lickable Cat Treats are available in 6 textures in a variety of flavors—bisque, stew, savory broths, chowder, soft pate and squeeze ups (each variety sold separately).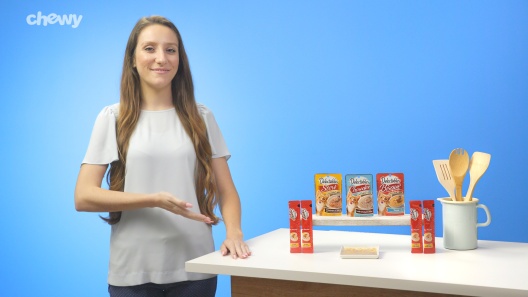 Learn More About Hartz From Our Team of Experts
---
Compare Similar Items
| | | | | | |
| --- | --- | --- | --- | --- | --- |
| | | | | | |
| Customer Rating | | | | | |
| Price | | | | | |
| Autoship | | | | | |
| Top Ingredients | Water, Tuna, Salmon... | Water, Tuna, Salmon... | Water, Tuna, Salmon... | with Chicken - INGREDIENTS: Water, Chicken, Natural Flavor... | Water, Tuna, Salmon... |
| Food Flavor | Tuna, Salmon | Tuna, Salmon | Tuna, Salmon | Chicken, Duck, Cheese | Tuna, Salmon, Seafood & Fish |
| Food Form | Treats | Treats | Treats | Treats | Treats |
| Special Diet | Grain-Free | Grain-Free | Grain-Free | Grain-Free | Grain-Free |
| Packaging Type | Box | Box | N/A | Variety Pack | Pouch |
| Food Texture | Purée | Stew | Stew | Purée | Bits in Broth |
---
Questions & Answers
Be the first to ask a question.
---
---
---
By Purplefairy on May 7, 2022
My car loves this treat
I adopted my cat 4.5 yrs ago. Over the first 4 yrs. she would only eat dry cat food. She turned her nose up and walked away from every wet food I introduced her to. They each has some "solids" in them. My cat, if she was so inclined, just licked the liquid and left the solids. hhmmm... Kinda of a waste. Very frustrating After two years of "sampling" one type of wet food or another, I spied Deletables Bisque in the grocery store, and brought home just one packet. I literally could not believe my eyes. My cat actually ate all of it. So now, I buy the 12 Pack Variety of Delectables routinely. My cat actually looks forward to her 1/2 pack "Treat" in a.m. and p.m. She actually sits and stares at me when I go to the kitchen in the a.m., until I gave her this treat.
---
By AvgNCNiceGuy on Apr 21, 2022
Clean Plate Club
Talk about Clean Plater Club! As I pour this into the serving dish my initial thoughts were "this is an awfully big portion size" but let me tell you my fur baby devoured every single bit in a single session and licked the bowl completely clean. I was surprised to open the package and learn this treat was unlike any other texture of food products I had previously given my kitty. It truly was a bisque, just like you would be served in a nice restaurant. It also had a strong, attention-grabbing aroma. The bisque dispensed easily into a bowl from the easy-tear, easy-pour package and I quickly placed it down for my fur baby who at this point had begun to make quite the ruckus. She eagerly lapped it up and did not budge until her dish was completely emptied. Afterwards she spent quite a bit of time prancing around the house looking out windows and doors and jumping around in a playful kitty manner to demonstrate her delight for the treat she had just been given. I received a free sample of Hartz Delectables Lickable Treat - Bisque with Tuna & Salmon but opinions are completely my (and my fur baby's) own.
---
By katrinachunk on Apr 23, 2022
Lickalicious!!!
My cat loved this! I added it onto his dry food the 1st time he had it. He was pacing and just couldn't wait to taste it. Soon as I opened the pouch he was going crazy! I like the creaminess of it, and him too! It didn't smell awful like some food and treats..He was very happy and content after his lickable treat and one happy kitty! I received a sample for my pet to try and I'm so glad had opportunity bc now I will definitely be buying for him and have already recommended!
---
By Erinm1018 on Apr 21, 2022
A treat all cats love!
My cats go absolutely crazy over these treats! Every one of them love these. I feed these to all my cats, especially my older cats that have trouble chewing the harder treats. These are definitely the most popular treats with all my cats and my foster cats, I haven't come across a cat that didn't love these. They are great when having to mix any liquid medications for them, they don't usually notice its mixed in. They get these as a treat after a vet visit or after having to take pills.
---
By cafoi on May 1, 2022
One happy cat
My cat absolutely loves this treat. He has been fussy about his wet food lately, so I knew he'd prefer a lickable. He meowed and climbed on me before it could hit the floor. It was devoured in about a minute. The pouches are a generous size and can be watered down to stretch them out. Knowing how pleased my cat was means I'll add this to his treats list.
---
By CinPal on Apr 26, 2022
Cats Love It
I have an older cat that is very picky and thin. She likes Delectables Lickable treats and so even though they are more expensive than I would normally pay, I think they are worth it. There is no waste. She licks the bowl clean unlike other canned food that sits in the bowl till it's dry and I throw it out. At feeding time she gets excited to eat and that makes us both happier!
---
By vanessa6297 on Apr 20, 2022
My cats loved it
My cats loved these delectables. The pouches are easy to open. The product is easy to squeeze or spoon out of the pouch. The bisque was smooth and easy to serve. My cats were interested as soon as I opened the pouch. They dashed over to their plates as soon as I served it. Overall they were a big hit at my house. I was sent 3 free samples on behalf of the Hartz insiders community for testing and reviewing purposes.
---
By EricaM1985 on Apr 25, 2022
My cat's favorite treat!!
Delicious! My cat's go crazy over these! I received 3 packages of the delectables lockable treat bisque tuna and Salman in the mail a week ago. My cat's were going crazy and i haven't even opened the package yet! Needless to say they absolutely loved it and couldn't get enough of it! They're usually picky about what they eat so I was surprised the loved it so much!
---
By foodlover on Jun 1, 2022
great products for cats
Thanks to Hartz for this opportunity for my cat to try Delectables Bisque Tuna & Salmon. My cat finished them in no time. he is usually very picky but not in this case. Thank you for this great treat.
---
By Jenah48 on Apr 27, 2022
She loves it!!
My furbaby Skye absolutely loves Delectables lickable cat treat! She picky so this is a win! She ate it straight from the pack! I love this kind of treat I held it and pet her whike she ate! My furbabues are like my kids to me and I love spoiling them I definitely recommend these they are good for them and affordable
---